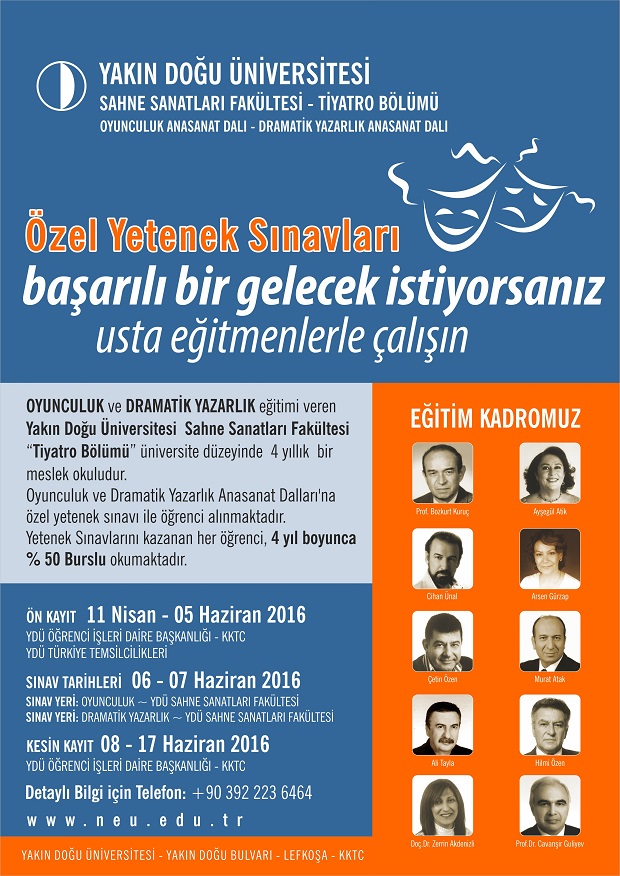 According to the press release issued by the Directorate of Press and Public Relations Office of Near East University, the Department of Theatre of NEU Faculty of Performing Arts would hold a special talent examination and receive students for Acting and Drama Writing branches. The special talent examination will be held at the Faculty of Performing Arts on 6-7 June, 2016. Candidates, who are willing to study at the departments of Acting or Drama Writing, are required to apply to the following addresses and preregister for special talent examinations.
Addresses that can be applied for registration:
1. Candidates, who are citizens of the Republic of Turkey, can apply to the representative offices of Near East University in Turkey. NEU representation offices in Turkey are available at: http://aday.neu.edu.tr/turkiye-kayit-burolari/
2. Candidates in TRNC can apply to NEU Registrar's Office. Tel: (0392) 223 6464 Fax: (0392) 223 6461
Dates and Venues for Special Talent Examination:
Special Talent Examination for both Acting and Drama Writing will be held at 10 am at NEU Faculty of Performing Arts on 6-7 June, 2016.
Candidates are required to be ready at the examination venue an hour earlier than the examination time.
Registration Requirements for Special Talent Examination
a) It is required that candidates with TR (Turkish Republic) citizenship have already taken the transition to higher education examination (YGS) and received at least 150 points in this exam.
b) The candidates with TRNC citizenship, who haven't taken YGS but achieved success in the exams held by Near East University, can register for Special Talent Examination.
c) Candidates, who want to apply to Acting branch, are required not to be older than 24 years of age.
d) There is no age limitation for candidates who want to apply for Drama Writing.
e) Students, who pass the Special Talent Examination, will gain the right of 4 year education with 50% scholarship.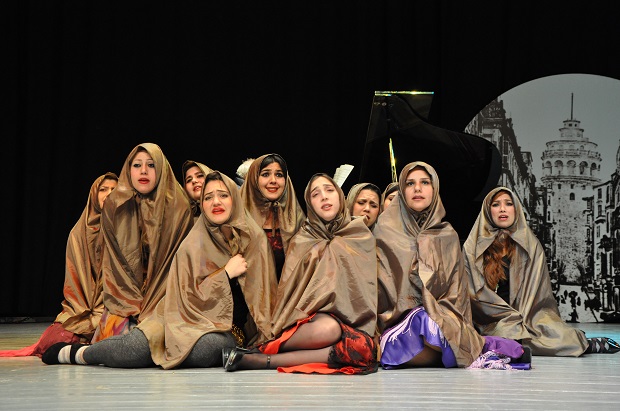 Documents required for registration for the Special Talent Exam:
1. ÖSYM (Student Selection and Placement Center) 2016 Result Documentation and its photocopy
2. 4.5 x 6 two passport size photos that taken within the last year.
Registration and Annual Paying Terms:
Please visit www.neu.edu.tr for comprehensive information regarding exact registration and tuition payment conditions for the academic year 2016-2017.