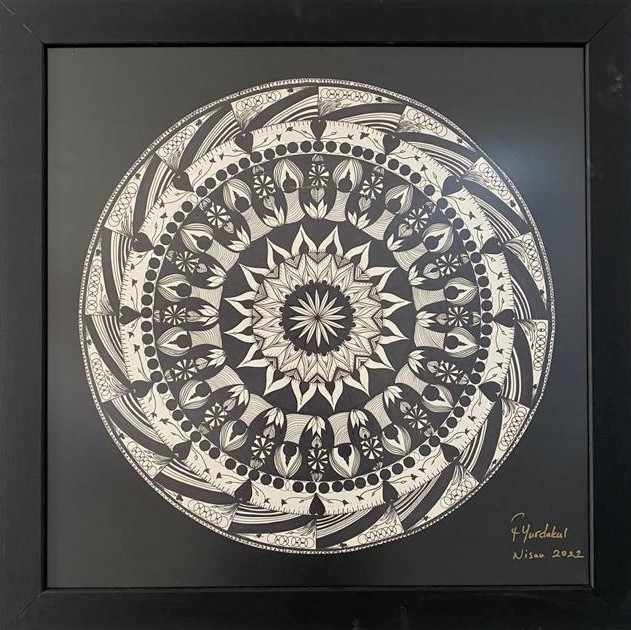 Bringing together Ferdiye Yurdakul's "mandala" works, the "Circle of Life" exhibition will be opened on Friday, January 20 at 14:00. The exhibition will be opened by University of Kyrenia Rector Prof. Dr. Ilkay Salihoğlu and Olgun Amcaoğlu, Minister of Economy and Energy.
The exhibition titled "Circle of Life", which will be the first exhibition to be held in 2023 by the Cyprus Museum of Modern Arts, will also be the 433rd exhibition organized by the museum. The exhibition can be visited free of charge until February 10.
"Mandala", which means "circle" in Sanskrit, is used in Far Eastern beliefs to improve meditation and awareness. In Mandala, the middle shapes symbolize the self, while the surrounding shapes symbolize the universe around the self.
Who is Ferdiye Yurdakul?
Cyprus Museum of Modern Arts will open the first exhibition of 2023 on Friday, January 20, at the University of Kyrenia Prof. Dr. İlkay Salioğlu Republic Hall. Ferdiye Yurdakul, whose works will be exhibited in the "Circle of Life" exhibition, was born in 1976 in the village of Kalkanlı in Güzelyurt. After completing his primary, secondary and high school education in Northern Cyprus, she graduated from Ankara University, Faculty of Language, History and Geography, Department of "Turkish Language and Literature" in 1997.
She started her teaching career in Turkey and continued at Near East College between 2008-2010. Yurdakul, who completed her master's degree in "Educational Administration, Supervision and Planning" at Near East University, still teaches Turkish at Oğuz Veli Secondary School affiliated to the Ministry of National Education.
Ferdiye Yurdakul, who graduated from Anadolu University's "Philosophy" department in 2015, met with yoga in 2016. Yurdakul started taking Yin Yoga courses and in addition to Devrim Akkaya's "Yin Yoga Teacher Training" training in 2018; she also took "Psychology of The Chakras" and "Meridian Theories and 5 Elements Yoga Series" trainings.
Yurdakul, who also received Reiki, "Life Coaching", "Tale Therapy", "Painting Analysis" trainings, continued to improve herself in this field by taking "Child Yoga Instructor Training". Afterwards, she completed Mandala training in 2019 and started working in this field as well.
The first edition of the mandala coloring book titled "Follow Your Dreams", with Turkish – English annotation, and containing twenty-nine ready-to-color mandala drawings, including the words of celebrities, philosophers and scientists, was published in Ankara in July 2019. Later, she released the second book titled "Follow Your Dreams". There are also two mandala coloring books with the same name for kids. In 2020, she published her book "Mantras Yantras Mandalas", in which she describes various methods of meditating. In 2021, she published the book "Remember Me", which contains philosophical columns about life, that she wrote in the conversation-memoir genre.
Yurdakul, who designs trowels and bracelets from natural stones, continues to draw mandalas in her own style.