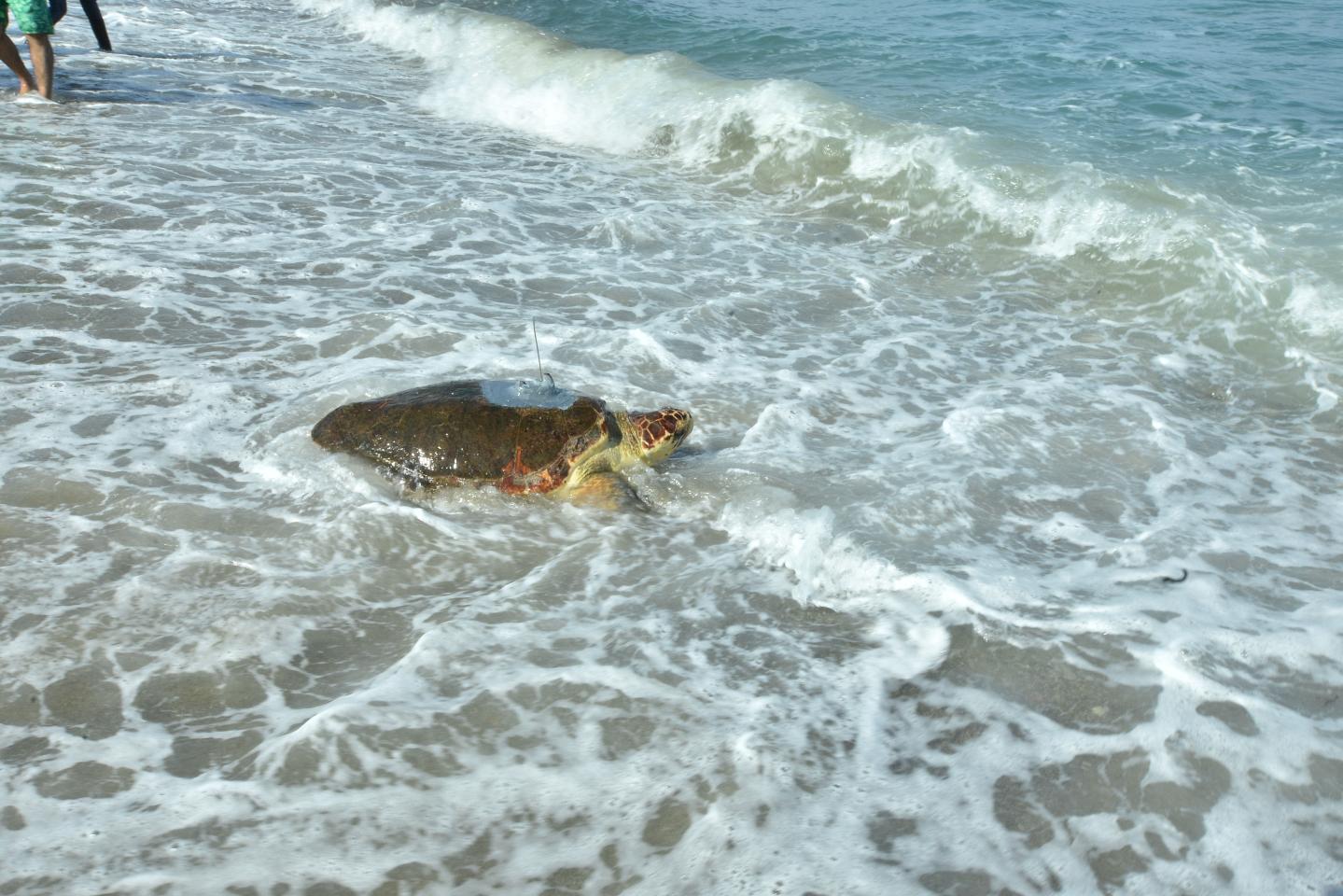 With the cooperation between the Near East University Animal Hospital and Taşkent Nature Park, Astrid the Caretta Caretta was treated and set free at Güzelyalı, Kyrenia beach in October and after a month's journey, it has reached the Suez Canal.
According to the press release issued by the Directorate of Press and Public Relations of Near East University, before Astrid was released to the sea, a chip was placed on it to track it with GPS. Since then, over the past month, Astrid was tracked and was announced that it had reached Suez Canal, probably to spend the winter there.
After being released in October, Astrid travelled four countries (Cyprus, Syria, Lebanon and Egypt) and cover more than 1000 kilometres.
It is assumed that Astrid will be spending winter at the Suez Canal
Director of Taşkent Nature Park Kemal Basat provided details regarding Astrid's seamless journey and expressed that after travelling four countries, the Caretta Caretta has reached Suez Canal; assumed to spend the winter there. Furthermore, Kemal Basat reminded that Astrid was released to the sea on 27th October to its natural habitat and pointed out that since then, they had been tracking it via a satellite. He stressed that according to the data provided by the satellite, everything about Astrid's health and journey seemed to be okay. Moreover, Kemal Basat expressed that it was a wonderful experience to closely monitor Astrid's struggle, to contribute to his life and rehabilitation. He said that they were hoping for the batteries of Astrid's transmitter to last so that they can continue to track its journey; including its return to Cyprus. Kemal Basat said that they believed Astrid, who is currently settling in the Suez Canal, chose this place for wintering and feeding.
We will follow Astrid wintering
Academic Member of Faculty of Veterinary of Near East University and Sea Turtles Specialist at the Cyprus Wildlife Research Institute Assoc. Prof. Dr. Wayne Fuller made a statement regarding the matter and expressed that as do other sea turtles, Astrid was visiting various shores of the Mediterranean; to settle down and pass the winter. He stated that Astrid was visiting Bardawil Lake, the hypersaline waters of Egypt; somewhere which he had previously seen green sea turtles go. Assoc. Prof. Dr. Wayne Fuller said:
"After spending some time at Bardawil Lake, Astrid travelled westward along the Western Mediterranean coast, and headed towards Port Said. Then, after Astrid left the open ocean and reached the Egyptian coastline, its speed slowed down. This is a common behavioural change in migrating sea turtles. Because of the long-distance migration between feeding, nesting and wintering areas, the spent energy reserves need to be renewed by feeding. We think now that Astrid is at the Suez Canal, it will settle there for the winter. We will follow the data from the satellite transmitter and see where Astrid has chosen to overwinter.