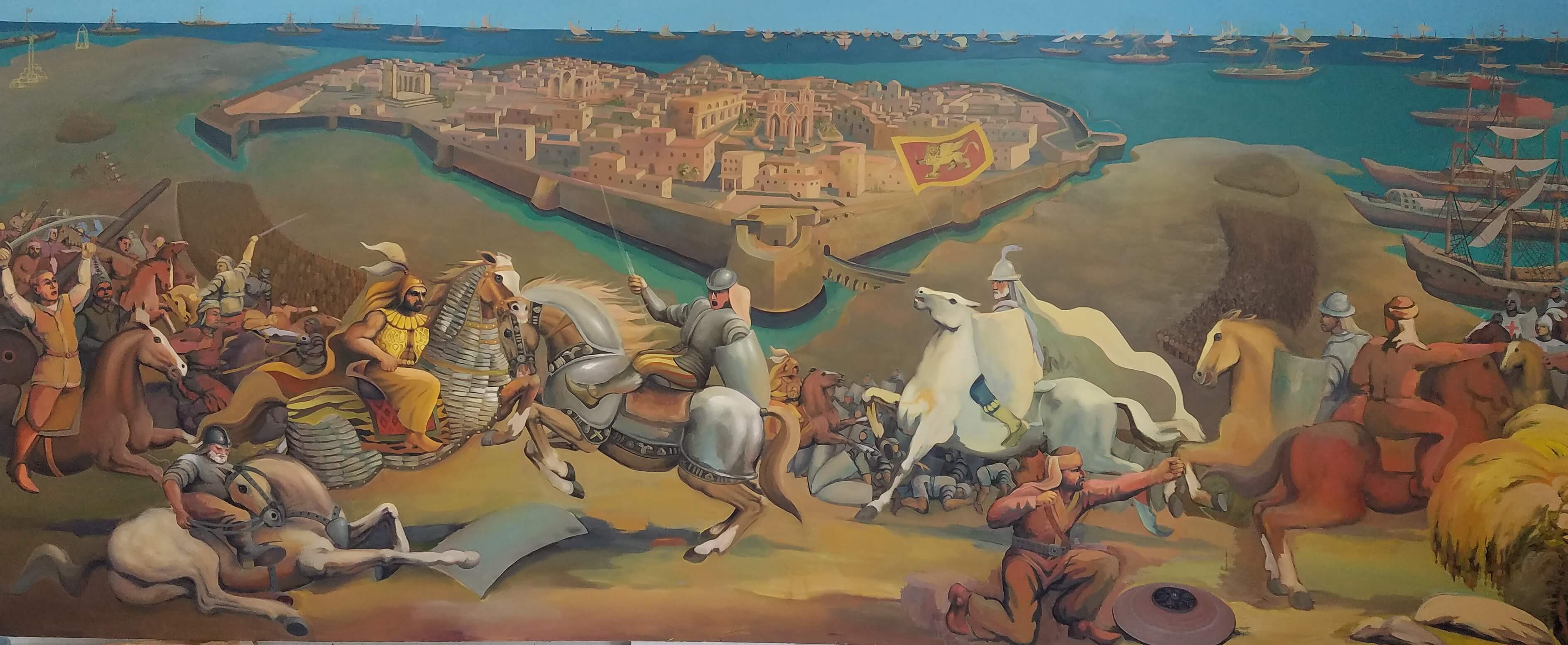 Consisting of 50 artworks that exclusively prepared for Cyprus Museum of Modern Arts, "4 Solo Exhibitions", which reveal the extraordinary vision of 4 Kazakh artists Yerlan Nazarkulov, Aidos Seydakul, Amanat Nazarkul and Kuralay Amanzholova and the "Exhibition of Turkish Printmaking Artists", which features 35 masterpieces created by 7 Turkish academician artists Tahir Büyükkaragöz, Ahmet Aydın Kaptan, Ata Yakup Kaptan, Serpil Kaptan, Nur Olcay Kurt, Engin Ümer and Adem Yücel, will be opened by Dr. Faiz Sucuoğlu, Minister of Labor and Social Security.
The Directorate of Press and Public Relations Office of Near East University released that the opening ceremony of 5 separate exhibitions would be realized at the Exhibition Hall of Near East University Hospital at 9:30 on Friday 13 September, 2019.
Yerlan Nazarkulov's 7 paintings depicting war themes, Aidos Seydaku's 25 paintings prepared in the genre of impressionism, Amanat Nazarkul's 2 large paintings depicting historical symbols and independence figures, and Kuralay Amanzholova's 15 paintings depicting steppe amazons and picturesque compositions will be presented to the visitors during the solo exhibitions of 4 Kazakh artists.
During 7 day-lasting- workshop realized at the printmaking workshop of the Faculty of Fine Arts and Design within the scope of Artists Residency Program, 7 academician Turkish Artists from Samsun 19 Mayıs University and Ordu University prepared 35 artworks exclusively for Cyprus Museum of Modern Arts. These distinguished artworks that created by using metal engraving and linoleum high printing techniques will also be presented to the taste of visitors throughout the "Exhibition of Turkish Printmaking Artists".
Original Works of Art are created…
Assoc. Prof. Dr. Erdoğan Ergün, the coordinator of Artists' Residency Program and the exhibition curator, delivered information about the artists' residency program, the 9th of which had been realized so far. "Artists' Residency Program is an international event designed to foster the Turkic artists to come and work at the printmaking workshops of the Faculty of Fine Arts and Design and contribute to Cyprus Museum of Modern Arts project. The overriding aim of the program is to host print art artists particularly Turkic artists involved in the field of modern art and to ensure that the original works created by the participating artists will take place in the collection of Cyprus Museum of Modern Arts, which is scheduled to be opened in 2020 as an art temple with 20, 000 square meters indoor area. We have hosted more than 90 printmaking artists so far. Within the scope of the program, the artists are provided with all possibilities required for research and production. Besides, trips, seminars, workshop talks and other social and cultural activities are organized as well" noted he.
Her works reflects Abstraction and War Themes…
Kazakh artist Yerlan S. Nazarkulov was born in Taraz, Kazakhstan in 1969. She studied at the Art School named after O. Tansybayev and graduated in 1997 from the Art Academy named after T. Zhurgenov, Almaty. She was the winner of the first prizes of the international exhibition Alem Saniaz in 1995, Zhiger in 1998, the Presidential and State Prize in 1999. She was the Presidential Award Winner in 2010, 2011 and 2012. She is a member of the Union of Artists of the Republic of Kazakhstan and the International European Union of Designers. She was also awarded with the Golden Politra in 2017 and the Medal of Excellence in Culture in 2017. She was the participant of various exhibition held in Almaty, Astana, Riyadh, Russia and Portugal. She exhibited her distinguished paintings through her personal exhibitions held in the Gallery Ular in 1996 and 1997, in the State Central Museum of Almaty in 2016, in the National Museum of Astana in 2017 and in the Dinara Satzhan Gallery in 2017. Her distinguished artworks take place in private collections in the USA, Canada, France, Germany, Denmark, Netherlands and Great Britain.
Yerlan Nazarkulov's solo exhibition reveals the artist's extraordinary vision through paintings depicting war themes and abstract figures emphasizing the meaning behind the forms and colors.
Artworks with National Style…
Artist Aidos Seydakul was born in 1993 in Almaty. He graduated from Kazakhstan National Pedagogical University in 2016 and Kazakhstan National Art Academy in 2018. Since 2015, he is a member of the Association of Young Artists of the Republic of Kazakhstan. The artist, who participated in republican exhibitions, won the Neva Palette competition in 2006. In 2015, he participated in the exhibition dedicated to the 550th anniversary of the Khanate of Kazakhstan.
Aidos Seydakul's solo exhibition features 25 artworks revealing his vision through relatively small, thin, yet visible brush strokes retained by impressionism.
His Artworks reflect symbols of independence, historical figures and modernity…
Artist Amanat Nazarkul was born in Kazakhstan in 1959. In 1988, he graduated from Moscow Surikov Art Academy. He has been a member of the Union of Artists of the Republic of Kazakhstan since 1991. He also chaired the Union of Astana Artists for a period. The artist, who was the winner of the international "Master Class" festival in Almaty in 2000, is the author of solo exhibitions. He opened his personal exhibitions at Astana Modern Arts Museum in 2001and at Presidential Cultural Center in Astana in 2003 and then at Astana National Republican Academic Library in 2007.
He uses the sense of colors in his paintings in a manner displaying fineness…
Artist Kuralay Amanzholova was born in Almaty, Kazakhstan in 1974. He graduated from Zhurgenov Kazakh National Academy of Arts in 1996. Between 1999 and 2001, he participated in the "Zhiger" festival at the Kasteyev State Museum of Art in Almaty. In 2001, he participated in an exhibition dedicated to the 10th anniversary of Kazakhstan's independence at the Kasteyev State Art Museum. He has been a member of the Union of Artists of the Republic of Kazakhstan since 2009. His works have a distinguished place in the private collections in the USA, Switzerland, Turkey, Russia and Kazakhstan. Amanzholova, who combines the sense of colors with musicality in a manner of fineness, reveals the beauty and steppe Amazons in his paintings in an effective and impressive manner.