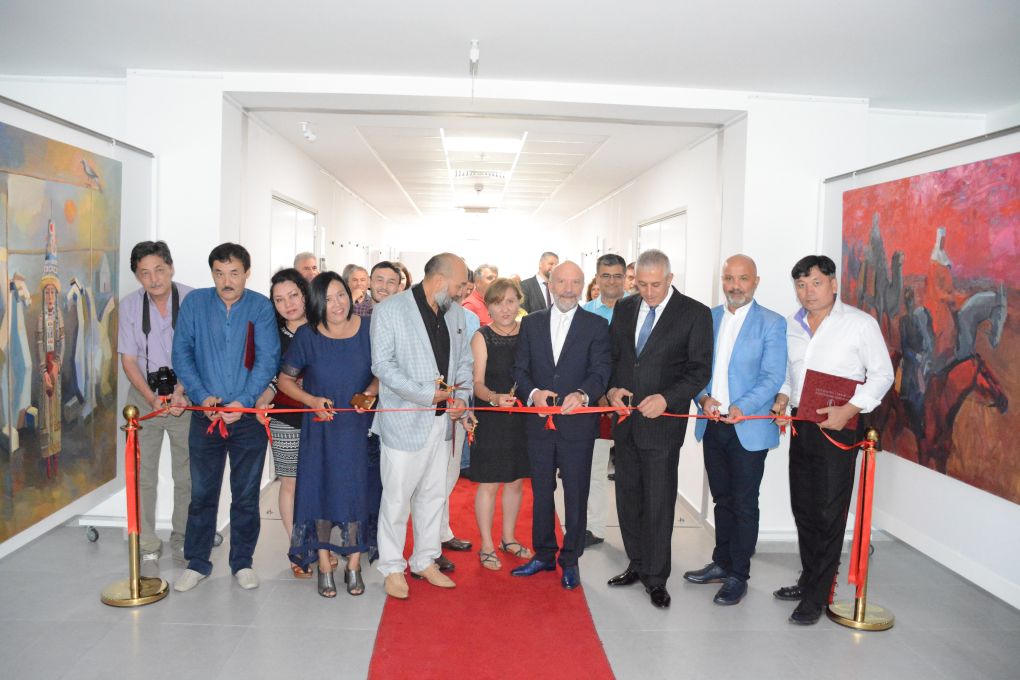 The "Kazak Artists' Exhibition", which features 40 paintings exclusively prepared for Cyprus Museum of Modern Arts by 9 Kazakh artists, was opened by Hasan Taçoy, Minister of Economy and Energy.
The Directorate of Press and Public Relations Office of Near East University released that the opening ceremony of the Exhibition of Kazak Artists was realized at Irfan Günsel Congress Center Exhibition Hall with the participation of Economy and Energy Minister Hasan Taçoy, Near East University Founding Rector Dr. Suat Günsel, vice rectors, faculty members, artists and invited guests.
The opening remarks of the exhibition were delivered respectively by Near East University vice Rector Professor Tamer Şanlıdağ, Kazakh artist Amanat Nazarkul (on behalf of Kazakh artists) and Economy and Energy Minister Hasan Taçoy.
Prof. Dr. Şanlıdağ: "A campus, where students interact and interoperate with scientists one on one is being created…"
In his opening remarks, NEU vice Rector Professor Tamer Şanlıdağ talked about the innovative and academic studies of Near East University, which aims to build up a competitive edge over others by achieving to be amongst the world's top 500 prestigious universities.
Stating that Near East University, which is a science-producing university, houses many different research centers and high-end laboratories, all of which are in service of research and development studies, Professor Şanlıdağ highlighted that they had more strengthened their academic staff day by day.
"In the last one month, we increased the number of our world-renowned scientists from 5 to 7 by including two more of the 100 Turkish scientists leading the science in the world.In addition, the leaders of the two research groups at CERN have recently joined us. Together with them, we started to exert efforts to become a stakeholder in this important project on behalf of the Near East and TRNC.As of Friday, Dr. Azhari Ahmad, who is the member of 2007 Nobel Peace Prize winner Intergovernmental Panel on Climate Change (IPCC), the United Nations body for assessing the science related to climate change, was joined to our academic staff. Thus, Near East University currently has two Nobel Prize winner scientists working under her umbrella" noted he.
Exchange Programs has a crucial role in providing students with opportunity to gain educational and training experience abroad…
Indicating that one of their main goals was to create a campus, where students work one on one with scientists, Professor Şanlıdağ underlined that they attached great importance on exchange programs."For the last 4 years, we have realized internship and research exchange programs with many universities across the world through our student clubs affiliated with our Faculty of Medicine and Faculty of Dentistry. Currently, within the scope of these exchange programs, 61 students from 22different countries engage in internship or research programs on Near East University Campus" noted he.
Stating that Near East University students also engage in internship and research exchange programs at universities abroad, Professor Şanlıdağ delivered further information: "For almost five years, one-sided and confidentially, Near East University faculties such as Faculty of Medicine, Faculty of Dentistry and Faculty of Nursing have been accepting Erasmus Exchange Program students from Poland, Slovenia, Slovakia, Czech Republic and similar countries. This year, we realized a first in TRNC and sent 2 students to Lithuania last month within the scope of Erasmus Exchange Program. Our goal is to initiate the academic staff exchange in the Fall Semester. Currently, we are hosting 7 students from different countries on our campus" said he.
"Dr. Suat Günsel takes steps towards the spiritual development of societies and countries…"
Speaking on behalf of Kazakh artists, Amanat Nazarkul expressed their happiness of contributing to the mission of Cyprus Museum of Modern Arts that unifies the Turkic World art under her umbrella.
Stating that Cyprus Museum of Modern Arts Project is unique and unmatched in terms of form and content, Kazakh artist Nazarkul shared his views: "The fate of the Turkic peoples is multifaceted and complex. The lands extending from the Altai Mountains to the Danube River are the lands where our ancestors, such as Han Erke, Karkyy Baba, Al-Farabi, Ertuğrul and Attila, have left their marks.The culture of Turkic peoples has been opening up with new dimensions and possibilities in 21st century. We have a mortal life; we are guests on this world. Only our works can survive for centuries. On behalf of our fellow artists, I would like to extend our appreciations to Dr. Suat Günsel for his concrete steps towards ensuring spiritual development of societies and countries" said he.
Minister Taçoy: "Near East University Brings Science and Creation Together in All Elements…"
Touching upon the importance of knowing the past before planning the future, Minister HasanTaçoy underlined that new generations need to know the past well before setting out to plan the future.
"We must learn the past so well that we can shape the future. In this context, I would like to underline the importance of activities carried out by Near East University in all domains ranging from science to health, from education to art and culture without leaving a gap" noted he.
Highlighting the significance of including very renowned scientists, who left their marks in the world of science, in her academic staff, Minister Taçoy stated that Near East University had steered the wheel towards opening new horizons in science, education and art. "The establishment of Özay Günsel Children's University aims to provide quality education designed to unveil both scientific and artistic creativity of children at a very young age. This is praiseworthy as launching such a university in TRNC is a first and very significant in terms of its objectives" noted he.
Highlighting the importance of the rapid growing technology, innovation and 4.0 industry model in our era, Minister Taçoy highlighted that the institutions of TRNC should be amongst the world's institutions and organizations that adopt innovation, high-end technology and 4.0 industry model to produce science.
Indicating that the Turkish Republic of Northern Cyprus would have an art museum that could not be expressed in words, Minister Taçoy stated that a treasure of 20 thousand of artworks that wouldn't be produced identically once again would be in the collection of Cyprus Museum of Modern Arts.
Minister Taçoy ended his remarks by extending his appreciations to Near East University for bringing information and creation together in all elements.
Plaques of Appreciation were presented…
Following the speeches, a plaque of appreciation was presented to each of 9 Kazakh artists by Economy and Energy Minister HasanTaçoy. Then the ribbon was cut and the exhibition, which consists of 40 artworks depicting decorative elements and reality, was opened for visits. The exhibition at the Exhibition Hall of Irfan Günsel Congress Center will be open for visits between 08:00 and 16:00 hours on weekdays until 9 August, 2019.