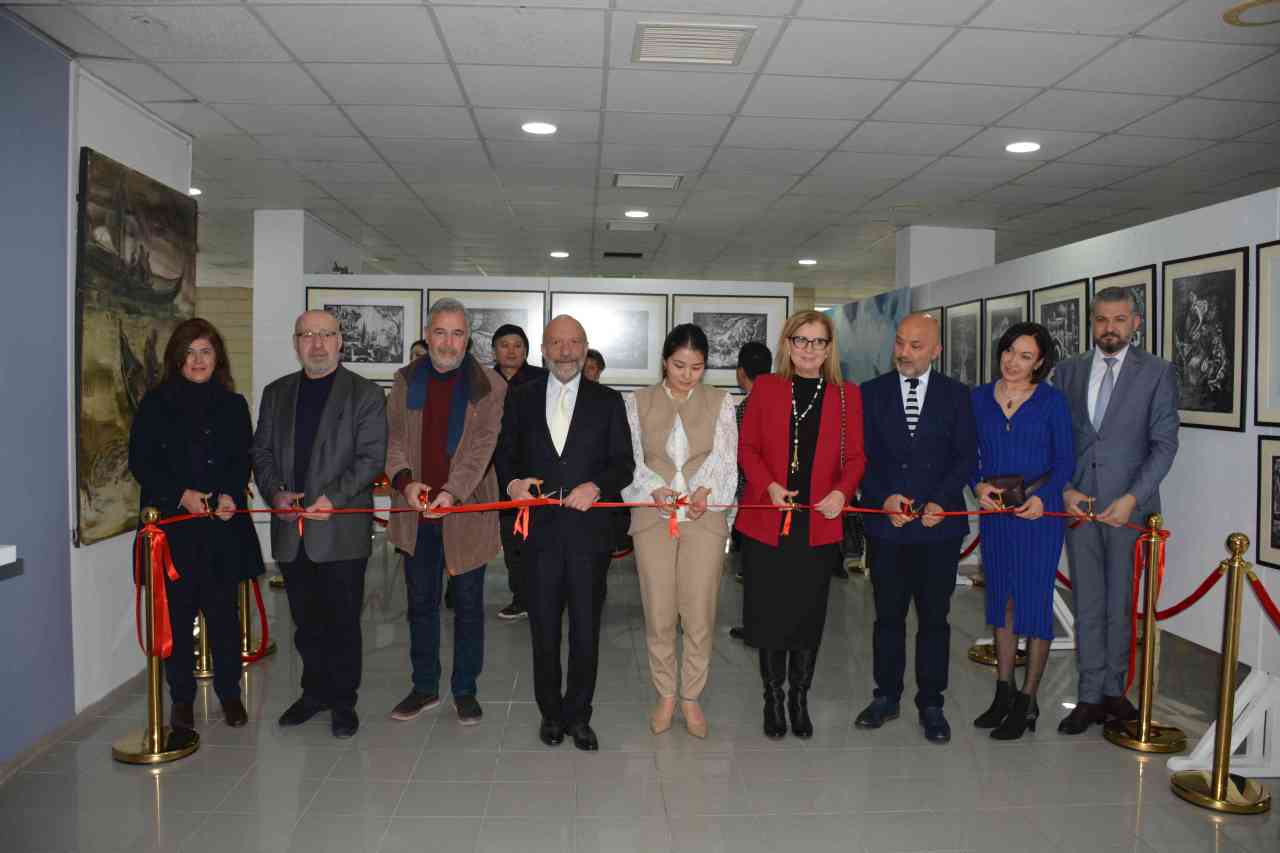 Sergey Anarbekov's solo exhibition that titled "Nomadic Rhythm" features 9 art pieces reflecting the extraordinary art vision of the artist. Baktygerey Teleubay's solo exhibition that titled "Heritage" features 17 artworks reflecting new concepts of space, color, light and design. lsuyar Kazakova's solo exhibition that titled "Stories" features 20 art pieces reflecting the artist unique style of art. Moldir Baigozhanova's solo exhibition that titled "The History and Art of Central Asian Peoples" consists of 35 printmaking works and 5 paintings to give the audience an unforgettable impression. These four separate solo exhibitions were opened by Famagusta UBP MP Resmiye Canaltay.
The Directorate of Press and Public Relations Office of Near East University released that the opening ceremony of the exhibitions was realized at Atatürk Culture and Congress Center (AKKM). The opening ceremony was attended by Famagusta UBP MP Resmiye Canaltay, Near East University Founding Rector Dr. Suat Irfan Günsel, vice rectors, directors of the graduate schools, deans, faculty members, artists and guests.
The opening remarks of the exhibitions were delivered respectively by Near East University vice Rector Professor Tamer Şanlıdağ, Kazakh artists Sergey Anarbekov, Baktygerey Teleubay, Ilsuyar Kazakova, Moldir Baigozhanova, and MP Resmiye Canaltay.
Tamer Şanlıdağ: "Besides scientific and Innovative studies, artistic projects are being brought into effect on local and global scale…"
Highlighting Near East University's commitment to continuing to use all her accumulation and energy to produce and contribute to the economic, social, psychological and cultural development of the society in local and global scale, NEU vice Rector Professor Tamer Şanlıdağ stated that the test drive of GÜNSEL, which is TRNC's first domestic and national car that produced by Near East University, was carried out successfully and added that the car would be launched on February 20. Professor Şanlıdağ shared with the participants a social media comment of a young engineer working in GÜNSEL automobile group. "Thank God that in the Eastern Mediterranean; in a 300,000 populated Turkish country that unrecognized by the world, a brave family produces electric cars with 100 Turkish engineers. I am experiencing a high level of professional satisfaction due to being a part of this project. May the God pave the way for it to be a brand producing millions of cars and having a place in the global market".
Stating that Near East University had taken firm steps towards becoming a global center in education, science, health, art and innovation, Professor Tamer Şanlıdağ underlined that Near East University with her educational and scientific accumulation had become an internationally known prestigious university, which had also been forefront with her cultural and artistic activities. "The greatness of Near East University is not physical at all. The greatness of a university is always assessed by taking into consideration the science that it produces and therefore the number of scientific articles published as well as the scientific activities carried out. As of 2019, Near East University has participated in 813 national and international scientific events and organized 1142 scientific activities. Near East University faculty members presented 864 articles at congresses and symposia. More than 1200 articles of faculty members of Near East University were published by prestigious journals scanned by Web of Science and Scopus, the largest abstract and citation databases of peer-reviewed literature covering tens of thousands research topics across all scientific disciplines.
Beside these scientific and innovative accomplishments, Near East University has brought global artistic projects into effect as well. The Museums Zone that built up on NEU Campus is the best indicator of this. In this zone, a total of 7 museums; Cyprus Car Museum, Herbarium and Natural History Museum, the National History Museum, the Maritime Museum, the Knife and Sword Museum, and Cyprus Museum of Modern Art, will meet art lovers" noted he.
"I would like to thank Dr. Suat Günsel for providing this opportunity…"
Kazakh artist Moldir Baigozhanova, whose solo exhibition to be opened, extended his appreciations to Dr. Suat Günsel for inviting and providing him with this opportunity. "I am also very appreciated with your interest, support and hospitability. I wish a healthy life, success and prosperity for all" said he.
Cyprus Museum of Modern Arts has made a tremendous impression In Central Asia…
Expressing that Cyprus Museum of Modern Arts had made an overwhelming impression in Central Asia, Kazakh artist Sergey Anarbekov stated that taking part in this project was a dare for him. "Here, we have had the opportunity to work together with other fellow artists and share different perspectives. The working environment led us to be in more contact and perceive the tendencies of the current time clearer; we have proceeded forward. We have clearly understand our place in the mind of the society. Although there had been completely paradoxical situations, the art workshop on NEU Campus provided us with opportunity to work in an inspiring environment with old fellows that I haven't seen for a long time. I hadn't seen my fellow Bakhytgerey for 24 years; we had the opportunity to meet in Cyprus. I hadn't seen my fellow Abdulkadir Rahimov since 2006 and we had the opportunity to meet on your lands. Artist Umurzak is my workshop neighbor in Almaty, however, I can see him almost once a year; and we have met here for the second time. This magnificent project is a kind of challenge that I dared against my own. What can I do? Can I be better in terms of ability and strength? I think, I have taken a step forward. I hope that the number of real works of art will increase day by day" noted he.
A magnificent project that is a source of inspiration…
Underlining that he was experiencing one of the most important moments of his life, artist Baktygerey Teleubay expressed his views: "This symposium is a new experience, a new inspiration, a new opportunity to express myself. I would like to thank Suat Günsel for his invitation and the providing us with opportunity to be a part of this unique, magnificent project" said he.
A great project that everyone can find his/her own life story in it…
Expressing his excitement of sharing his works with artlovers, Kazakh artist Ilsuvar Kazakova extended appreciations to everyone who contributed to that great project. "I have titled my solo exhibition as "Stories". If you ask why, every painting is a small life story. And perhaps, you will find your own life stories in my works. For me, this is the most important aspect" noted he
MP Resmiye Canaltat: "With all her energy generated from the vision of thinking big, Near East University always come up with great breakthroughs…"
Highlighting that Near East University has made her name know all across the globe by accomplishing great breakthroughs in many fields, Famagusta UBP MP Resmiye Canaltay expressed her views: "By producing TRNC's first domestic electric car GÜNSEL, Near East University will also make the name of our country known all over the world. Cyprus Museum of Modern Arts, which has taken concrete steps towards being the center of the Turkic art and culture, is a vision and a story of Suat Hodja (Founding Rector Dr. Suat Günsel), who proceeds by thinking big and going after his dreams. I would like to express my appreciations for the exerted efforts sparking contributions and employment opportunities for this country.
If you are not involved in art, it is a bit difficult to talk about art despite the fact that you love it. After coming in touch with the artists, we understand that life is a story. Everything has a story. Art also has a story. Near East University also has a story grounded on the big dreams and forward looking vision of the Founding Rector Dr. Suat Günsel. You live as long as you dream and you exist as long as you dream. Those, who had managed to dream and made their dreams true, have managed to exist in this world with the things that they had accomplished for their country and the world. Today, we are together with both artist nominated to leave distinguished artworks behind them. Today, we are also witnessing how a dream of Suat Hodja, who always pursues his dreams by thinking big, is coming true. I bow respectfully to what Suat Hodja has accomplished for the benefit of our country and people. You can be anything but it is hard to be an artist. It is only possible with artists to include works of art in what you do.How lucy we are that there are modern museums in our country. As long as a country values music, painting or any branch of art, its intellectual accumulation and level of development increases. I congratulate everyone and artists who supported the formation of this vision" noted she.
"We are looking forward to 20 February, on which GÜNSEL brand car will be launched…"
Expressing that she was looking forward to February 20, on which GÜNSEL brand car would be debuted, Resmiye Canaltay emphasized that the name of TRNC would be resounded all over the world with this initiative. Noting that car manufacturing was an initiative that even big countries had difficulties in fulfilling today, Canaltay expressed her views: "As TRNC, we consider this accomplishment of Near East University as an initiative making the name of our country resound all over the world. Near East University has made her name known all around the world by achieving many accomplishments in many fields. No doubt that, NEU with her contemporary museums will resound across the globe as a distinguished art center as well. However, car manufacturing stands forefront of all. I congratulate this great dream having the energy of creating vision together. I would like to take this opportunity and express my gratitude for investments sparking employment opportunities and art activities in this country".
Awards were presented…
Following the speeches, certificates of appreciation to Kazakh artists, Galina Skobeleva, Baktygerey Teleubay, Sergey Anarbekov, and "Dogdurbeg Nurgaziyev Award", which is awarded to comer young artists in honor of deceased Kyrgyz state artist Dogdurbek
Nurgazie, to Kazakh artist Moldir Baıgozhanova, and Silver Key Award to Kazakh artist Ilsuyar Kazakova were presented by MP Resmiye Canaltay.
Exhibition ribbons were cut…
Following the award ceremony, the ribbons were cut and the exhibitions were opened for visits. The exhibitions will be open for visits at Atatürk Culture and Congress Center (AKKM) between 08:00-16:00 hours on weekdays until 12 February 2020.