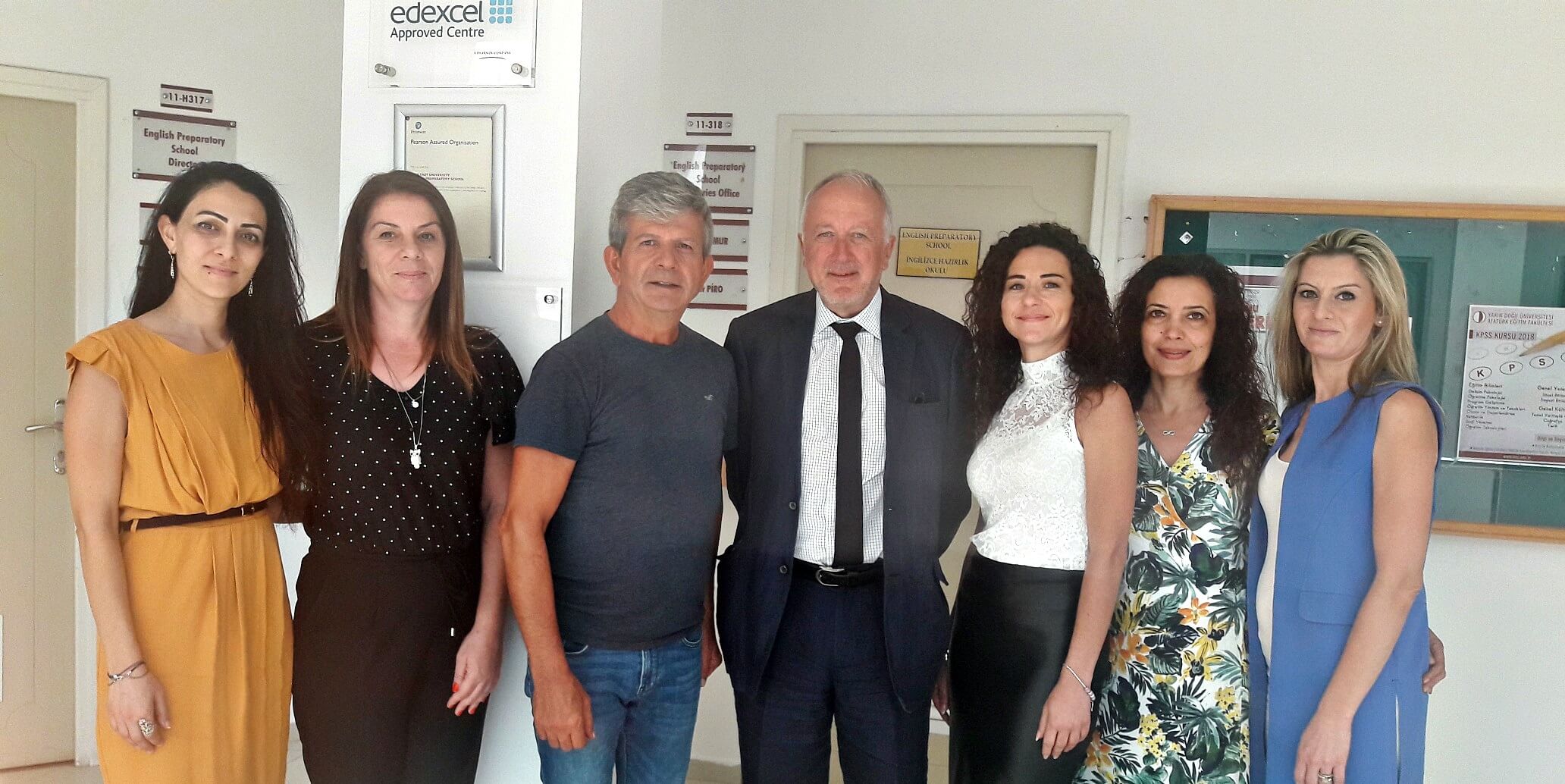 Near East University English Preparatory School has successfully passed the annual Pearson Edexcel accreditation audit for the fifth time and once again proved that its education and training, its resources and training environment, its quality management system, its administrative regulations, and its reliability comply with international quality standards.
According to the press info delivered by the Directorate of Press and Public Relations Office of Near East University, English Preparatory School, which was accredited by Pearson Edexcel in 2014, has passed the accreditation process successfully for the fifth time.
Underlining that Edexcel accreditation status was an international criterion of quality, Near East University English Preparatory School Director Enis Sayman stated that they had had Edexcel Accreditation Status since July 2014. "Independent auditors authorized by Pearson Edexcel annually pay quality assurance visit to conduct a systematic independent examination and determine whether the training and assessment/certification programs and related results comply with the current standards set by Pearson Edexcel. Near East University English Preparatory School has passed the accreditation auditing processes successfully at the end of each academic year since 2014 and proven that it continues to remain current and adhere to Pearson Edexcel Accreditation standards for the fifth time. Edexcel Accreditation status affirmed by impartial auditors is a solid indicator that the English Preparatory School of NEU has achieved a sustainable excellence in education matching the standards of Pearson Edexcel.

Enis Sayman; "Students receive International Certificate at the End of Each Academic Year …"
Touching upon the importance of having Edexcel Accreditation Status, the Near East University English Preparatory School Director Mr. Sayman highlights that they have the right to use the logo of Edexcel to issue certificates with Edexcel logo next to the logo of NEU. "Students, who complete the English Preparatory School successfully at the end of each academic year, receive international certificate with Edexcel logo indicating excellence and compliance to international standards in education" said he.
Underlining their commitment to ensuring quality and excellence in education, Mr. Sayman stated that they would continue to enhance and improve their programs in the line of the development of Near East University and their accomplishments. "Since the day of accreditation, we attach great importance on maintaining the highest quality in language teaching and offering the students internationally recognized language qualifications. To this end, being current and adhering to Pearson Edexcel standards are of great importance for us. In this regard, the applications that require technology integration such as Distance Learning and Collaborative Education were included in the curriculum in the academic year of 2016-2017. The applications that further improved in the academic year of 2017-2018 were successful as well" noted he.
Expressing that the success of the English Preparatory School was a great pride and a strong source of motivation for future for them, Mr. Sayman extended his deep appreciations to mainly the Founding Rector Dr. Suat Günsel, NEU Board of Trustees Chairman Assoc. Prof. Dr. Irfan Günsel, and to all administrative staff for providing them with all kinds of support and possibilities throughout the entire process. Mr. Sayman also extended his thanks to all the Preparatory School administrators and teachers working in the accreditation committee ".