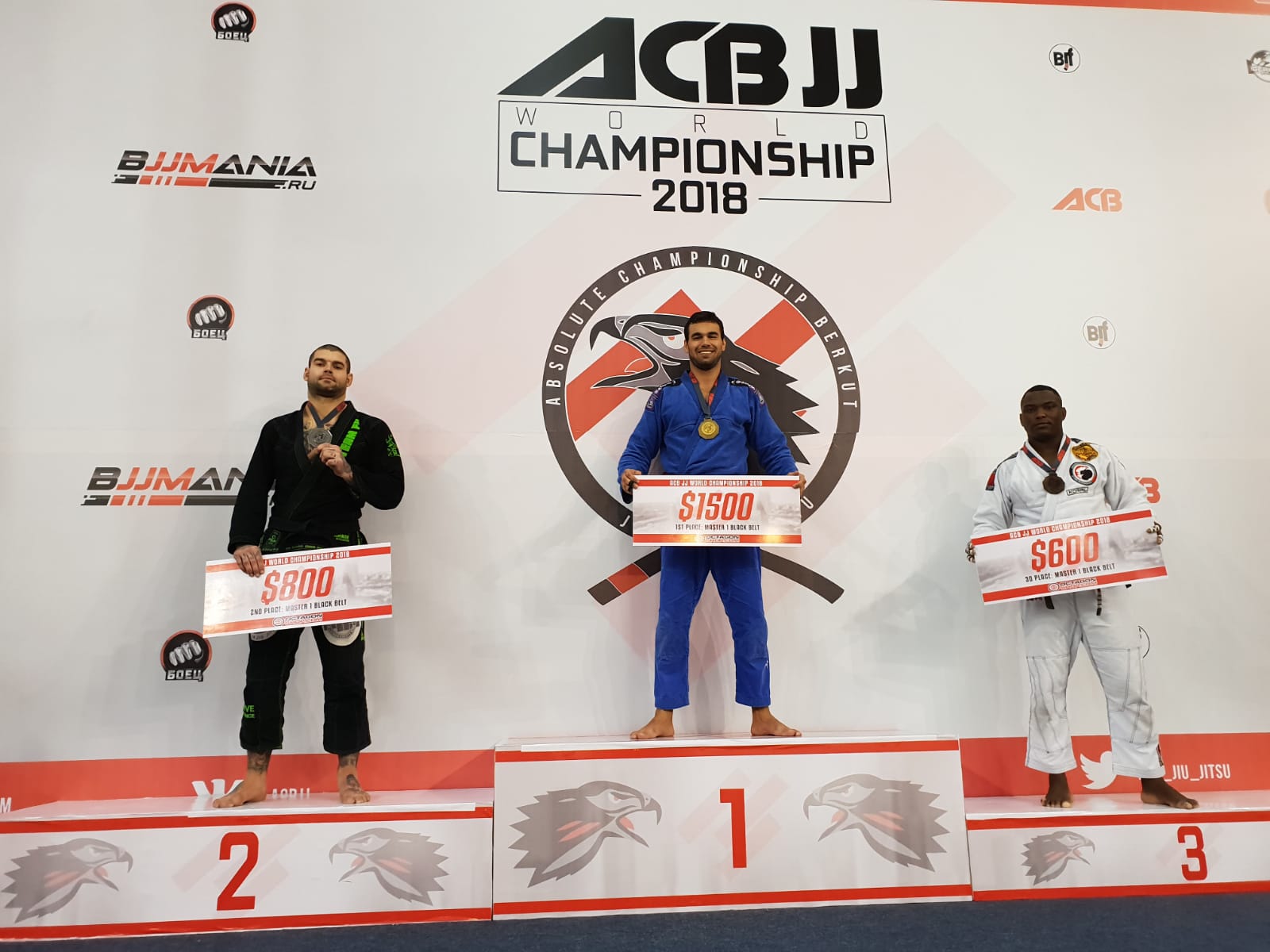 Chief Coach of Near East University Jui Jitsu Team Diogo Moraes Azevedo became the World Champion at the ACBJJ World Open Championship held in Moscow.
According to the press release issued by the Director of Press and Public Relations of Near East University, Diogo Moraes Azevedo became the World Champion of Master 1 95+ Super Heacy Category by defeating the champion of 2018 IBJJF Europe Champion Elgar Rafigaev.
At the championship, Azevedo passed the first tour, then at the second tour he defeated his opponent Bruno Matiası with a score of 4-2. Later in the final, defeated 2018 IBJJF Europe Champion Elgar Rafigaev with a score of 3-0; which made Diogo Moraes Azevedo the world champion. It was pointed out that till date Diogo Moraes Azevedo participated in many competitions held in the United States of America, England, Brazil and various other countries and owns gold, silver and bronze medals.
He would like to improve Jiu-jitsus in Northern Cyprus…
Expressing his pride and joy of becoming the world champion of the ACBJJ World Open Brazilian Championship Diogo Moraes Azevedo, stated that he wished to improve Brazilian Jiu Jitsu in the Turkish Republic of Northern Cyprus and that he would be working towards this goal.
He added that due to a shoulder injury at the European Championship he participated previously he could not be in the finals and that this had made him very sad. He stated that since then he had been working hard. In this regard, he emphasised how happy he was of his achievement and rewarded his championship to Near East University and promised to work hard to contribute to the sport of jiu-jitsus in the Turkish Republic of Northern Cyprus.
Furthermore, Avezedo stressed that it was not easy to be a world champion where hundreds of athletes compete in different categories and that success required disciplined efforts. Alongside body capacity, jiu-jitsus was a type of sport, martial art, challenging one's intelligence. He emphasised the significance of predicting one's opponent's next move and therefore acting in accordance with this prediction. Therefore, he stated that it was necessary for an athlete to develop one's intelligence, spirit and body. He pointed out that he had been doing this sport for ten years and that he had made many achievements. Moreover, he expressed the necessity of a well-balanced diet and disciplined hard work for achievement. He ended his words by stating that he will be continuing to work at the Near East University Sports Tower and that he is willing to establish admiration for this sport and assist younger athletes to become a champion.