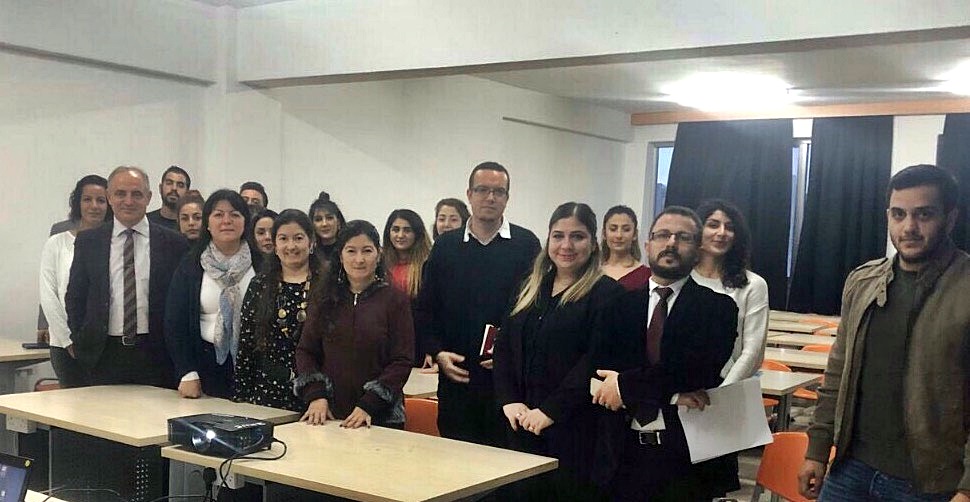 Near East University Institute of Educational Sciences held the 3rd December World Disability Awareness Day witha panel titled "Barrier-Free Activities in Higher Education". According to the information provided by the Press and Public Relations Directorate of the Near East University, the head of the Department of Computer Education Technologies, Dr. Zehra Altınay gave a presentation on technology integration and disabled people in the panel. Head of Special Education Department Assoc. Dr. Mukaddes Sakallı Demirok gave information about the scientific studies and trends in special education.
Lecturer from Department of Special Education Department, Başak Bağlama, informed the graduate and doctoral students about the focus subjects that should be taken into consideration in special education and its reflection on theses. The heads of the branches at the Institute of Educational Sciences also participated in the panel and contributed to the importance of interdisciplinary studies.
Professor Dr. Fahriye Altınay; "The Importance of Research in Ensuring Equality of Life and Interdisciplinary Education is great
Director of the Institute of Educational Sciences Prof. Dr. Fahriye Altınay, in her opening speech at the panel, emphasized the importance of research in ensuring equal view and life with interdisciplinary education. Emphasizing the importance of barrier-free activities and projects in graduate education, Prof. Dr. Altınay reminded all the researchers that they need to work especially in the interdisciplinary studies to provide solutions to social responsibility and problems.
Head of Computer Education Technologies Prof. Dr. Zehra Altınay in her presentation at the panel, gave information about the activities and scientific studies she conducted on the technology and the disabled in her academic life and work.
Head of Department of Special Education Assoc. Prof. Dr. Mukaddes Sakallı added that they educated the students with the awareness of importance of education, research and social responsibility and added that they are very proud that the real experts are working both in society and in related institutions.