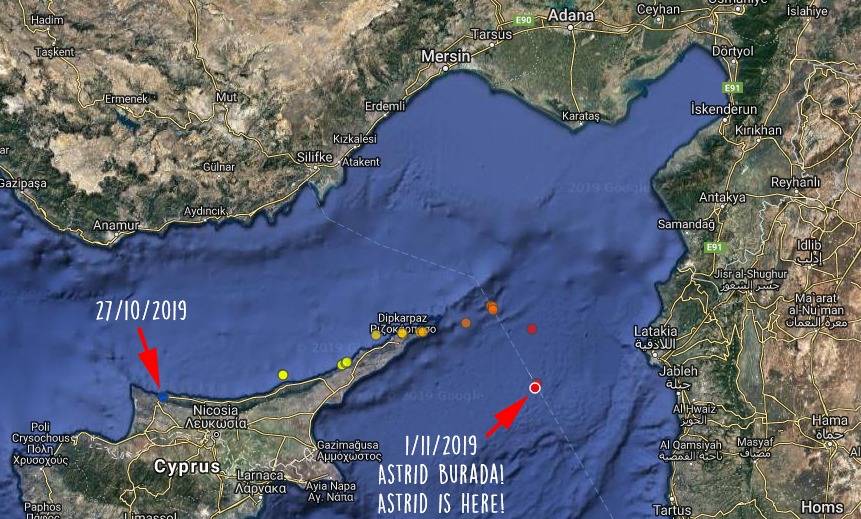 Astrid named Caretta Caretta turtle, which was seriously injured on the coast of Kyrenia in September 2015 and was treated with a joint work of the Near East University Animal Hospital and Tashkent Nature Park, continues her journey.
Directorate of Press and Public Relations of Near East University released in a statement that Astrid was released to the sea on October 27, 2019, on the Kyrenia Güzelyalı coast and is thought by experts to be heading towards Egypt.
As a result of the treatment and rehabilitation process that lasted for four years, Astrid released to the sea, her natural habitat after regaining her health and was monitored for six days via GPRS, which was mounted on her.
Moving South…
Cyprus Wildlife Research Institute, Wildlife Rescue and Rehabilitation Center Specialist Zoologist Damla Kıral said in a statement that they have followed Astrid for 6 days, which first followed a route from the North coast to the south of the Karpasia peninsula, and then proceeded towards the direction of the South
Planned to be followed until next summer…
Near East University, Faculty of Veterinary Medicine academic member and also the consultant of Cyprus Wildlife Research Institute, and a specialist on Sea Turtles, Assoc. Prof. Dr. Wayne Fuller said in a statement that the coast of North Africa is a known wintering and feeding area for sea turtles, and Astrid began to migrate to Egypt as soon as she returned to nature. Assoc. Prof. Dr. Fuller said that they hope that the follow-up will continue until next summer, and if they are lucky, they hope Astrid will return to Cyprus and that they will even identify her nesting shore.