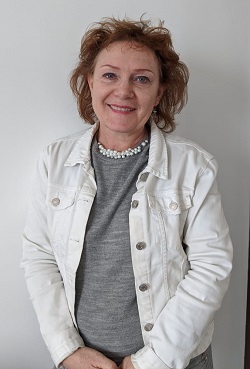 Due to the spread of new types of coronavirus (Covid-19) worldwide, painters continue to reflect the epidemic and struggle on the canvases.
According to the information provided by the Press and Public Relations Directorate of Near East University, artist Lidiya Drozdova supported the fight against coronavirus, which caused severe fear and anxiety around the world, reflecting her emotions on her canvas in order to prevent the negativities caused by the virus on human beings.
The artist also gave the message of # Evdekal-Stayhome, emphasizing that the warnings and precautions of the authorities should be strictly followed and there is no way to put our health under risk.
In the statement, it was reported that for the Cyprus Museum of Modern Arts a different artist will paint the struggle against the pandemic every day and will continue to share their emotions regarding the fight against coronavirus from different perspectives.
Who is Lidiya Drozdova?
Artist Lidiya Drozdova is the Person-in-charge of the Art Academy, a member of the Kazakhstan Designers Association, the French "Mondial Art" academy, the Georgian Artists Association, and of the London Eurasian Creative Association. She opened her solo exhibition at the Embassy of Kazakhstan in Latvia in 2018. She is the official representative of the Latvian Culture and Arts in Kazakhstan. She held 12 solo exhibitions and participated in 55 group exhibitions. Her works take place in museums and private collections in the Commonwealth of Independent States (CIS) and abroad, such as Kazakhstan, Germany, Belarus, Iran, Czech Republic, Korea, Latvia, Japan, Russia and Thailand.