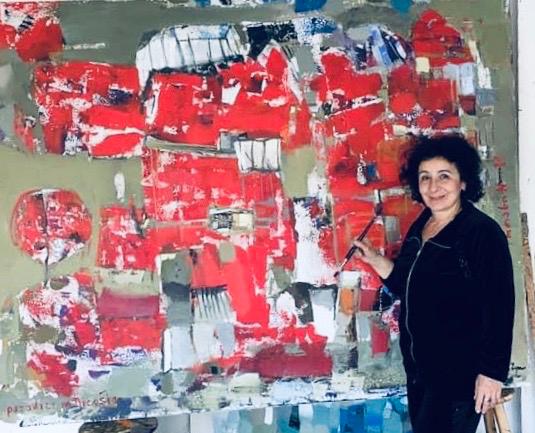 Artist Ketevan Shalamberidze painted the historical sites of Nicosia and Kyrenia Marina to the canvas for the Cyprus Museum of Modern Arts during quarantine days.
According to the information given by the Press and Public Relations Directorate of Near East University, the artist Ketevan Shalamberidze continued her art in the quarantine days in our country as in the world, and depicted the historical places of Nicosia and Kyrenia Marina on canvas, and presented them to the taste of art lovers.
In the press statement, it was stated that all artworks made for the Cyprus Museum of Modern Arts will continue to be delivered to art lovers during the Covid-19 measures.
Who is Ketevan Shalamberidze?
She was born in the city of Tbilisi in Georgia in 1960. She graduated from Tbilisi State Academy of Arts in 1986. Shr has been a member of the Georgian Artists Association since 1986. Shr held many personal exhibitions during her art life.
Some of those;
2019 – "Four Aspects of the Self", "34" Gallery, Tbilisi
2018 – "Infinite Space", Red Square Gallery, Tbilisi
2013 – 'Bakuriani 2013'
2012 – "Impression", "Wanda" Gallery, Tbilisi
2009 – Solo exhibition in London
2007 – "Pro-Art" Project, Tbilisi
2002 – Charity Solo Exhibition, High Point, North Carolina
1999 – Tbilisi State Museum, Tbilisi
Ketevan Shalamberidze participated in many national and international exhibitions;
2018 – 'Life and Style', International Printing Fair, Tbilisi
2017 – Black Square, Wanda Art Gallery, Tbilisi
2015- "Silk Road", an exhibition of contemporary famous artists, Xi'an, China
2014- "Creative City" exhibition of three Georgian artists, Paris
2012 – Art does not need words to unite people …, Salo, Italy
2001- Georgia Culture Days, Beadleston Gallery, New York
1996 – International Art Festival, Edinburgh
1996- Georgian art "Old place" JOVILI, Somerset
1995- "Georgian Art" Art Center, Baku. Azerbaijan
1990 – 'Intergraph' Berlin, Germany
Ketevan Shalamberidze also participated in many art fairs;
2012- Chelsea Art Fair, London
2011 – "International Art Festival" Feminine Art "Women Artists Association, Trabzon
2010 – Russian, Asian and Eastern Art Fair in London.
1997 – International fair "Deco 97 in Berlin." The exhibition, "Hobby Gallery", Berlin.
The artworks of the artist take place in private collections in England, France, USA, Germany, Belgium, Italy, Georgia and in other countries.