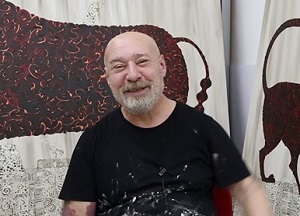 Dean of the Faculty of Fine Arts of Near East University, artist Prof. Dr. Erdal Aygenç painted three acrylic paintings with the existing materials in the home environment during the Corana days.
The artist stated that all three canvases were made by re-evaluating the unfinished paintings that were previously unfinished.
According to the information provided by the Press and Public Relations Directorate of Near East University, the artist Erdal Aygenç said that "isolation" should not prevent an artist from producing art in some way because artistic production must continue.
In the statement, it was reported that for the Cyprus Museum of Modern Art one artist will continue to share three of his or her artworks every day, such as paintings, prints, graphite, during the isolation days of Covid-19.
Who is Prof. Dr. Erdal Aygenç?
He was born on June 5, 1959, in Hopa. He completed his primary and secondary education in Hopa and his undergraduate education at Gazi University, Faculty of Education, Department of Painting. He completed his MA in 1986 and PhD in 1992 at Hacettepe University, Faculty of Fine Arts, Department of Graphics. He worked as a research assistant, lecturer, and Assist. Prof. Dr. between 1985 and 2006 at Hacettepe University, and held administrative positions, served on academic boards and commissions. He has supervised MA and PhD thesis, and he served at the selection committee. His articles have been published in the fields of art and design, presented papers at symposia, participated in conferences, conducted sessions, took part in projects, and conducted workshops. He has participated in many national and international exhibitions as well as holding eight solo exhibitions up to now. He won awards in three international competitions, two in Belgium and one in Argentina. He has taken part as a jury member in national and international competitions. His artworks have appeared in domestic and international collections and museums. He has been continuing his academic life as a Faculty Member at the Faculty of Fine Arts and Design, Near East University, since 2006.