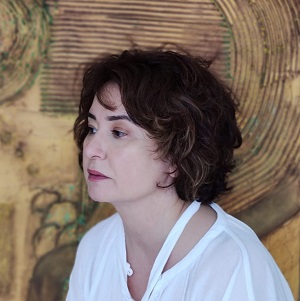 Due to the spread of the new type of coronavirus (Covid-19) worldwide, artists continue to create artworks in order to draw attention to the epidemic and support the struggle from a different perspective. In this context, artist Mirkasimova tried to express the beginning of a new life by giving positive messages in her works using acrylic and oil painting techniques.
Artworks named Dilek (Wish), Zen and Filiz (Sprout) meet art lovers…
According to the information provided by the Press and Public Relations Directorate of the Near East University, the artist Aysel Mirkasimova said the following about her works that she brought out to draw attention to the coronavirus outbreak that caused hundreds of thousands of deaths; "I wanted to give positive messages in my work. Whatever it is, I tried to express to avoid giving up our dreams with "Dilek-Wish", that we should stay in balance with "Zen" and the ending of all the negativity with "Filiz".
For the Cyprus Museum of Modern Arts, artworks created by a different artist, using different techniques will continue to be shared.
Who is Aysel Mirkasimova?
She was born on December 01, 1973, in Baku, Azerbaijan. In 1988, she entered A. Azimzadeh Fine Arts College and graduated in 1992 as an art teacher. In 1992, she entered the Fashion Textile Department of Azerbaijan State Culture and Art University and graduated in 1996. She completed her master's degree from the same university in 1998. In 2007, she completed her doctorate at the Azerbaijan State Academy of Fine Arts with her thesis titled "Portrait in Azerbaijan Oil Painting". She has been working for the Fine Arts Department of Near East University since 2004. She has been a member of the Azerbaijan Painting Foundation since 2007. She has participated in many national and international art exhibitions and projects. Her works are included in many collections.