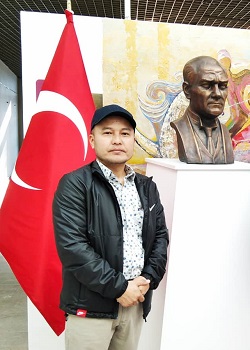 Due to the spread of the new type of coronavirus (Covid-19) worldwide, artists continue to reflect and support the fight against the pandemic sometimes on canvases, sometimes on ceramics, and sometimes with sculptures.
According to the information given by the Press and Public Relations Directorate of Near East University, sculpture artist Ayipjan Tashtemirov describes the woman in four stages by processing the theme of woman in her work titled "Spring"; "Childhood, Maiden, Motherhood and Old Age." The artist who stated that each stage is beautiful with its unique experiences; She emphasizes that childhood life is like a sprout, the maiden stage is like summer, full of happiness and joy, the maternity stage is full of autumn, with compassion and love, and the old age stage is like winter, wisdom and diligence that beautifies the woman's image.
Artist Ayipjan Tashtemirov; "In this statue we see the spring period in the woman's life. Just like a sprout, she starts her life, her beauty is just opening up. In this sculpture, I used some symbols to enhance the image of the woman. Twelve curls on the woman's skirt symbolize the twelve months. The circle in the statue symbolizes the cyclical nature of life and the change of seasons. The four lights in the circle symbolize the four seasons." Artist Ayipjan Tashtemirov also stated the belief that new spring will be raising in the near future and wished healthy days in order to be able to get rid of the coronavirus, which is today's plague.
In the statement, it was reported that the works that were created by a different artist every day for the Cyprus Museum of Modern Arts will continue to be shared from different perspectives despite isolation and quarantine during the coronavirus days.
Who is Ayipjan Tashtemirov?
She was born in 1979 in the village of Kulunda, in the Batken region of the Kyrgyz Republic. She entered the art academy in 1991. She graduated from Art and Design Faculty in 1997. She studied at Turgunbai Sadykov National Art Academy in Kyrgyzstan between 1997-2002. After graduation, she worked as a teacher at the National Academy of Arts of the Kyrgyz Republic between 2003-2004. She carried out museum restorations between 2004-2005. In 1998, she participated in the 'Altyn Balalyk' symposium held by the 'Meerim' foundation. In 1999, she participated in the symposium titled "Osh 3000". In 2000, she participated in the "Park sculptures" symposium held in Celal-Abad. In 2001, she participated in the "Young Talents of the Century" exhibition held in Bishkek. Since 2006, she has been working as a sculptor in the private company "AYAR".