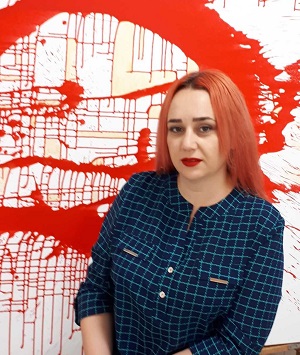 Due to the spread of the new type of coronavirus (Covid-19) worldwide, artists continue to reflect the epidemic and struggle on the canvases.
According to the information given by the Press and Public Relations Directorate of Near East University, artist Anastasia Racovcena reflected her support to fight with the new coronavirus, which caused great fear and anxiety worldwide, on the canvas.
Artist Racovcena shared her works that reflect the coronavirus on the canvas in order to prevent the negative factors caused on people by the virus. Underlining the need to follow the calls of the authorities, the artist called # evdekal-stayhome" for sake of both our own health and public health.
In the statement, it was reported that a different artist will make paintings depicting the fight through different perspectives against the virus for the Cyprus Museum of Modern Arts.
Who is Anastasia Racovcena?
She graduated from Komrat State University in 2002. The artist's works are in the collection of the main educational section of Gagauzia. A letter of thanks was given to her by the General Directorate of Education in Gagauzia for making a collection of pictures for the establishment of the Ministry of Education. She received a letter of thanks from the organization of "TURKSOY" and the management of the city of Malatya for her contribution to the unification of the Turkish people with her participation in the international TURKSOY art exhibition.
She was awarded numerous diplomas by the Department of Culture and Tourism as she participated in group art exhibitions. The artist's paintings are in collections in Russia (Moscow), Moldova (Chisinau), Gagauzia (Comrat), Turkey (Malatya), Bulgaria (Sofia), Germany (Mellrichstadt).
In 2016, she participated in the group art exhibition titled "Gagauzia Woman in Fine Arts" held in the city of Comrat. In the same year, she participated in the international group art exhibition held in Turkey, Malatya "TURKSOY" organization. In 2017, she participated in the group exhibition titled "Palette of the Motherland" held in the city of Comrat. She held 2 solo art exhibitions in the Gagauzia art gallery. She represented Gagauzia in the 19th open-air painting exhibition held in Turkey by TURKSOY. She participated in the annual group art exhibitions titled "Spring, Woman, Love" held in the city of Comrat, between 2017-2019.