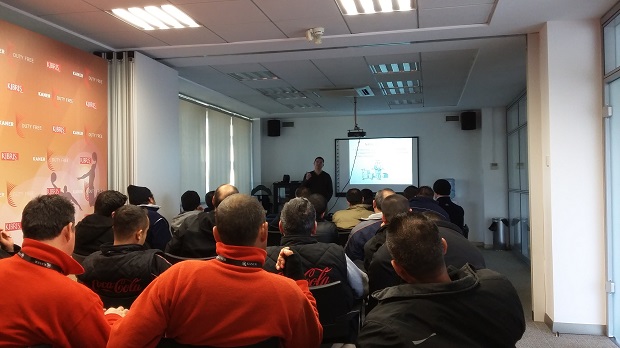 The training course on "Labor Health and Safety in Manual Handling Operations", which was organized in cooperation by Near East University Hospital and Kaner Companies Group for the workforce of Kaner Companies Group, was held on January 23-25, 2016
According to the press release issued by the Directorate of Press and Public Relations Office of Near East University, a manual handling training course regarding labor health and safety was held in order to provide the workforce of Kaner Companies Group with information required for reducing or avoiding injury risk from manual handling. The press statement underlines that manual handling covers a wide range of operations including lifting, lowering, pushing, pulling, carrying or moving thereof a load by hand or by bodily force. Manual handling training course, which took place at the headquarters of Kaner Companies Group, was implemented by Assoc. Prof. Dr. H. Ulaş Yavuz from the Department of Sports Medicine of Near East University Hospital. At the end of the course, each participant was given a certificate.
Since Manual handling is one of the most costly and most common causes of injury, during the training course, the participants were provided information regarding the factors that increase the injury risk from manual handling, physical properties of loads which might either affect grip or cause direct injury, ergonomic approach to remove or reduce the risk of manual handling injury, heavy manual labor, awkward postures and techniques for proper manual handling in terms of biomechanics, appropriate risk management for hazardous manual task, the identification of hazards and elimination of risks that may cause manual handling injury, and the management of control measures relevant to manual handling injury risks associated with the conditions of workplace. Thus, all participants have been provided with adequate information on the appropriate manual handling techniques for the tasks that they are required to perform in their jobs.