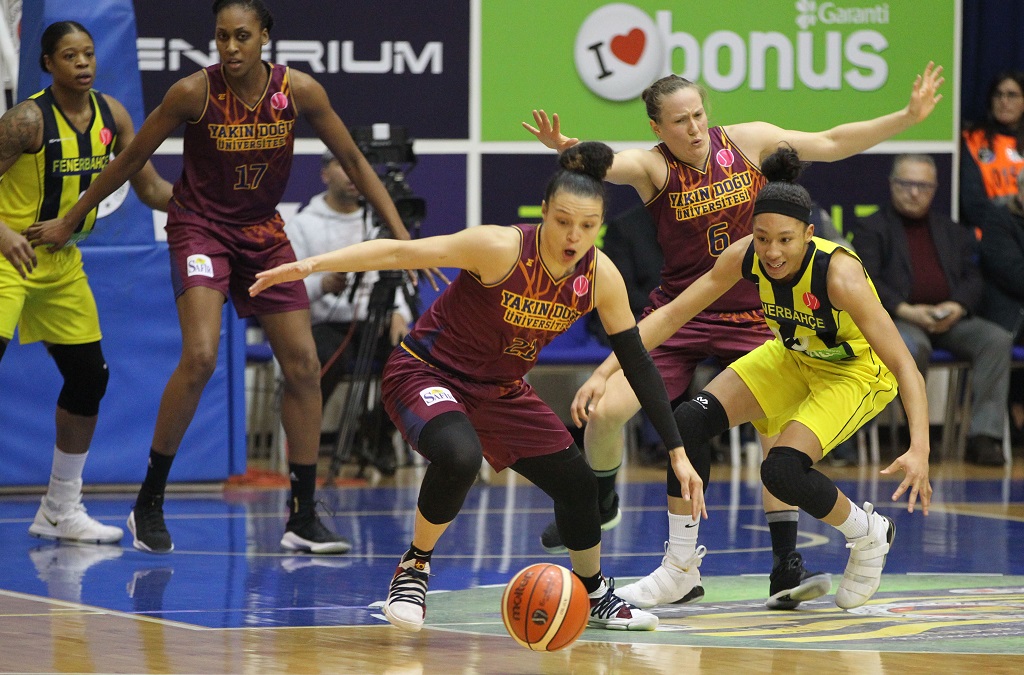 The 13th week of FIBA EuroLeague Women was the scene of a thrilling game between two contender Turkish teams; Fenerbahçe and Near East University. The derby between Near East University and Fenerbahçe was a breathtaking one and it lived up to the expectations when the two teams clashed at Istanbul, Metro Energy Sports Hall on Wednesday night.  It was a perfect night for Near East University as they clung on to 65-76 win on their rival floor. With this win, Near East University has made it 11-2 and continues to lead Group B with 24 points. Fenerbahçe currently ranks the second place with 22 points.
After performing a memorable derby double over Fenerbahçe with a 65-76 victory, Near East University has secured its top position in FIBA EuroLeague Women Group B and captured home advantage for the Quarter-Finals.
Under the helm of Coach Zafer Kalaycıoğlu, the versatile players of Near East University exhibited stunning performance with 'team's first' mentality and propelled their team to a significant win versus Fenerbahçe. Kayla McBride netted 17 points while Elin Eldebrink added 14 points and Courtney Vandersloot weighted in with 10 points, 9 rebounds and 6 assists. Jantel Lavender, Quanitra Hollingsworth and Sandrine Gruda collectively shot more than 60 percent from the floor against their former club Fenerbahçe. They combined 28 points and 20 boards.
According to the info released by the Near East University Sports Club, Near East University Women's Basketball Team started the game with Quanitra Hollingsworth, Kayla McBride, Courtney Vandersloot, Jantel Lavender and Elin Eldebrink. The periods ended 15-21, 38-39, 53-62 and 65-76.
Starting the game with a high tempo, Fenerbahçe tried to grasp and get the game. However, Near East University fought back with tough zone defense. Exhibiting high performance, the versatile players of Near East University began to get inside the paint and drive the ball to basket. They scored 21 points and completed this period victoriously 15-21.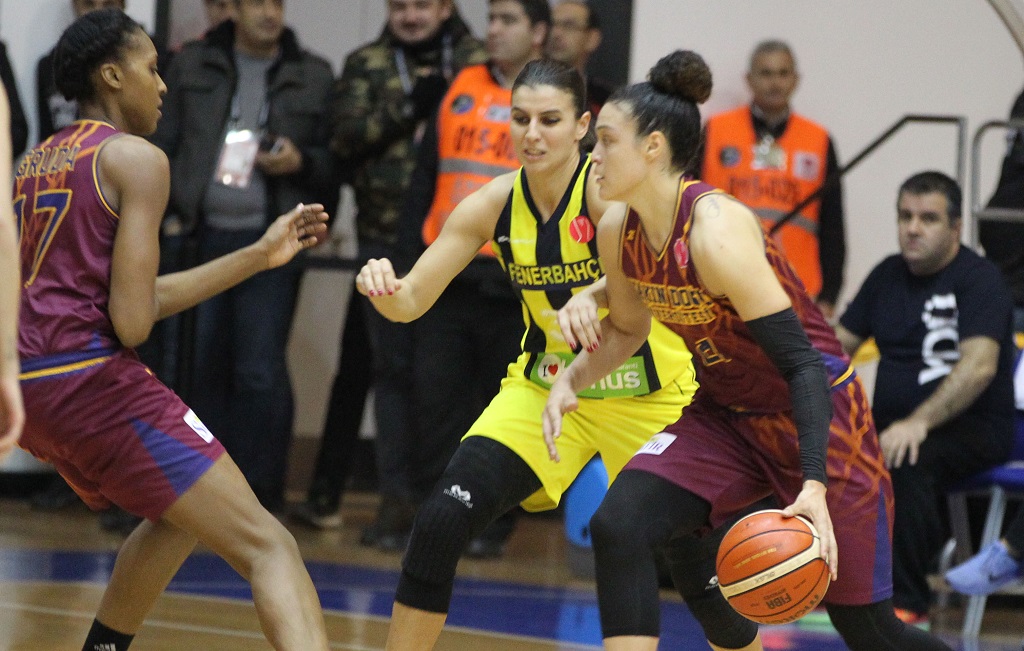 Both team started the second period with a very high tempo. The game was the scene of breathtaking moments. Towards the last minute of the quarter the score was almost tied to 38-37. In the last second of the quarter, Kayla McBride performed a slam dunk and Near East University led the first half by 38-39.
Fenerbahçe's Verameyeka netted 11 points in the first half while Jantel Lavender and Kayla McBride netted 10 points each.
With a blistering start to the second half, Near East University achieved 10-0 lead in the first three minutes of the third quarter. Anastasiya Verayemenka netted their first points (40-51) after the 4th minute of the quarter. Dominating the game in the third period, Near East University scored 23 points and completed the period victoriously by 53-62.
Without resting on its score advantage, and without compromising effective performance, the Near East University started the last period with a great team spirit based on 'team first' mentality. This period, Fenerbahçe tried to fight back but the versatile players of the Near East University gave them no way through tough zone defense. The Near East University dominated this period completely and left the basketball-court victoriously by 65-76.
Standouts
Fenerbahçe: Anastasiya Verameyenka 19 points, 10 rebounds, 3 assists, Ariel Powers 16 points, 8 rebounds, Ana Dabovic 11 points, 3 assists, Kia Vaughn 8 points, 3 rebounds.
Near East University: Kayla McBride 17 points, 4 rebounds, 4 assists, Elin Eldebrink 14 points, 4 rebounds, Sandrine Gruda 12 points, 8 rebounds, Courtney Vandersloot 10 points, 9 rebounds, 6 assists, Jantel Lavender 10 points, 8 rebounds, Quanitra Hollingsvorth 6 points, 4 rebounds, Olcay Çakır 6 points.