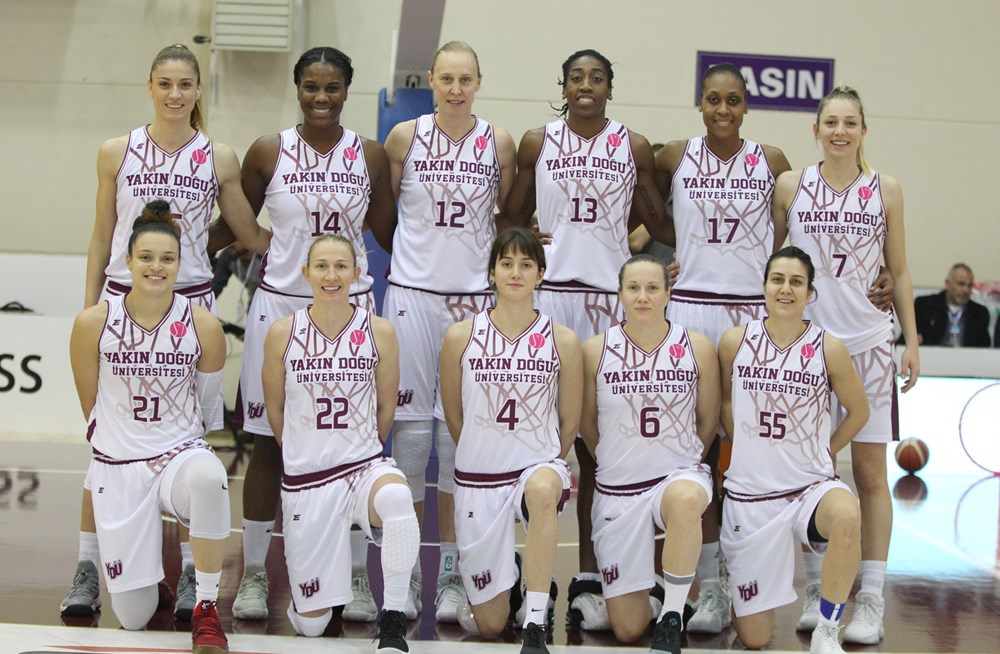 Regular Season Gameday 13 in FIBA EuroLeague Women will be the scene of a breathtaking derby between two contender Turkish teams of FIBA EuroLeague Group B; Near East University and Fenebahçe.
According to the info released by the Near East University Sports Club, Near East University Women's Basketball Team is facing Fenerbahçe for a road game in Istanbul, Metro Energy Sports Hall at 19:00 (20:00 Turkey local time) on Wednesday 24 January 2018.
For the first match, Near East University Women's Basketball Team faced Fenerbahçe at Caferağa Sport Saloon on Wednesday 29 November 2017 and won the game 72-61. Although both teams have already qualified for Quarter-Final Play-Offs, the game is of great importance for the two contender teams to lead the Group B.
Basketball enthusiasts can watch this thrilling game live on BRT 2, on web-page www.fiba.com, or on the official youtube account of FIBA.
Near East University is currently leading FIBA EuroLeague Women Group B with 10 wins out of 12 games, while Fenarbahçe ranks the second place in the Group with 9 wins. Fenerbahçe has added Italian star Giorgia Sottana and American Lynetta Kizer to their roster recently.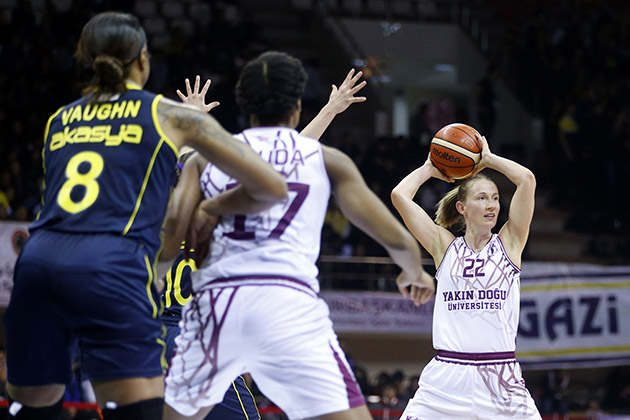 Zafer Kalaycıoğlu: "We aim to join in the Quarter Final Play-Offs as the leader of Group B"
Evaluating the road game that they would play versus Fenerbahçe, the Head Coach of Near East University, Zafer Kalaycıoğlu stated that it would be one of the toughest and most challenging games of the group. "Both teams are successful and play good basketball. The game has great importance for both teams to rank the first or third place in the group. The 4 best placed clubs in each group will qualify for Quarter-Final Play-Offs. Both Near East University and Fenerbahçe have already qualified for Quarter-Final Play-Offs. However, we want to join in the Play-Offs as the Leader of Group B. The group leader will play home versus the team that ranked the 4th place in the other group, while the 3rd placed team of the group will face with the 2nd placed team of the other group in Quarter Final. The winners of Quarter-Final Play-Offs will qualify for the Final Four" said he.
Touching upon Fenerbahçe's new transfers Sottana and Kizer, Kalaycıoğlu stated that it would be a game that both teams could use all their foreign players. "Both teams will be on the court with a strong team for a big fight to win the game. Both teams are focused on winning. We want to win this important game to capture the home advantage for Quarter Final Play-Offs. I firmly believe that my players will do their best to exhibit the best performance in a concentrated way" noted he.