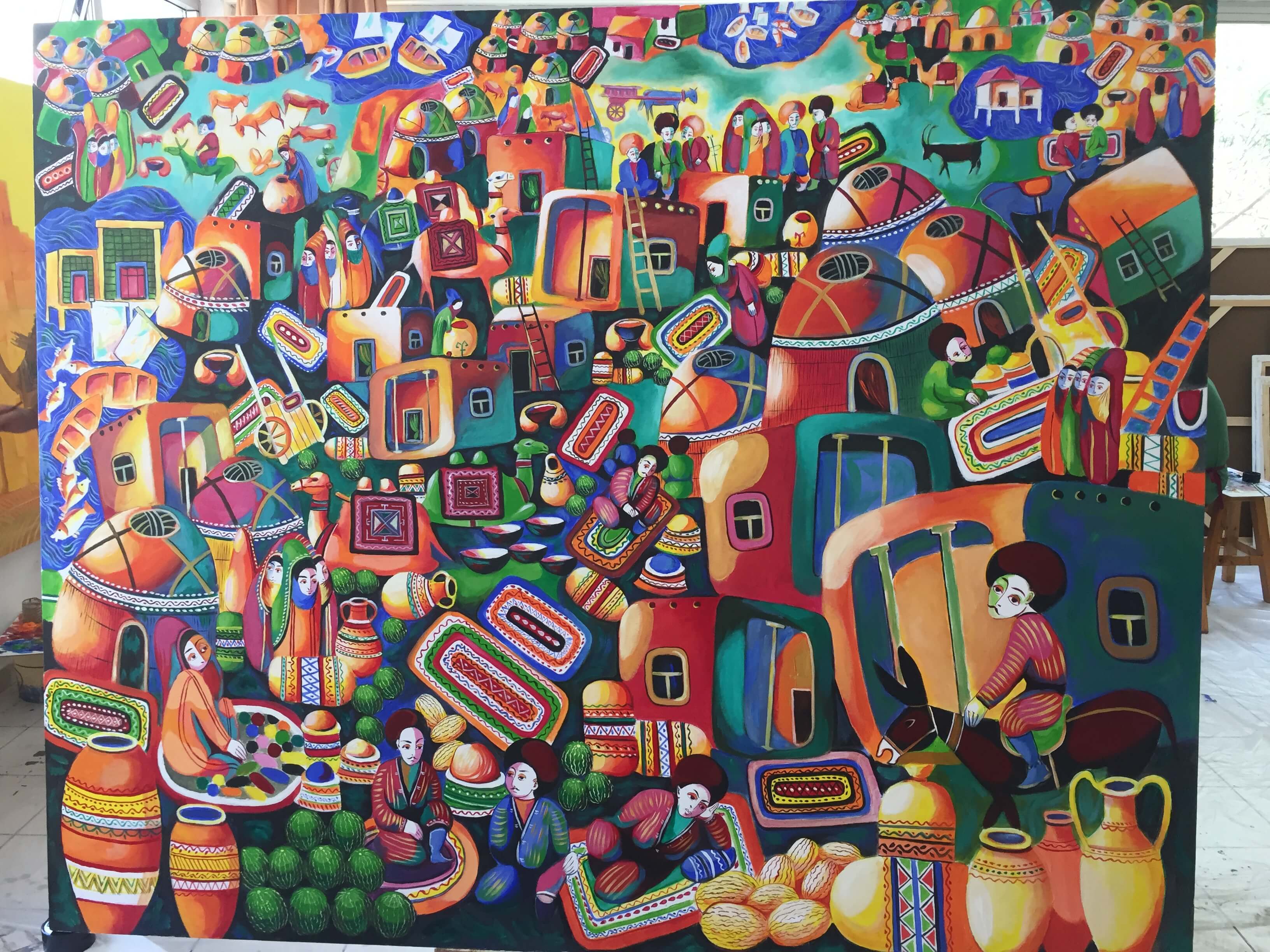 The mass exhibition consisting of 56 works of the artists of Kazakhstan and Turkmenistan and of the Kyrgyz artists Bazarkul Omarkul Uulu (20 paintings), Bakhramzhon Temirov (20 paintings), Kubanychbek Ibragimov (20 paintings) and Turkmenistan Artist Dovletgeldi Akkiyev (60 print paintings) will be opened by the Minister of Economy and Energy Hasan Taçoy.
According to the information provided by the Directorate of Press and Public Relations of the Near East University, the opening of 3 individual exhibitions consisting of the works of Kubanychbek Ibragimov, Bakhramzhon Temirov, Bazarkul Omarkul Uulu, will take place on July 15, 2019 at 8.30, at the Exhibition Hall of the Near East University Hospital. Kazakhstan and Turkmenistan Artists Exhibition and Turkmenistan Artist Dovletgeldi Akkiyev's Solo Painting Exhibition will be held on Monday, July 15, 2019 at 09.15 at the exhibition hall of the Near East University Atatürk Culture and Congress Center.The Cyprus Museum of Modern Arts, which has hosted nearly 60 exhibitions to date, now hosts more than 10 thousand artworks and will present 176 artworks to art lovers with 6 different exhibitions.
Kazakhstan Artists Painting Exhibition will take place in different thematic works…
Various works of graphic themes will be used in the works of Kazakhstan Artists Painting Exhibition which will consist of 26 works of 6 artists from Kazakhstan. In the exhibition, Davletyarov Manarbek will present pieces of life, moments around us, reality and fun situations. Elmira Zhumabayeva will present her artworks created through her unique artistic pastel technique. Zura Assylgazina uses the character of painting freshness and contrasting colors in her landscape works.
30 works of 7 Turkmen artists will be exhibited…
7 artists will present their artworks to the art lovers at the Turkmenistan Artists Exhibition. Annadurdy Myradaliyev, who participates in the exhibition, was born in 1952 in Gonur village of Mary region. She entered Turkmen State Art School in 1967. She has been participating in republican exhibitions since 1971. In 2016, she won a bronze medal at the exhibition titled "The Pearl of the Silk Road" held in Tajikistan.
Annageldi Meretgeldiev was born in 1956 in the village of Kyzylkum. In 1990, Aynagozel Nuryyeva was accepted as a member of the Union of Artists of Turkmenistan. She graduated from the Graphic Department of the State Printing Institute of Ukraine in 1992, and graduated from the Yagshymyrat Kerimov Academy of Arts of Turkmenistan in 2005. In 2008, she became a member of the Union of Artists of Turkmenistan. Her works are in private collections in Ukraine, Uzbekistan and European countries. She was awarded a medal and diploma for her contributions to the arts.
Colors will be reflected in his works of landscape genre…
Kyrgyzstan's artist Bazarkul Omarkul Uulu prepared landscape-style paintings, which are distinguished by the colors he uses. Born in 1974, the artist studied at the Bishkek Art Academy between 1994-1998. Since 2009, he has been a member of Artists Association of Kyrgyz Republic. He is the organizer of several solo exhibitions. In 2008, the "Asian Treasures" in Bishkek, in 2010 "12 Houses of the Month" in Astana, in 2012 "Towards Bishkek" in Poland, in 2013 he participated in various international exhibitions in Kyrgyzstan, Kazakhstan and China.
Kyrgyz Culture and Traditions Depicted…
Kyrgyz artist Bakhramzhon Temirov's exhibition consisting of 20 works, mainly focused on Kyrgyz culture, traditions and family theme. He was born on December 30, 1973 in the Andijan region. In 1988 he studied at the P. Benkov Art School in Tashkent. In 1994, graduated from Kyrgyz State S.A. Chuykov Art School, Department of Painting. Since 1998, he has been working as a teacher at the Art Boarding School at the Academy of Arts. Since 1996, he has been participating in national and international exhibitions regularly. The artist who participated in the international symposium in the "Bridge of Art" project with the participation of artists from Kazakhstan, Kyrgyzstan, Azerbaijan, Uzbekistan and China took part in many youth exhibitions.
Depicts Happiness and Peaceful Works with Mixed Technique…
Kubanychbek Ibragimov, the Kyrgyz artist, uses the mixed technique in his paintings to depict happiness and serenity.The artist was born in 1975 in the village of Bek-Abad in the Jalal-Abad region. In 1994, graduated from Kyrgyzstan State S.A. Chuikov Art School. Since 2011, he has been a member of Kyrgyz Republic Artists Association. He has participated in many exhibitions and participated in exhibitions in Chanki, China and in the 'Imago mundi Luciano Benetton Collection' in Italy. His works are exhibited in the Kyrgyz National Museum of Fine Arts named G.Aytiev as well as in private collections abroad.
60 Print Paintings Depicts Wild Animal Life…
The artist Dovletgeldi Akkiyev from Turkmenistan reflects the lives of wild animals in his works that he prepared with the technique of print painting.
He was born in 1972 in Mary, Turkmenistan. Between 1994-2000, he studied at the State Academy of Turkmenistan. Since 2000, he has been the director of "Sun" magazine. Since 2001, he has been teaching graphics at the State Academy of Turkmenistan. In 2011, a commemorative medal was given him in memory of the 20th anniversary of the independence of Turkmenistan. In 2013, he participated in an exhibition in Azerbaijan. Her works are exhibited in private collections in foreign countries.