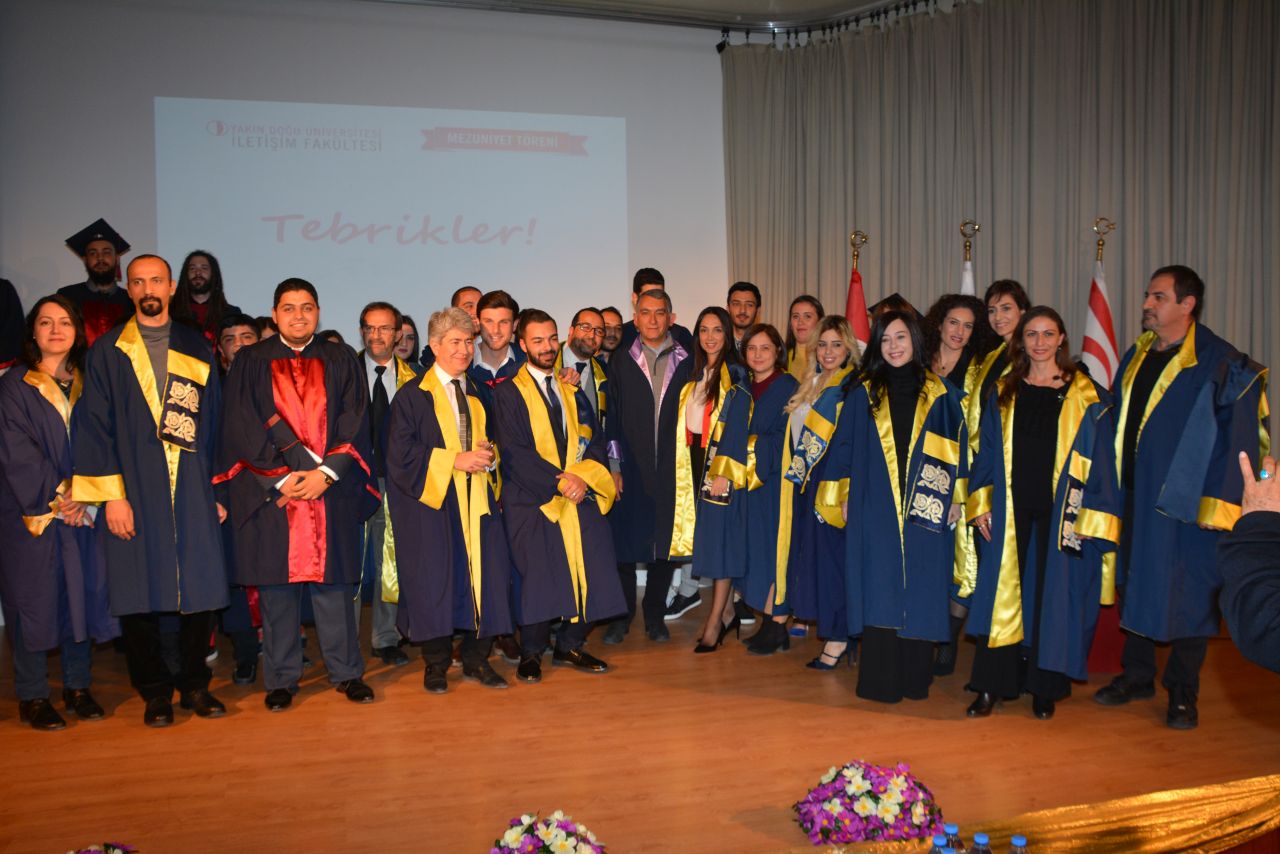 Near East University Faculty of Communication 2017-18 Fall Term graduation ceremony was realized. Near East University, Faculty of Communication feels great honor and pride of producing graduates having the broad range of skills required to fulfill their professions. Students, who met the graduation requirements at the end of the fall semester of the academic year 2017-2018, received their diplomas with a glorious ceremony held at the Orange Hall.
According to the press release issued by the Directorate of Press and Public Relations Office of Near East University, the graduation ceremony was realized with the participation of Near East University vice Rector Prof. Dr. Şenol Bektaş, Assoc. Prof. Dr. Gökçe Keceçi, the Acting Dean of Faculty of Communication, the heads of departments, academics, the students and their parents. Graduates and their families experienced a great happiness and proud during the presentation of diplomas.
The Graduation Ceremony began with stand in silence and followed by the National Anthem. Then, the participants experienced pleasant moments with the music recital performed by the Music Teaching Department student Begüm Tekpınar.
Then, Anar Süleyman from the Department of Journalism delivered a speech in commemoration of the Faculty of Communication lecturer Associate Professor Atila Türk who passed away in 2016.
Following the introductory video of the activities realized within the scope of the 6th media workshop held in the academic year 2017-2018, Near East University Faculty of Communication Acting Dean Assoc. Prof. Dr. Gökçe Keceçi delivered a speech.
Assoc. Prof. Dr. Keçeci: "As Faculty Members, We are Proud of You"
In her opening remarks, the Acting Dean Assoc. Prof. Dr. Gökçe Keceçi addressed the faculty members and touched upon the significant role of academics in creating a more well-rounded education combining theory and practice through their well-equipped departments, research laboratories, studios, and basic design workshops. "Perhaps, you are having one of the most enjoyable moments of your profession which demands a great patience and dedication. Your students, whom you provided with professional knowledge and skills that cover all dimensions of communication processes, are here in front of you as graduates. No doubt that you are proud of them. Our students, each of who has a distinguished value for us, will step into their professional lives as a part of Near East Family. Our graduates received their education in the context of equality principle in a contemporary environment where they had the opportunity to combine practice with theoretical knowledge, have a say in academic debates, and participate in many activities. We know that the only treasure that cannot be taken from their hands, cannot be handed back and cannot be torn off from them is education. They now have it".
Touching upon their commitment to making a difference in education by providing all possibilities required competing with the most demanding faculties and producing well-equipped graduates who have awareness and sense of responsibility on social issues, nature and animal love and ethical values, Assoc. Prof. Dr Keçeci went on. "Faculty of Communication of NEU is uniquely positioned itself to stand out as a leading institution. I believe that we have achieved this goal. With this point of view and attitude, our graduates, who are equipped with adequate theoretical and technical knowledge acquired throughout four year undergraduate education, will always be a step ahead to analyze the issues and reach the right result through proper assessments. Knowing that we have achieved this goal fills us, as faculty members, with pride".
Addressing to the graduated students, Assoc. Prof. Dr. Keçeci highlighted the importance of being a graduate of NEU and said: "Without ignoring the moral and material support of your parents as well as of your teachers, I congratulate you sincerely for graduating from our university with your own efforts and dedication. It is a privilege to be a graduate of the Near East University. I hope, this privilege will encourage you to be a good professional, and your behaviors will always reflect the values and principles that you believe".
"Dear Parents, You are here today with high feelings. You feel the excitement of seeing off your beloved children, whom you brought up with care and caution, to struggle for life. Don't have any doubt, Near East University with its academic and administrative staff has trained these young people well. Be sure of their future success and trust them, be proud of them. As courteous, self-restrained, and modern minded young people, they are ready to adopt the modern world and build up their careers as well-rounded professionals with responsibility for social and ethical values and keep up with the fast changing needs of the media sector and search information by questioning with a never-ending enthusiasm. They always have the key with them to be enquirer on the global issues" said she.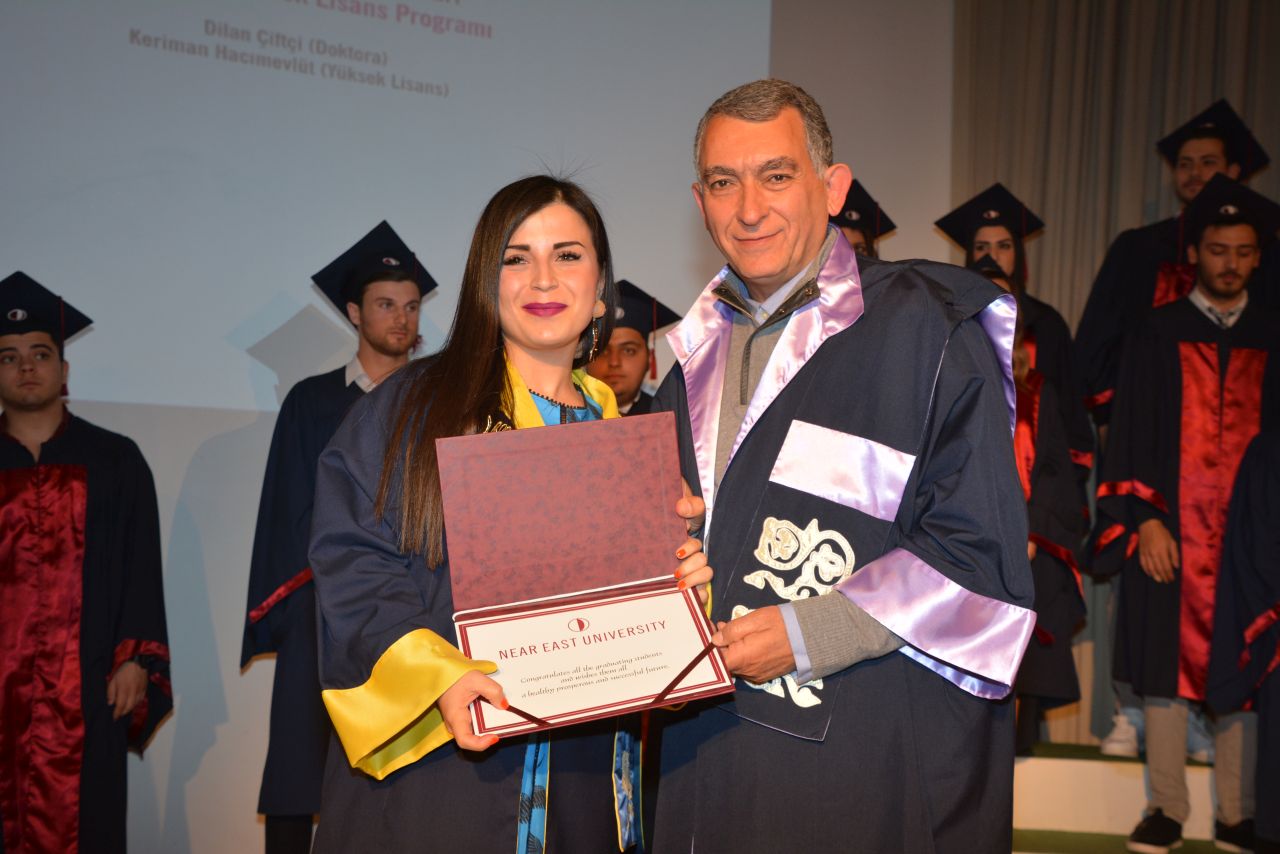 Prof. Dr. Bektaş: Whenever you look at the diploma hanged on your wall, you will miss your teachers and classmates longingly"
Taking the stage after Assoc. Prof. Dr. Keçeci, vice Rector Professor Şenol Bektaş addressed the attending body. "We are here to present the diplomas to our graduates. I congratulate all of them. The faculty members of the Faculty of Communication have done their parts and they have raised you as well-equipped professionals. Your parents also completely fulfilling what is expected from them and provided you with moral and financial support for your education" noted he.
Professor Bektaş ended his remarks by wishing success for graduates. "Dear students, you are closing a page of your life today, and you are starting a new page with a new energy, with high skills and knowledge that you have acquired throughout your education process. I wish you success in your new route. Your continuous success in your career is the greatest wish of your parents and your teachers. I wish all of you good luck and continuous success on this long and challenging way"
Kemal Bağban: "In fact, this is not an end; it is the point to get a brand new start"
Addressing his fellow graduates, Bağban voiced his feelings. "This will be a brand new start rather than an end. During the time that flowed away so rapidly, we felt the warmth of a family within the friendly environment of NEU Faculty of Communication. We really call it a family when we consider the strong ties established between our term fellows and faculty members. We always felt the warmth of a family based on mutual love and respect" said he.
Then, Bağban took the communication oath.
Following the oath, the graduates of undergraduate and post-graduate programs were presented their diplomas. Upon receiving their diplomas, the graduates experienced the joy of the graduation by throwing their caps…