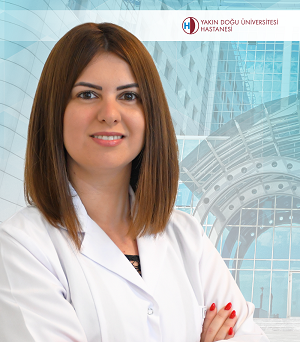 Psychologist Tuğçe Denizgil Evre from the Near East University Hospital Department of Psychiatry explained the methods to overcome the state of panic, restlessness and anxiety caused by the epidemic, which is also necessary to protect the mental health as much as the immune system.
The 2019-nCoV Acute Respiratory Disease, which caused the World Health Organization to declare "International Public Health Emergency", required some urgent precautions to be taken in our country as well as all over the world." Psychologist Tuğçe Denizgil Evre said that these measures were taken to prevent the possibility of the virus spreading rapidly, to interrupt the activities of many workplaces, both publicly and privately, for a while and to ensure that the public pays attention to stay in their homes as much as possible. Touching on the fact that these measures, which have to be taken, increase the air of panic and fear in the society, Tuğçe Denizgil Evre stated that in our country, we have many people whose quarantine process continues, as well as positive cases with Covid-19 test results.
Tuğçe Denizgil Evre; "Like our immune system, it is extremely important to keep our mental health in balance."
Tuğçe Denizgil Evre stating that it is not possible for the public not to be influenced emotionally despite trying to draw rational conclusions from what they read or watch about the virus, said "In our current state, our brain, which is focused on avoiding the existing danger and surviving, releases some hormones. We can say that these hormones have some kind of auxiliary functions that try to keep us alive. However, the fact that both the body and cognitive functions are constantly alert to a potential threat in long-term environments such as epidemics, can negatively affect our psychological health as well as our immune system. In such times, it is very important to be in spiritual balance just like our immune system."
Suggestions to help keep panic sense under control…
Tuğçe Denizgil Evre, who stated that the sense of "panic" is rapidly spreading in epidemics with such a strong contagion, and that the person can show anxiety symptoms in all situations and conditions that he/she does not know and cannot foresee, advised the public in order to control the panic feeling and manage anxieties; "Nowadays, when disaster scenarios are often written, don't worry about news in untrustworthy platforms, as anxiety disorders can increase even more. You can follow the agenda on condition that it does not exceed 1 or 2 times a day from reliable sources. One of the most important physical symptoms of anxiety is shortness of breath. In this context, if your anxiety is very intense, you can relax by doing breathing exercises, and if you have heart palpitations, you can review your caffeine consumption. Constantly talking about coronavirus, watching videos will not be good for you. It would be good to focus on other things. For example; such as reading your book that you have wanted to read for a long, watching movies, working in the garden and taking care of flowers. If you have children; In order to protect the health of your children and their surroundings, the importance of washing hands regularly should be explained and you can have fun with them."
Tuğçe Denizgil Evre; "Continue your daily routines at home as much as possible."
Reminding that people should continue their daily routines within the home as much as possible by taking all necessary precautions, paying attention to personal hygiene, not leaving the house and not being in crowded environments, Tuğçe Denizgil Evre, expressed her belief that this problem will be overcome in a near future.