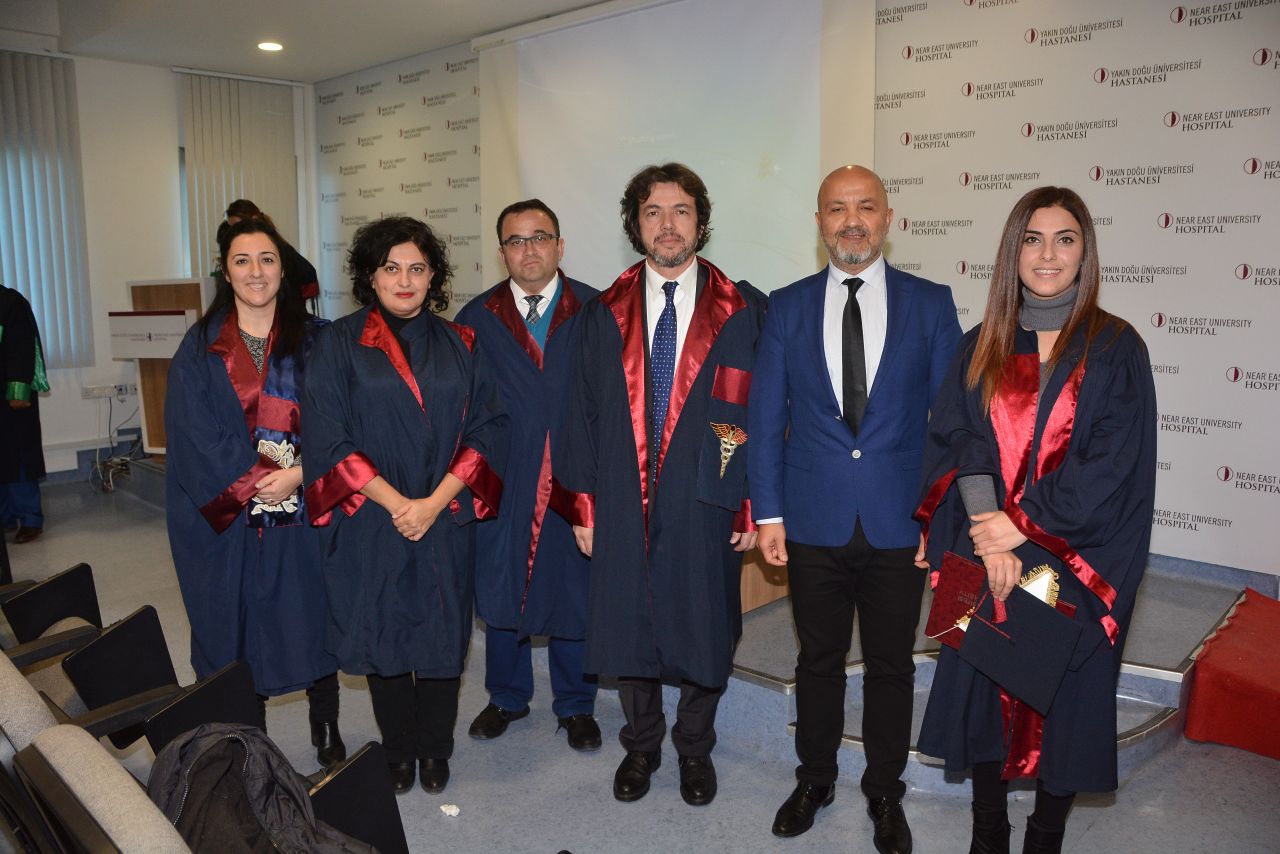 Near East University Health Services Vocational School 2017 – 2018 Fall Semester Graduation Ceremony was held in Hall 101 of the Near East University Hospital.
According to the information given by the Press and Public Relations Directorate of the Near East University, the Vice Rector of the Near East University, Prof. Dr. Tamer Şanlıdağ, Director of Vocational School of Health Services, Prof. Dr. Murat Kocaoglu, Institute Directors, Deans, Faculty members, students and their families participated.
The ceremony with one minute silence in memory of Veteran Mustafa Kemal Atatürk, Independence Leader of Turkish Cypriots, Dr. Fazıl Küçük, ex TRNC President Rauf Denktaş and all martyrs, and reading of National Anthem.
Near East University Vocational School of Health Services graduated 32 students in the Fall Term of 2017 – 2018 in branches of Child Development Technician, First And Emergency Aid Technician, Elderly Care Technician, Electro Nero Physiology, Medical Documentation and Secretary, Operating Room Services Technician, Oral And Dental Health Support Personnel and Medical Imaging.
Professor Dr. Murat Kocaoglu; "No Matter How Much Advanced and Well-Equipped Devices You Do Have, If Your Experience Is Not Sufficient Or If You Are Not Well-Trained, The Result You Will Obtain Will Not Be Satisfactory Most of the time"
Director of Vocational School of Health Services, Prof. Dr. Murat Kocaoglu; "I would like to thank you all for sharing the joy of graduation with us today. Our esteemed guests, the presence of a well-equipped hospital and qualified physician staff with the provision of contemporary and high quality healthcare services is a must, and one of the sine qua non of training qualified assistants and health personnel. No matter how advanced and well-equipped your devices are, if you are inexperienced or not well trained, the result you get is often unsatisfactory. Today, both the Turkish Republic of Northern Cyprus and in Turkey is there is a huge need for well-trained technicians and qualified health personnel, there is a huge gap in this specific field", he said.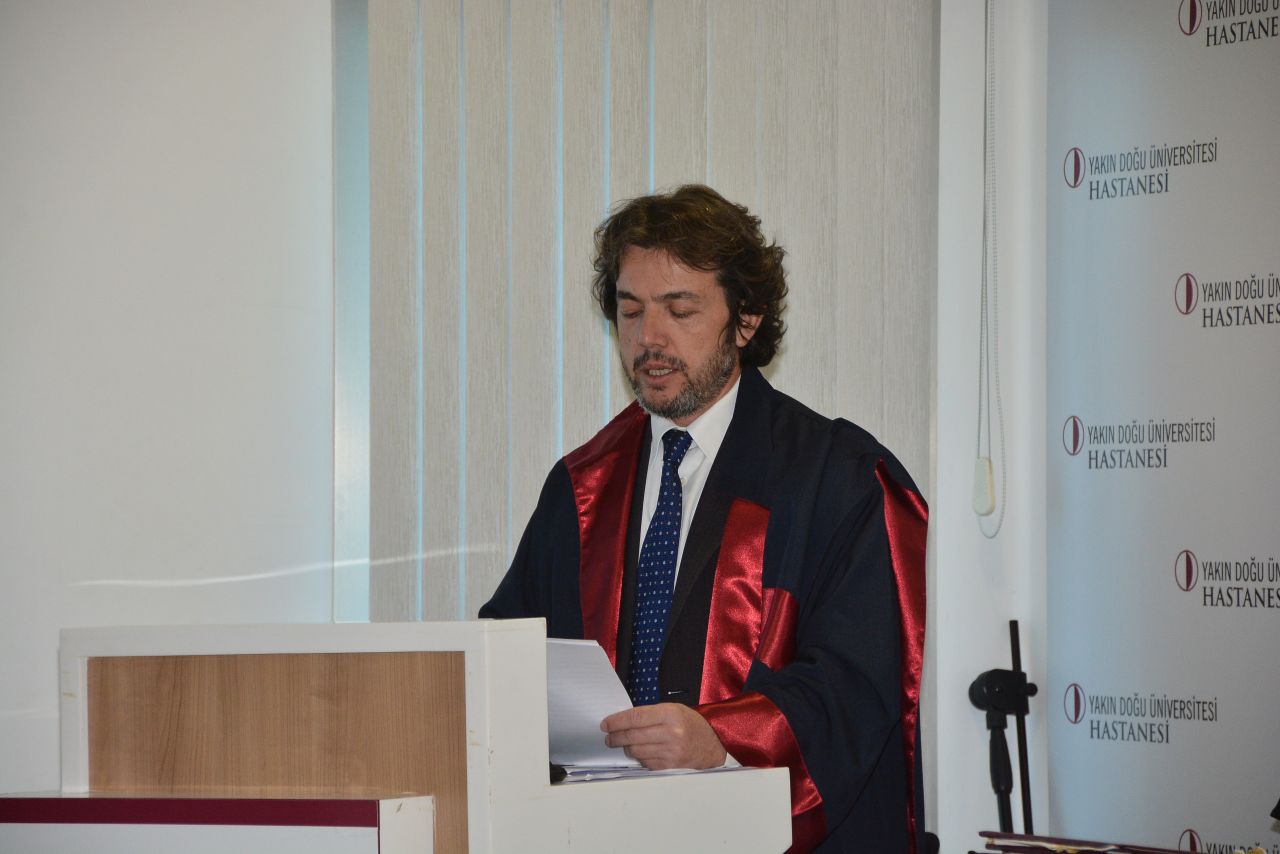 Professor Dr. Kocaoglu; "17,500 Hours Theoretical And 4000 Hours Practical Application"
"Graduated students have practiced an average of 17,500 hours of theoretical and 4,000 hours of practical training in these two years of education and also practiced their vocational internship in the summer term. On this issue, our students have been able to develop their professional experiences by working with different brand and model devices in different places and conditions. You have been separated from your children whom you have sent with great devotion and care, trusting us in this whole process, you have supported them materially and spiritually. I would like to express to you with open heartedness that during these short training periods we have given them a solid professional foundation and have made their knowledge to be empowered with experience and in the future they will go through professional development in the right way as aimed. I hope that this training course will guide you and you will be standing out individuals to honor us. "
Professor Dr. Kocaoglu lastly addressed to the students and said, "You have finished your professionally oriented education period successfully and you are ready for the working life which will become the actual examination. I have faith that you will fill up the personnel vacancies in the health sector qualitatively. Today and you will become health workers with the diplomas you will be conferred upon. Your profession's center of interest is human beings, do not ever take it out of your mind. "
Professor Dr. Şanlıdağ; "We have made them to consolidate their knowledge with experience, and go through the right way and the target for their professional development."
Vice Rector of the Near East University Dr. Tamer Sanlıdağ said; "Established in 1988, the Near East University is a higher education institution that is a member of 118 national and international organizations that demonstrate high levels of educational opportunities and has an international identity with distinguished faculties. The aim of the Near East University is to educate individuals within the best possible education and training and research environment, andn make them individuals who are confident in their basic aim, who hold their responsibility above all, who respect social and historical values and who are rational, creative and free-minded."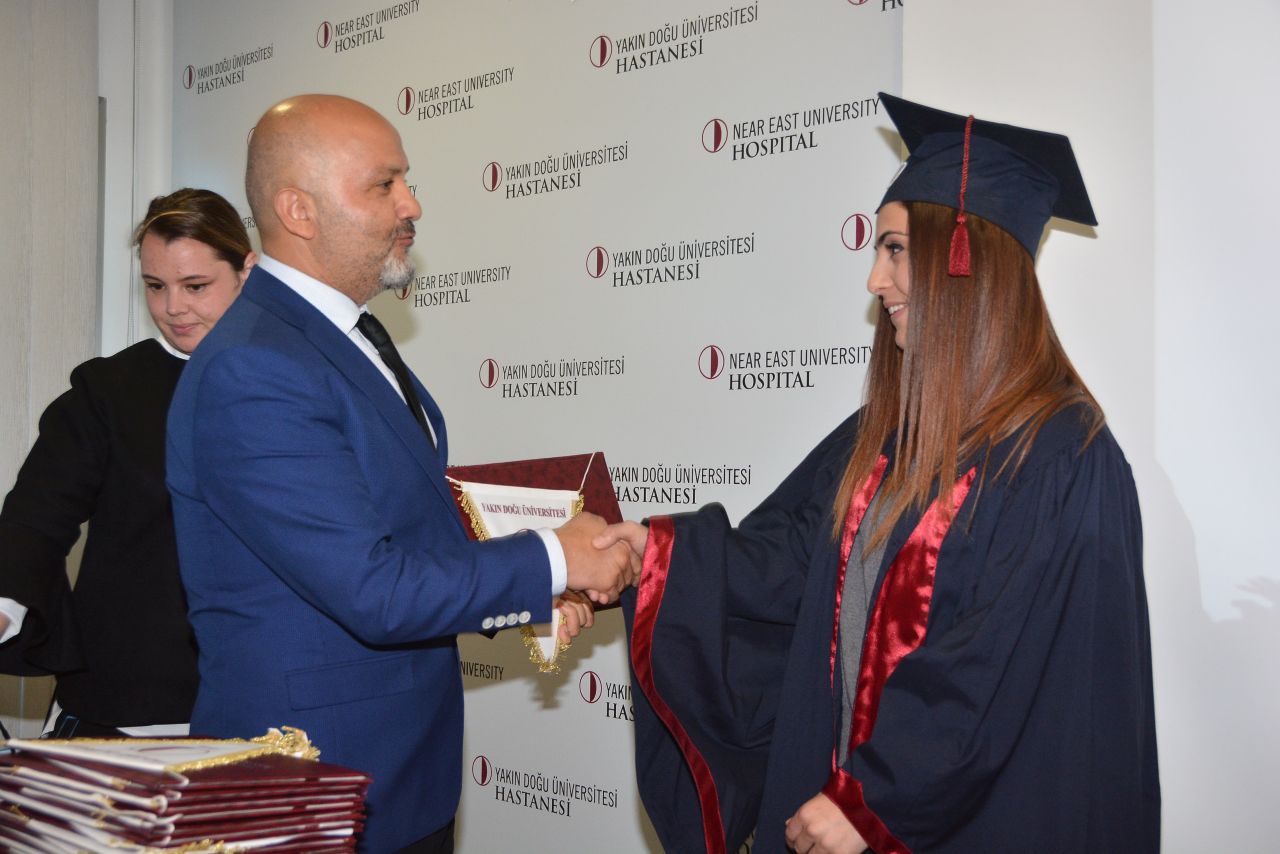 Professor Dr. Şanlıdağ; "TRNC is among the first 5 countries that are safe among the countries in the world"
Prof. Şanlıdağ said, "16 universities are currently operating in the TRNC. There are over 100 thousand students from abroad. The students are about 3/1 of the whole population, and this is a significant amount of the overall population. This is placing TRNC in the first place of the world in this field. Beyond this, the TRNC is among the top five safest countries in the world, and according to the newly announced America-based freedom house data, it is also a free country in the classification of freedom or free countries. Dr. Şanlıdağ ended his words by wishing graduated students every success in their future lives.
Arzu Sarp gave a speech on behalf of the graduates of Near East University Vocational School of Health Services after the speeches.The ceremony came to an end after the diplomas presented to the students and their hats thrown up.