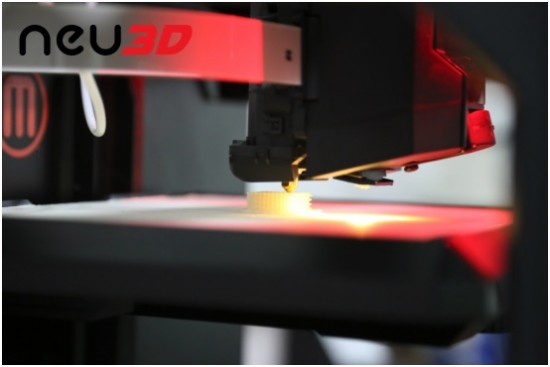 In the field of health, surgical instruments have been produced by using 3D printing method
NEU3D Research Team consisting of Asst. Prof. Dr. Emil Mammadov from the Department of Pediatric Surgery of the Near East University Faculty of Medicine, Ersin Aytaç and Görkem Say, engineers from the Innovation and Information Technologies Research Center, have produced surgical instruments by using 3D printing method for the first time in Northern Cyprus.
According to the press release from the Directorate of Press & Public Relations Office of NEU (Near East University Nicosia, Cyprus), within a year covering infrastructure preparations and hard work, NEU3D team developed and demonstrated the ability to produce sterile surgical instruments using a material extrusion 3D printer. Trials of instrument designs resulted in 3D printed functional surgical instruments. These surgical instruments passed the heat, microbiologic and mechanical tests successfully. It was stated that the 3D printed surgical materials that made from nature soluble thermoplastic material were ready for surgical use.
The goal of the study is to pave the way towards producing surgical instruments tailored for patient for specific surgeries. As transport and supply of some surgical instruments may take long time, it is also aimed at producing and storing these surgical instruments and their spare parts for emergency cases. Indicating that 3D printing is a promising technology in producing surgical instruments, NEU3D team underlines that the project has grown much further upon getting favorable results during the study and created additional study areas on innovative approaches in health.
Preoperative planning with 3D printing method
Another study area of the team is to assess the use of three-dimensional (3D) printing techniques for surgical reconstruction and print 3D models of the patient's tomography or MR images in computer environment. Printing patient-specific three-dimensional models based on preoperative computed tomography or MR images, will enable surgeons to assess the preparations and validate the preoperative planning to the intra-operative procedure. Highlighting that the outcomes of the first trials were very positive, NEU3D team stated that they had a long way to take in this field of study.
Structures that mimic the cellular communication have been produced by 3D printing method (Bio-matrix)
The team is currently focused on three dimensional cell culture methods in producing bio-matrix that is likely to be used in tissue engineering or direct implantation in future to replace various deteriorated organs. Touching upon the significant developments concerned with this technology across the world, the team underlined that medical science of Cyprus should keep up with these developments and adapt itself quickly. The team also stated that they were carrying out the project in collaboration with the Faculty of Medicine of Celal Bayar University and they were hopeful about the results that would be achieved two months later.
Working together almost one and half year, the team has accomplished many breakthroughs and realized many firsts in TRNC. Underlining that they were devotedly focused on their work, the team stated that their doors were always open to those who wanted to provide contribution regarding the issue.