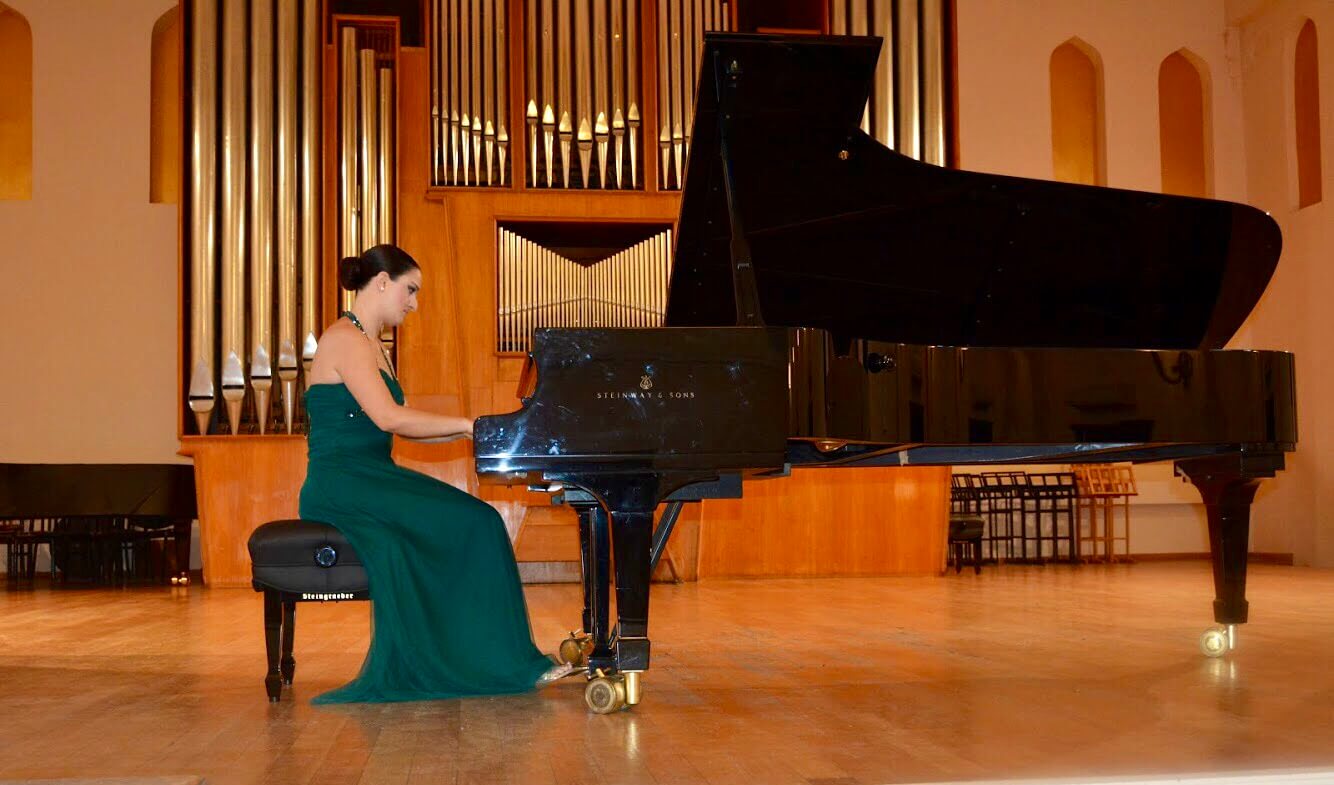 Upon invitation, Turkish Cypriot Pianist Gözdem Ilkay, faculty member at the Department of Music Teaching of Near East University, gave a recital at Baku Music Academy and represented Turkish Republic of Northern Cyprus at the 33rd World Conference of the International Society for Music Education (ISME 2018) that was held in Baku, the capital of Azerbaijan.
The Directorate of Press and Public Relations Office of Near East University released that the Turkish Cypriot Pianist Gözdem İlkay, faculty member of Near East University Department of Music Teaching, participated in ISME 2018 with the contributions of TRNC Presidency and Culture Office and gave a recital comprising the works of J. S. Bach and Turkish Cypriot composer A. Hoca. The 2018 ISME participants along with the worldwide known composer Javanshir Gıliyev, professor at Near East University Department of Performing Arts, and Ahmet Simitcioğlu, TRNC Educational and Cultural Attaché to Azerbaijan, listened to the recital with great acclaim.
Who is Gözdem Ilkay?
Gözdem Ilkay, one of the significant pianists of our country, was born in 1987 in Yeşilyurt, Turkish Republic of Northern Cyprus. She started her first music education with Yilmaz Taner at the age of seven. In 1998-1999 school year, at the age of 11, she was enrolled in the Art Major of Piano at Hacettepe University Ankara State Conservatory and became a student of Professor Güherdal Çakırsoy. She completed her secondary, high school and undergraduate education at the Ankara State Conservatory of Hacettepe University with a "very good" degree through a ten-year state scholarship granted to her by the state between the ages of 11 and 21. İlkay, who actively participated in master classes of many famous pianists, won the first prize in the 13-17 age group in "International Five-finger Piano Competition" organized by Eastern Mediterranean University in 2004 and won the second prize in 18-22 age group in the "11th International Young Musicians Classical Music Competition" held in Turkey.
Pianist İlkay currently teaches piano at the Near East University Faculty of Education Department of Music Teaching. She appears as a guest artist at concerts with the invitation of TRNC Symphony Orchestra. Since December 2016, she has been actively playing in Cyprus Chamber Orchestra, North-South Cyprus bi-communal chamber orchestra. She currently continues her piano studies personally and performs concerts.