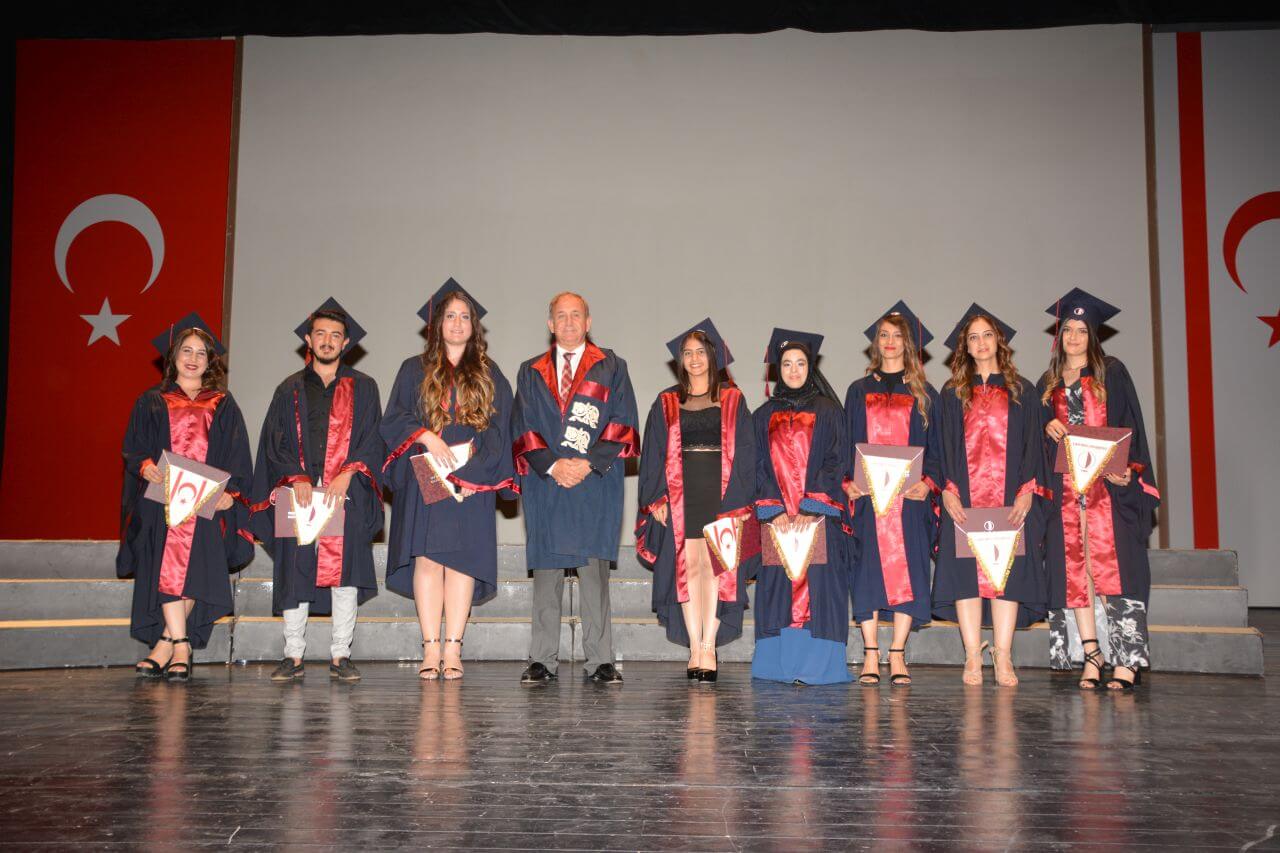 2017-2018 Academic Year Spring Term graduates of Near East University Vocational School of Health Services received their diplomas with a glorious ceremony held at AKKM Grand Hall.
According to the press release issued by the Directorate of Press & Public Relations Office of NEU, the graduation ceremony was realized with the participation of NEU vice Rector Prof. Dr. Murat Kocaoğlu, Vocational School of Health Services Director Prof. Dr. Aslı Aykaç, Institutes directors, deans, teaching staff, students and their parents.
The graduation ceremony began with a commemorative stand in silence for Mustafa Kemal Atatürk, Turkish Cypriot leader Dr. Fazıl Küçük, TRNC Founding President Rauf R. Denktaş and all martyrs and followed by national anthem.
In the Spring Semester of the Academic Year 2017-2018, more than 500 students graduated from the programs offered by Near East University Vocational School of Health Services. 30 Oral and Dental Health Support personnel, 26 Operating Room Technicians, 57 Anesthesia personnel, 2 Biomedical Device Technology personnel, 11 Child Development technicians, 28 Dialysis technicians, 1 Pharmaceutical Services technician, 10 electro-neurophysiology technicians, 49 physiotherapy technicians, 241 Emergency and First Aid personnel, 3 Occupational Health and Safety technicians, 4 laboratorian and Veterinary Health technicians, 50 Audiology technicians, 1 Opticianry technician, 3 Orthopedic Prosthetics and Orthosis technicians, 4 Pathology Laboratory technicians, 5 Perfusion technicians, 6 Radiotherapy technicians, 18 Medical Documentation and Secretarial personnel, 33 Medical Imaging technicians, 7 Medical Laboratory technicians and 3 Elderly Care personnel received their diplomas with a glorious graduation ceremony.
Prior to the opening remarks, the participants experienced joyful and colorful moments with the dance show performed by the Near East Dance School. Then, the top ranking student of the Vocational School of Health Services, Kübra Yıldırım delivered a speech on behalf of the graduates.
Prof. Dr. Aykaç: "You are the main actors who may not always Come to the forefront in Providing Quality Healthcare Services"
"Dear Colleagues, today, we have gathered here to share the graduation joys of our students. Our graduated students are closing a page while opening a new one in their lives. I, as the director of the school, would like to take this opportunity and extend my thanks in recognition of your devoted efforts in raising such well-equipped students. Today, we are experiencing one of the most enjoyable moments of our profession; our students are here as graduates. No doubt that we are proud of them and share their joy.
Dear Graduates, you are going to receive your diplomas from a vocational school known as the training ground of many successful professionals working around the world. As NEU Vocational School of Health Services, we have undertaken a crucial role in training you and paving the way for you towards establishing a cutting-edge career over the others. While we are proud of your future accomplishments, you will also feel the right pride of being a graduate of Near East University Vocational School of Health Services which has a prominent place in education. In providing contemporary, safe and quality healthcare services, the presence of competent allied health personnel along with a well-equipped hospital and well-trained and experienced medical staff is an absolute must. To this end, we attach great importance on keeping up with the developments and changes regarding all domains of medicine in order to provide our students with appropriate and the most up-to-date professional knowledge and skills. In this regard, we always keep our educational programs updated and in compliance with the standards set by national and international bodies. Through these dynamic and continuously updated programs, we will continue to raise high caliber professionals capable to address the needs of sector as well as compete on a global scale. We have proven quality and excellence in education. In providing quality healthcare services, you are the main actors who may not be always in the forefront. Regardless of how high-end equipment you have, the role of well-trained and experienced medical staff in achieving success can't be denied" said she.
Prof. Dr. Aykaç: "Throughout their two-year long education, our students, who are here as graduates now, received 17500 hours of theoretical courses, 4000 hours of practical hands-on applications as well as 30-working day vocational internship during Summer Term"
"Being devoted to providing to all contemporary facilities required to move the Turkish Republic of Northern Cyprus forward, Near East University established the first medicine faculty of the country in 2008 which was followed by bringing the Near East University Hospital into service in 2010. Adopting excellence in health services, Near East University launched the Vocational School of Health Services in 2011 in order to raise competent health technicians. Starting its educational life with two departments in 2011, the Vocational School of Health Services achieved a lot in a short time. Currently, with its fully high-tech equipped structure, competent and experienced academic staff, the Vocational School of Health Services is a dynamic and vibrant intellectual community that offers quality education in 70 programs. In 2018-2019 Academic Year, two new programs will be added to our curriculum.
Dear parents, undoubtedly you did everything and provided all kind of support for your beloved ones. You entrusted your children to us during their university education. Be sure that we educated them in the best way. As Near East University, we have no doubt that they are well equipped with up-to-date information and professional skills to make impact in their fields. You are here today with high feelings. You are experiencing the right proud of witnessing your children receiving their diplomas. We share the same excitement and pride with you. Don't have any doubt; Near East University has raised these young people well. Be sure of their future success and trust them, be proud of them.
Dear students, you are closing a page and open a new one in your lives today. You will be a healthcare professional. Always keep in mind that, the basis of your profession is the 'human and his/her health'. You are all well-equipped and competent to fulfill the requirements of your profession without compromising professional ethics. Congrats!"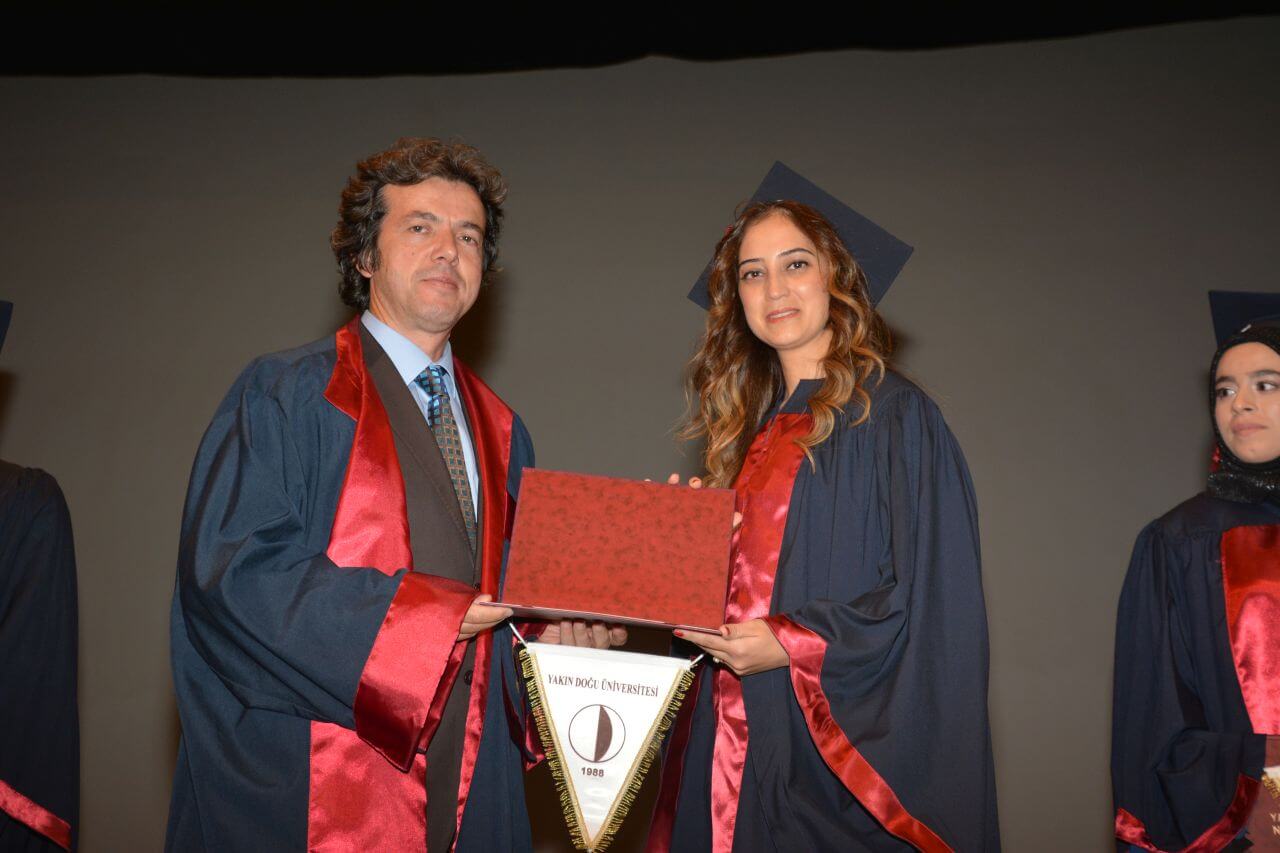 Prof. Dr. Murat Kocaoğlu: "Health is a State of Complete Physical, Mental, and Social well-being and not merely the absence of disease or infirmity"
"Health is a state of complete physical, mental, and social well-being and not merely the absence of disease or infirmity. Allong with notional development, physical and mental health are essential to be able to live in accordance with the rules of society, to be able to establish good relationships and to be able to behave healthily and honestly. Many domains such as medicine, dentistry, pharmacy, veterinary medicine, nursing healthcare services can be lined-up under the umbrella of health sciences which has undertaken the mission of healing, alleviating or preventing diseases. Team work in healthcare services requires a medical interdisciplinary work aiming to prevent disease, diagnosis, treatment, restoration of health and maintenance of health.
Dear students, by receiving your diplomas, you will only close a page in your life. Your diploma is only a mean for you to set a foot on the route of your next professional career. On this occasion, I congratulate you all and wish continuous success, health and happiness in your new life" said he.
After taking the professional oath with the Vocational School Director Professor Aslı Aykaç, the graduates received their diplomas. Upon receiving their diplomas, the graduates experienced the joy of the graduation by throwing their caps…