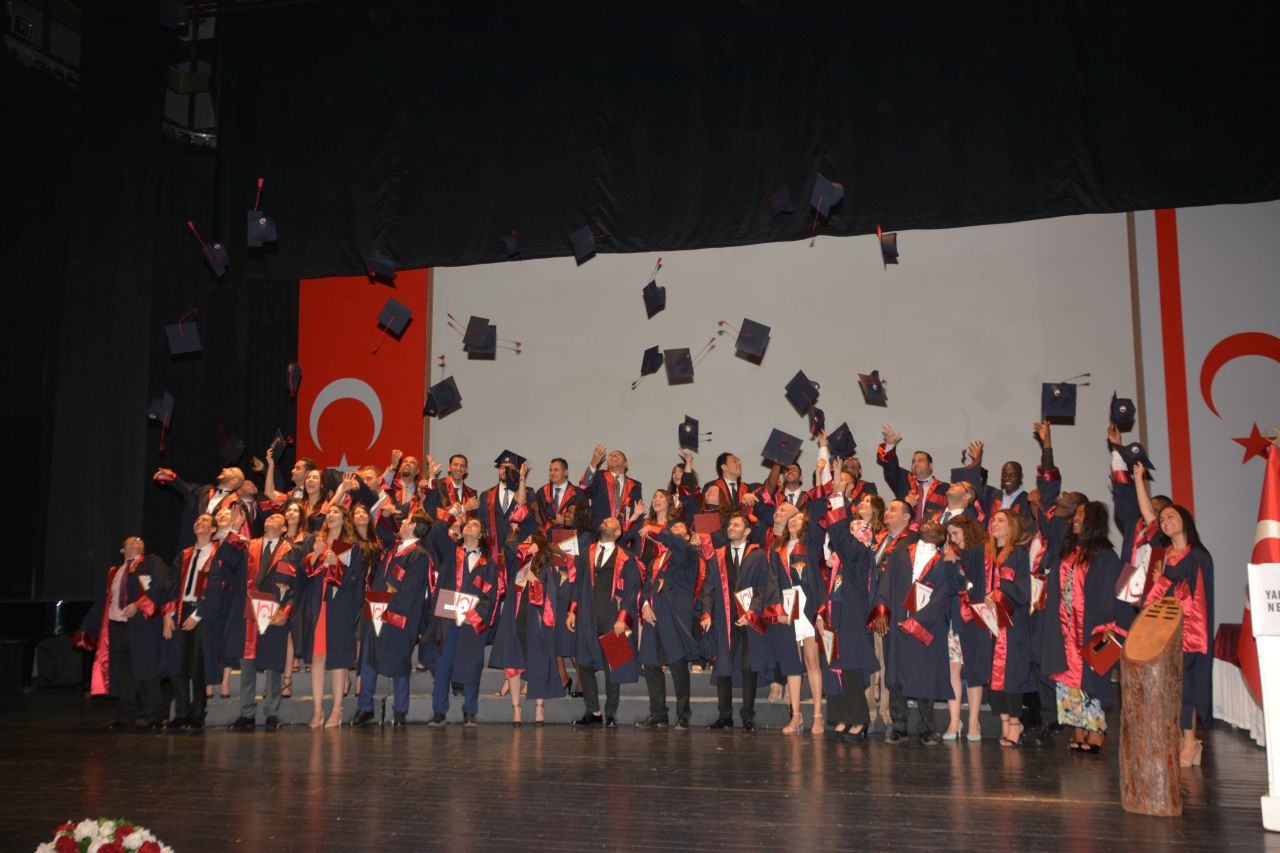 2017- 2018 Academic Year Spring Term graduates of the Near East University Faculty of Medicine received their diplomas with a glorious ceremony held at the Grand Hall of Atatürk Culture and Congress Center.
Near East University Faculty of Medicine feels great honor and pride of raising well-equipped professionals having the broad range of information and skills required to fulfill the vital role of physicians. Students who met the graduation requirements at the end of 6 year education process were awarded with diplomas with a glorious ceremony. Students and their families experienced a great happiness and proud due to the presentation of diplomas.
According to the press release issued by the Directorate of Press and Public Relations Office of Near East University, the graduation ceremony was realized with the participation of MP Menteş Gündüz, NEU Board of Trustees Chairman Assoc. Prof. Dr. İrfan S. Günsel, Burhan Nalbantoğlu Hospital Chief Physician Bülent Dizdarlı, Near East University Hospital Chief Physician Sevim Erkmen, Near East University vice Rector Professor Murat Kocaoğlu, Near East University Faculty of Medicine Founding Dean Professor Gamze Mocan, deans, department chairpersons, faculty members, students and their parents.
The graduation ceremony began with a commemorative stand in silence for Mustafa Kemal Atatürk, Turkish Cypriot leader Dr. Fazıl Küçük, TRNC Founding President Rauf R. Denktaş and all martyrs and followed by national anthem. Then, the music recital performed by Irada Melikova from Music Teaching Department received standing ovation.
Professor Mocan: "Dear Young Doctors, from now on I want to address you as 'My Colleagues'".
In her opening remarks, the Founding Dean of the Faculty of Medicine, Professor Mocan expressed their pride and happiness of experiencing the 5th term graduation ceremony.
"First of all, I want to say welcome. We feel the great joy and happiness of seeing all of you here at the graduation ceremony of our faculty which was established in 2008 and completed its tenth year in medical education. Dear young doctors, from now on, I would like to address you as my colleagues. Now, each of you is a medical doctor. You have done it, Congrats! Dear graduates, you are going to receive a diploma from a medical faculty which is well-placed on the world's prestigious faculties of medicine list. You are going to receive a diploma from NEU Faculty of Medicine which proven its excellence in education with its competent and experienced faculty members that proven their merits in world medical literature. Near East University Faculty of
Medicine with its high-end equipped contemporary hospital, state-of-the-art technology and excellent laboratories places great value on academic excellence, medical research, integrity, interdisciplinary collaboration, professional ethics and competence. The academic staff of NEU Faculty of Medicine is dedicated to ensure the educational, intellectual, professional, and personal development of our distinguished students, who are deeply committed to the study and practice of medicine, and to medical research. We set foot on the road of medical education with the most up-to-date scientific technology and infrastructure ten years ago. Today, we have become an internationally known and respected center of quality education, scientific research and unmatched health services.
Dear graduates, Throughout your education you have been equipped with the most up-to date comprehensive knowledge, skills and practice and now you are ready to begin your career as competent physicians who are able to take the advantage of the new technologies to provide early and accurate diagnosis and appropriate treatment. As physicians, you will not only ensure accurate diagnosis and treatment but also attach a special focus on public health and professional ethics. Training and learning continue lifelong in medicine. Medical science needs altruism. It is an arduous and long termed process. Medical science is in a constant development as a result of scientific research and technological advances regarding medicine. Therefore, lifelong learning is the key to ensuring that you, as doctors, keep your professional knowledge up to date and benefit from the innovations in medicine. You are good physicians capable of utilizing new technologies and updating yourselves. You are inquisitive, questioning and full of love and ready to assume roles and responsibilities in your medical domain to promote and contribute to both public health and community-based educational approaches. Wherever you go, you will take active roles in medical field and represent our faculty as competent, keen and researcher physicians. Your talent in communication is one of the key factors that propel you towards achieving success while performing your profession. Particularly patient-doctor communication, patient relatives-doctor communication is the foundation of the practice of medicine. The establishment of a close and harmonious relation with the patient and patient's relatives is essential for the delivery of high-quality health care services. To this end, NEU Faculty of Medicine teaches students from the beginning, even before they set foot in hospitals, to maintain a professional relation with patients and uphold patients' dignity. You will be successful physicians, if you love people and reflect your patience, compassion, altruism, trustworthiness in your services, and feel happy with every patient that you restore his/her health. I congratulate you all and wish continuous success in your new lives" said she.
Professor Kocaoglu; "Our goal is to be among the first 500 universities in the world and to be there permanently."
Taking the stage after Professor Mocan, Near East University vice Rector Professor Murat Kocaoğlu began his remarks with a saying of a family elderly person who was a teacher and also graduated from a faculty of law. Then, he underlined the vital role of doctors in ensuring personal and public health. "Doctoring requires exemplary behavior; physicians should set a model for the public. I have no doubt that you are well equipped to ensure the best healthcare and treatment to restore the patient's health through the most innovative medical techniques that is available. I am sure that you are dedicated to providing healthcare services without regarding gender, language, religion, race, discord and economic differences.
I want to conclude my words with a saying that my dad told me after I became a physician. "My son, the patients regardless their ages feel themselves like a child when they come in the presence of a doctor. So, keep this in mind and approach them as if they were children". So, never forget that, a patient is in the mood of a child's innocence. Health is our most valuable asset. You will not only become a fine doctor, but you will be a doctor who can make the world healthier by giving hope and providing the most contemporary and safest treatment options for health issues. While you feel pride of your faculty, which is the home of contemporary education and science, we will be proud of you. I wish all of you good luck on this long and challenging way" said he.
Following the opening remarks, along with the Founding Dean Professor Mocan, the graduates took the Hippocratic Oath.
Before diploma presentation, the top ranking graduate of Near East University Faculty of Medicine, Dr. Alp Kaan Duran nailed his name on the board and delivered a speech on behalf of graduates.
Alp Kaan Duran, MD: "We have improved our vision and experience at Near East University Hospital that equipped with the state-of-the-art technologies"
"We set foot on the road of medical education at NEU Faculty of Medicine that equipped with the most up-to-date scientific technology and infrastructure six years ago. Today, we are closing a page and opening a new page in our lives by crowning our efforts with a diploma qualifying us as medical doctors. Welcome to our graduation ceremony. We feel the joy of sharing our excitement and happiness with you. I remember the first day that I came here. I was excited but at the same time a little scared of the new reality that I would be living on my own. However, they welcomed me and my parents very nicely and warmly. This encouraged me. It's a privilege to be here. I have had good friends here and quality education beyond my expectations. I had opportunity to study with very valuable teaching staff. With its fully equipped infrastructure and renowned medical doctors, Near East University Hospital provided us with all possibilities required to improve our vision, experience and skills. Today is our last day as students here. I know that I will be missing you and the nice days that we experienced together here. This is not a farewell, our ties will be vibrant. Every end has a new beginning. I wish each of you success in your professional life.
Finally congratulations once again and wish us good luck with the future ahead" said he.
Then, faculty's top graduates were decorated with gold medals and presented their diplomas by NEU Board of Trustees Chairman Assoc. Prof. Dr. Irfan Günsel. Then, the other graduates received their diplomas.
Upon receiving their diplomas, the graduates experienced the joy of the graduation by throwing their caps…