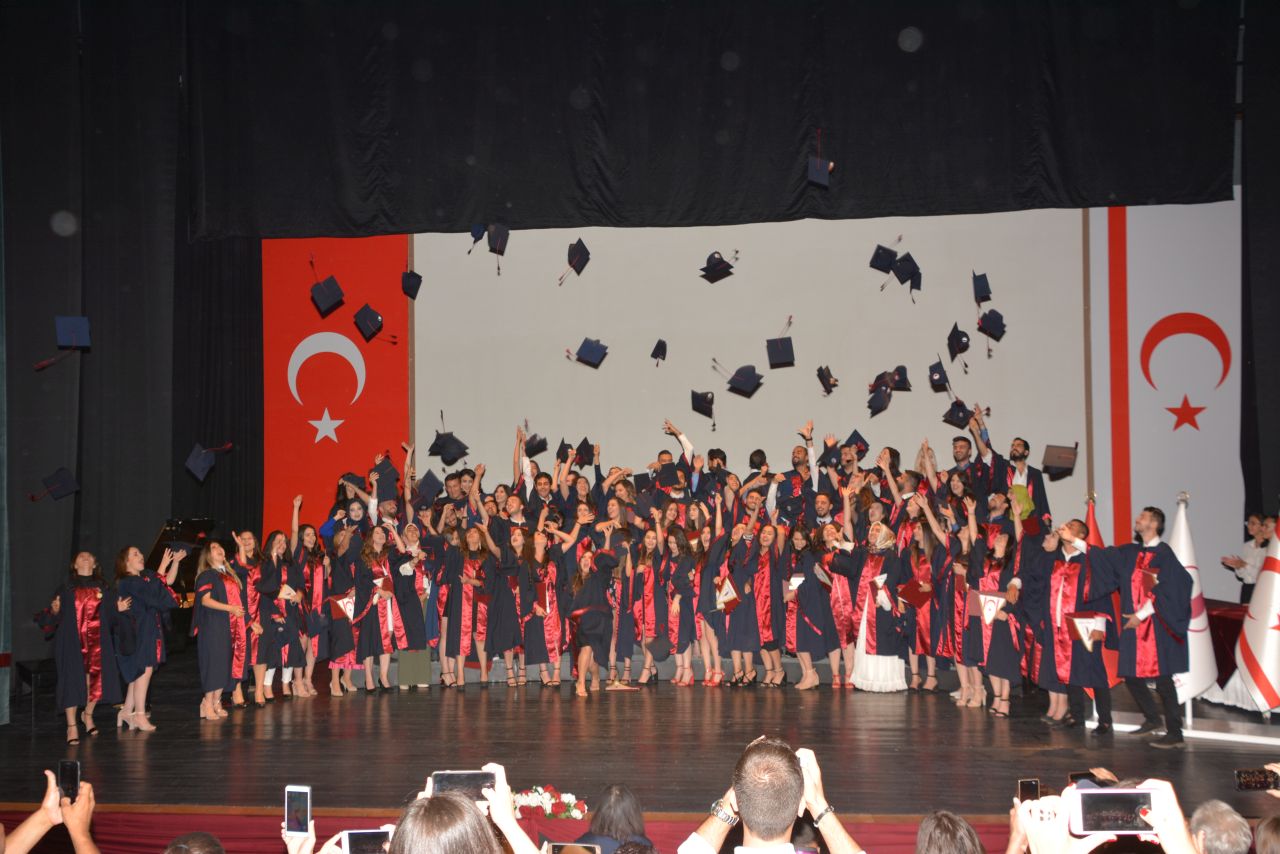 Near East University Faculty of Health Sciences 2017-2018 Spring Semester Graduation Ceremony held in the Grand Hall of Atatürk Culture Centre on NEU campus.
According to a press statement made by the Near East University Press and Public Relations Directorate, the ceremony was intesively attended by the Chairman of the Board of Trustees of the Near East University, Assoc. Prof. Dr. Prof. İrfan S. Günsel, Vice Rectors Prof. Dr. Şenol Bektaş, Prof. Dr. Tamer Şanlıdağ, Prof. Dr. Murat Kocaoğlu, Founding Dean of Faculty of Health Sciences, Prof. Dr. Sevinç Yücecan, lecturers, students and parents.
The graduation ceremony started with a minute of silence in memory of the martyrs, Gazi Mustafa Kemal Atatürk, Leader of Turkish Cypriots Fazil Küçük, Founder President Rauf R. Denktas and then the reading of the national anthem.
Professor Dr. Sevinç Yücecan; "7 graduate students, 98 undergraduate students graduated"
The opening speech of the ceremony was delivered by Prof. Dr. Prof. Sevinç Yücecan, the Founding Dean of Faculty of Health Sciences, who said that 7 graduate and 98 undergraduate students have graduated from the Department of Nutrition and Dietetics, Physiotherapy and Rehabilitation Department and Health Management Department of the Faculty of Health Sciences. Prof. Yücecan emphasized that "Our students graduate from Near East University, which is the largest education, research and cultural center in Cyprus, which is successful in every way and which is avid to awards. I have to say with great pride that the 14 departments under the roof of our faculty are in search of solutions to the problems from a broader perspective, closely monitoring up-to-date information in the field of science, challenging changes in order to improve the work done and developing continuously."
Professor Dr. Sevinç Yücecan; "Our Spirited Academic Staff put down signature to many achievements and research we have carried on International Platforms with Our Researcher and Studies."
Professor Dr. Yücecan mentioned the mission and vision of the Nursing Department and made the following statements: "We have achieved many successes in all departments of our faculty on a daily basis since our foundation with our keen and high-spirited academic staff, and carried out our research projects and studies and our success up to the international platforms. I would like to express my sincere appreciation to all the valuable colleagues who have contributed and supported the graduation of the students who have graduated from our faculty".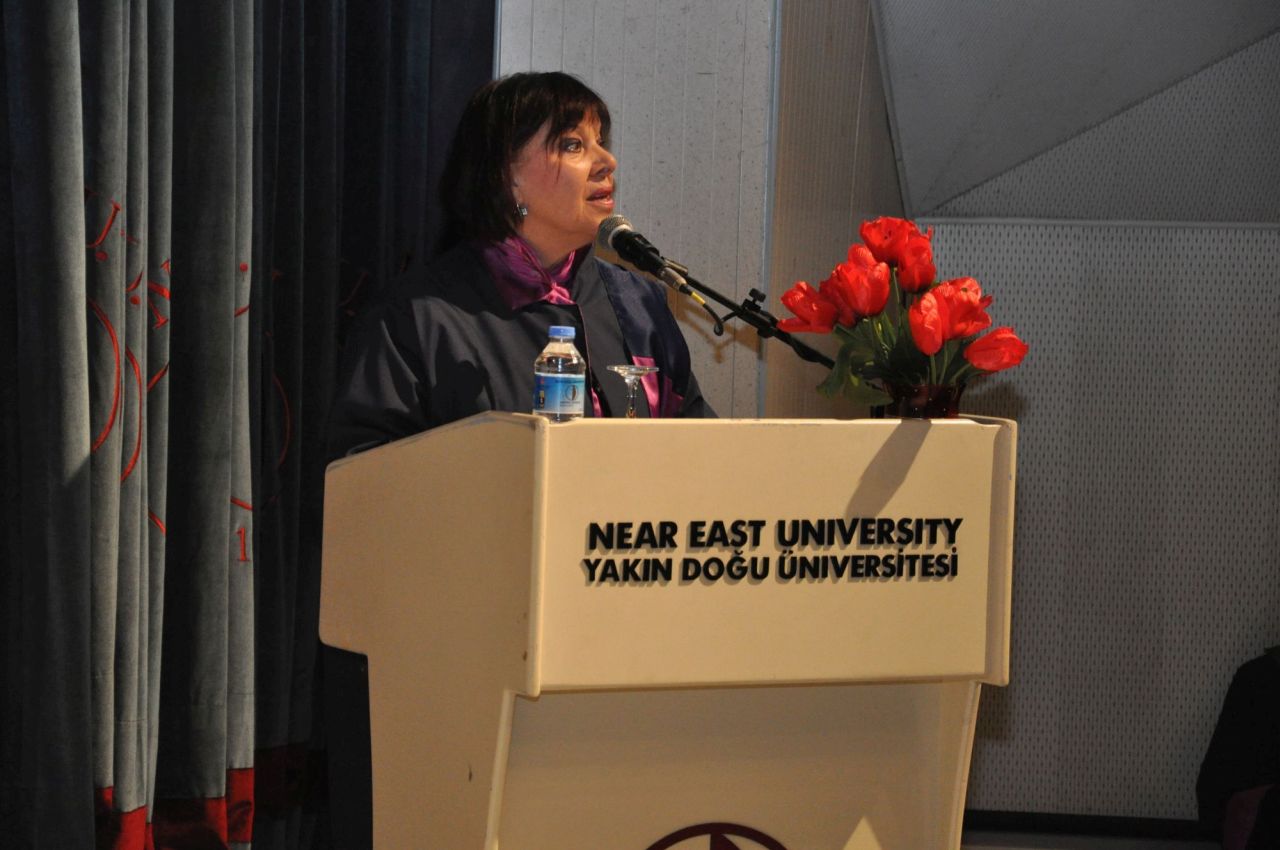 Professor Dr. Sevinç Yücecan; "We will always be with you."
Professor. Dr. Yücecan also adressed to the students who graduated from the faculty and wishes success and happiness by saying, "We will always be with you whenever you need us and we are dedicated to your success with our knowledge, with our experience, with our hearts and with our desires for success."
Professor Dr. Tamer Sanlıdağ said "Near East University is based on transforming Scientific Data into Society."
The Vice Rector of the Near East University Prof. Dr. Tamer Sanlıdağ said "It is possible for our culture to conduct activities at advanced civilization level by developing our culture in the light of the knowledge of the people who are closely related to our culture. Universities that produce and distribute knowledge starting from Plato and Aristotle are institutions that are based on idealistic philosophical principles and integrate different elements such as science and education. Near East University adopts the 3 rd generation university model and its academic studies, researches andr research activities are dedicated to transformation of all scientific data into the society. "
Professor Dr. Şanlıdağ stated that "the basic principle and sole aim is having the universal values using the most recent methods in education, being pluralistic and critical thinking; aiming to educate individuals and researchers who have mastered the process of creating, investigating, questioning and effective utilization of knowledge and guiding the authority to apply it to contemporary teaching methods. In terms of the research, we have undertaken the mission to build,manage and support qualified knowledge producers and researches in order to raise and sustain the standards of existence of all livings within the scope of our aims and in accordance with the local and universal needs. "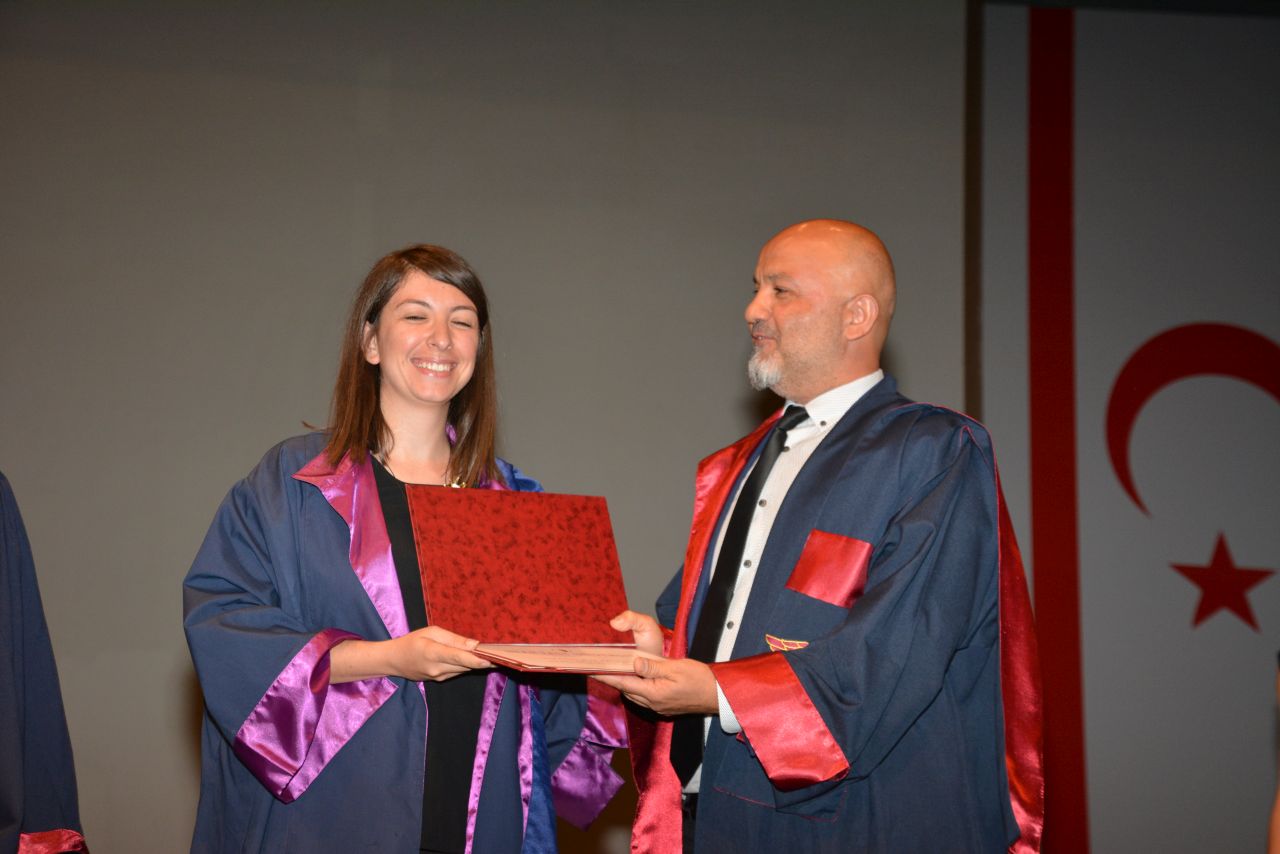 Professor Dr. Şanlıdağ; "Near East University uses its education and research potentials to contribute to social, psychological and cultural development."
"Within the mission of transforming the society, Near East University uses its energy and educational potentials to contribute to the economic, social, psychological and cultural development of communities on a local and global scale. In this context, it carries out joint projects with many institutions and especially with civil society organizations. With 27 academic units, 32 research and application centers and a large number of laboratories conducts projects around the world, and aims to publish quality research outcomes and encourage researchers to produce new research projects, to support multi-disciplinary and interdisciplinary research with strategic research and development studies. At the end of his speech, Prof. Şanlıdağ wished every success to graduate students in their future lives.
After the speeches, Professor. Dr. Cevanşir Guliyev, a member of the Faculty of Performing Arts of the Near East University, Azerbaijan State Artist, and Ahmet Zeyir, an academic member of the Faculty of Performing Arts and Atatürk Education Faculty Department of Music Teaching performed a musical recitation.
Following the recital, Before the oath, Faculty of Health Sciences Dietician Prof. Dr. Büşra Başar made a speech. After the speeches, Prof.Dr. Sevinç Yücecan got the students to make the "Health Sciences Procurement Vocational Oath". Following the oath, the ceremony came to an end by handing out the diplomas and hats throwing the hats into the air.