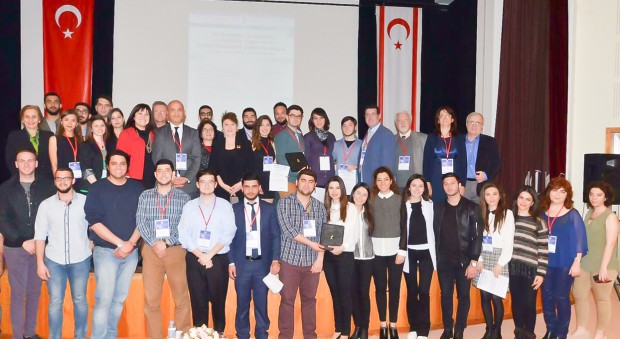 – Experimental Health Sciences Research Centre of Near East University Realized International Student Projects Contest
– The First International Student Projects Contests in Health Realized by NEU-EHSRC
The First International Student Projects Contest realized by the Experimental Health Sciences Research Centre of Near East University held between 17-18 March 2016 at Hall 4 of Grand Library of NEU.
According to a press statement released by the Press and Public Relations Directorate of Near East University, 38 projects participated at the contest from various universities and faculties. The Assessment Committee of EHSRCshortlisted 10 of the projects, and following the verbal presentation of the shortlisted projects the next day, the projects regarded worthy of award have been determined.

Prof. Dr. Tamer Şanlıdağ: "Near East University gives utmost importance to scientific studies and research. This contest will continue as a traditional scientific event"
Prof. Dr. Tamer Şanlıdağ, Director of EHSRC and Vice Rector, mentioned in his opening speech about the objectives, the importance given to research, projects supports and incentives, and opportunities provided by the labs of the Near East University. Şanlıdağ also said, "We will continue to our research activities and the first of the international contest we are now having will be turned into a traditional event and held every year, and do our best to support the young scientists and researchers. The interest shown to our first contest is quite high and this pleased us much".
Awards went to successful projects…
The first award went to the research of Ege Çubuk and Ekincan Uzunoğlu, titled "In vivo comperative analysis of anti-cancer features of Natural Killer Cells differentiated from cord blood mesenchymal stem cells and cord blood hematopoietic stem cells in glioblastoma". The second award was presented to Aycan Özuğurlu, Sadullah Bastacı, Sema Baş, and Ali Temelci for their project titled " The oral hygiene brush robot in children and individuals undergoing orthodontic treatment", and the third award went to İrem Tufan and Ali Şevketoğlu for their project titled "Is the secret of life hidden in a 5 mm jellyfish?". The fourth award was delivered to the project of Jana Salem, titled "Jana's BedBelt (JBB) for high risk for fall patients in long-term stay and wards: Descriptive study". The fifth award was delivered to İbrahim Halil Gürçınar's study titled " Exosome Content in Hypoxic Conditions in Primary and Metastatic Colon and Breast Cancer Cell Lines".
Awards are opportunities to be observer researchers at pioneering research centres…
The winner of the project gained the right to be an observer researcher at the MD Anderson Cancer Centre in the USA, second and third winners gained the rights to be observer researchers at Göteborg University in Europe, fourth and fifth winners will be observer researchers at EHSRC of NEU.