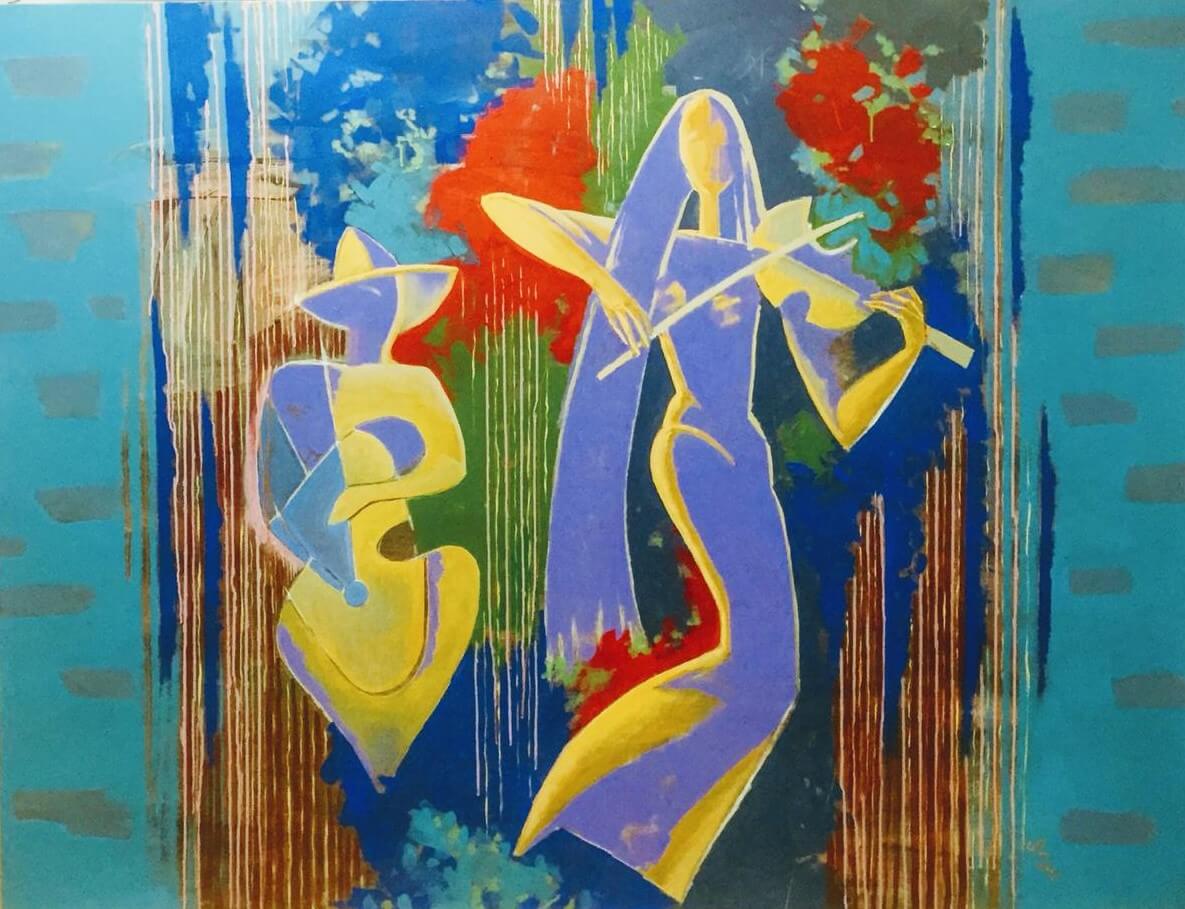 The solo exhibitions titled "Escape from Paphos" consisting of artworks of Turkish Cypriot artist Serkan İlseven, and "Spirit of Steppes" consisting of artworks of Zeynelkhan Mikhamedzhan will be opened on Thursday, January 16, by former President Dr. Derviş Eroğlu.
According to the information provided by the Directorate of Press and Public Relations of Near East University, on Thursday, January 16, 2020, at 09.00, Turkish Cypriot artists Serkan İlseven's solo exhibition consisting of 25 works and Kazakh artists Zeynelkhan Mikhamedzhan's solo exhibition consisting of 20 artworks will take place at the Hall 4 of the Faculty of Health Sciences of İrfan Günsel Congress Center.
"Escape from Paphos"
Artist Serkan İlseven made a statement regarding his exhibition "Escape from Paphos; "I know nature very well informationally and sensually. My background is primarily based on environmental education. Such a background provides me with a very broad perspective in my perception of nature. I can easily determine my direction. I can reach the depths. It makes me take great steps in the formation of harmony and balance in perception. In short, knowing the material reality of nature closely affects my technical development."
Serkan İlseven: "Turkish Cypriot Painting is gaining momentum with art education at the Near East University"
"Until recently, art was not respected in Northern Cyprus. We had a social structure with a low-level awareness on cultural activities and an indifferent executive staff that regarded art unnecessary. In our society, the works done under the name of art are regarded as useless, and artists are considered as people who do useless works. In fact, it may not be right to blame our people on this issue. The Turkish Cypriot people who have just escaped from the ghettos have not had the time and economy to devote to the cultural activities and art as they put their main interest to earn their lives. Recently, the Turkish Cypriot painting, which gained momentum with the art education at universities, especially at the Near East University, takes on a new identity and drags an art-loving audience along with it, giving positive signals about the future."
Who is Serkan İlseven?
Artist Serkan İlseven was born on 17 February 1966 in Paphos, Cyprus. After completing his primary education in Paphos and his secondary education in Lapta, he graduated from Izmir Dokuz Eylül University, Faculty of Social Sciences, Department of Geography. From 1990 to 2009, he worked as a teacher and administrator in various high schools affiliated to the TRNC Ministry of National Education. Between 2009-2019, he served as the Director of Administrative, Financial, Technical and Parliamentary Services at the TRNC Republican Assembly. He is still working as a consultant for the TRNC Republican Assembly. In 2009, he completed his master's degree in Physical Geography and in 2014 he completed his PhD in Environmental Education and Management at Near East University, Institute of Educational Sciences. In 2019, he received the degree of Associate Professor. İlseven lectures at Near East University, Atatürk Faculty of Education, Department of Geography Teaching, Environmental Education and Management, and has published books on Cyprus Geography, Forest and Park Trees of Northern Cyprus, Human Economic and Political Geography of Cyprus, Cyprus Orchids, Principles of Vegetation Geography. Tens of his articles have been published in international journals. At the beginning of the 1980s, he started painting by taking painting lessons from painter Alper Özkemal. He had 8 solo exhibitions and hundreds of group exhibitions in Turkey and abroad. Serkan İlseven, whose artworks take place in private collections both in his homeland, Turkey and abroad, won the XIII. State Painting and Sculpture Exhibition Award and in 2000 the PGM Award. He participated in TURKSOY Painters Meeting (Mersin) in 2002 and in International Art Days (Izmir) in 2004 to represent TRNC. Serkan İlseven is married to Gülcan ilseven and has two daughters, Polen and Dolin.
Who is Zeynelkhan Mikhamedzhan?
He was born in 1959 in Mongolia. In 1978, he graduated from the Art School in Ulaanbaatar. Until 1991, he worked as a graphic designer in Mongolian Artists Association. He is a member of Mongolian Artists Association and Kazakhstan Artists Association. He is a responsible member of Kazakhstan Academy of Arts. He is a member of the Association of Craftsmen of Kazakhstan. He was awarded the "UNESCO Quality Mark". Zeynelkhan Mikhamedzhan entered the Kazakhstan Book of Records for his achievements in the field of art. His works are exhibited at the Kasteyev State Art Museum, the Museum of Fine Arts of Mongolia, the Museum of the Presidency of Kazakhstan and also in many private collections of countries such as Mongolia, Kazakhstan, Korea, the USA, Sweden, Israel, Germany, Russia, and Japan. He has participated in many group exhibitions in Kazakhstan, Kyrgyzstan, Uzbekistan, Russia, Germany, Sweden and Mongolia.