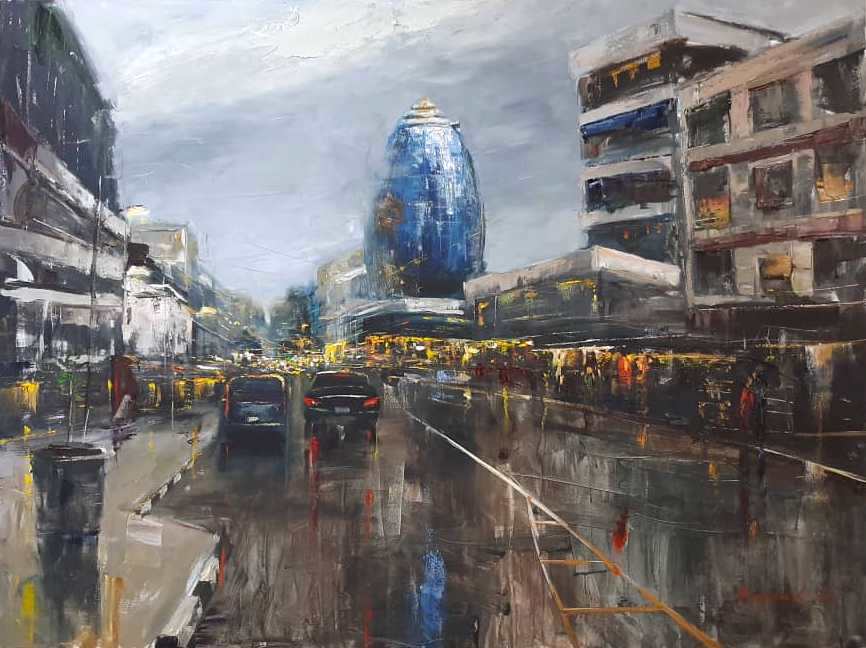 Turkish artist Orhan Zafer's exhibition consisting of 20 artworks and titled "Buffer Zone" and Kyrgyz artist Baizak Alybayev's exhibition consisting of 22 artworks and titled "View" exclusively prepared for Cyprus Museum of Modern Arts will be opened by former Minister of Education and Culture, UBP Kyrenia MP Dr. Özdemir Berova on February 3, 2020, on Monday, at the exhibition hall of Faculty of Medicine at 8:30.
Who is Orhan Zafer?
The artist was born in Trabzon in 1971. He graduated from the Department of Painting of 19 Mayıs University Faculty of Education. Besides painting works, he is interested in cartoon and photography art. He has held 10 exhibitions and participated in many group exhibitions and organizations. He received eleven awards, two of which are international, eight national and one special in the competitions he participated in. The artist, who continues his career as an expert art educator and Head of the Painting Department at Ordu Fine Arts High School, is also the chairman of the Ordu Art House (ORSEV) Art Board. Orhan Zafer, who has organized many national exhibitions, also served as a jury in many national and international competitions. He is a board member of the Turkey Cartoonists Association, United Painters and Sculptors Association and Black Plastic Arts Association. His works have been auctioned many times and his works have been accepted to important official and private museums.
He was invited to thirty-two national and international workshops. An artistic special paint brand produced by the artist and registered under the name "ozblue-özmavi" was presented to the market in 2015. He has been carrying out his artistic works in his studio called "Atölye Mavi".
Solo exhibitions of Orhan Zafer:
(Dream) Cultural Center – 1998 Alaca – Çorum-
(That Love) 7-10 October 2010, Vienna – Austria
(Moonfaceless) 13-30 October 2013, Kalkan Culture Hause – Antalya
Orhan Zafer Gallery 27 September 2014, Bilkent Art Street – Ankara
(Harmonic Dreams I) Dibeklihan Art Village 11 July 2015 – Bodrum
(Disappearing Colors and Sounds I) Helikon Museum's Gallery- Hungary- 27 Jul. 2015 (Virtual Exhibition) Facebook, 27 May 2015
(Mystery of Blue) Emin Antik Gallery – / Kale Ankara, March 2016
(Disappearing Sounds and Colors II) Çorum Plastic Arts Museum, 18 October 2016
(In the Footsteps of Don Quixote) Muratpaşa Municipality Exhibition Foyer- Antalya 27 April-6 March 2018 Workshop Exhibition / Ordu, 13 -31 May 2018
Near East University Cyprus Museum of Modern Arts, 30 January 2020
Who is Baizak Alybaev?
He was born on February 03, 1974 in the city of Frunze. In 2003, he graduated from the Sadykov National Art Academy in Kyrgyzstan, Faculty of the Easel. He is a member of Republican and international exhibitions. In 1999, he won the second place in the first republican painting contest. In 2016, 2017, 2018, his solo exhibitions were held in Kyrgyzstan and Turkey. His artworks take place in private collections in Kyrgyzstan, China, Kazakhstan, Korea, Cyprus, Russia, Britain, Germany, Turkey, France, Belgium, Hungary and other countries.