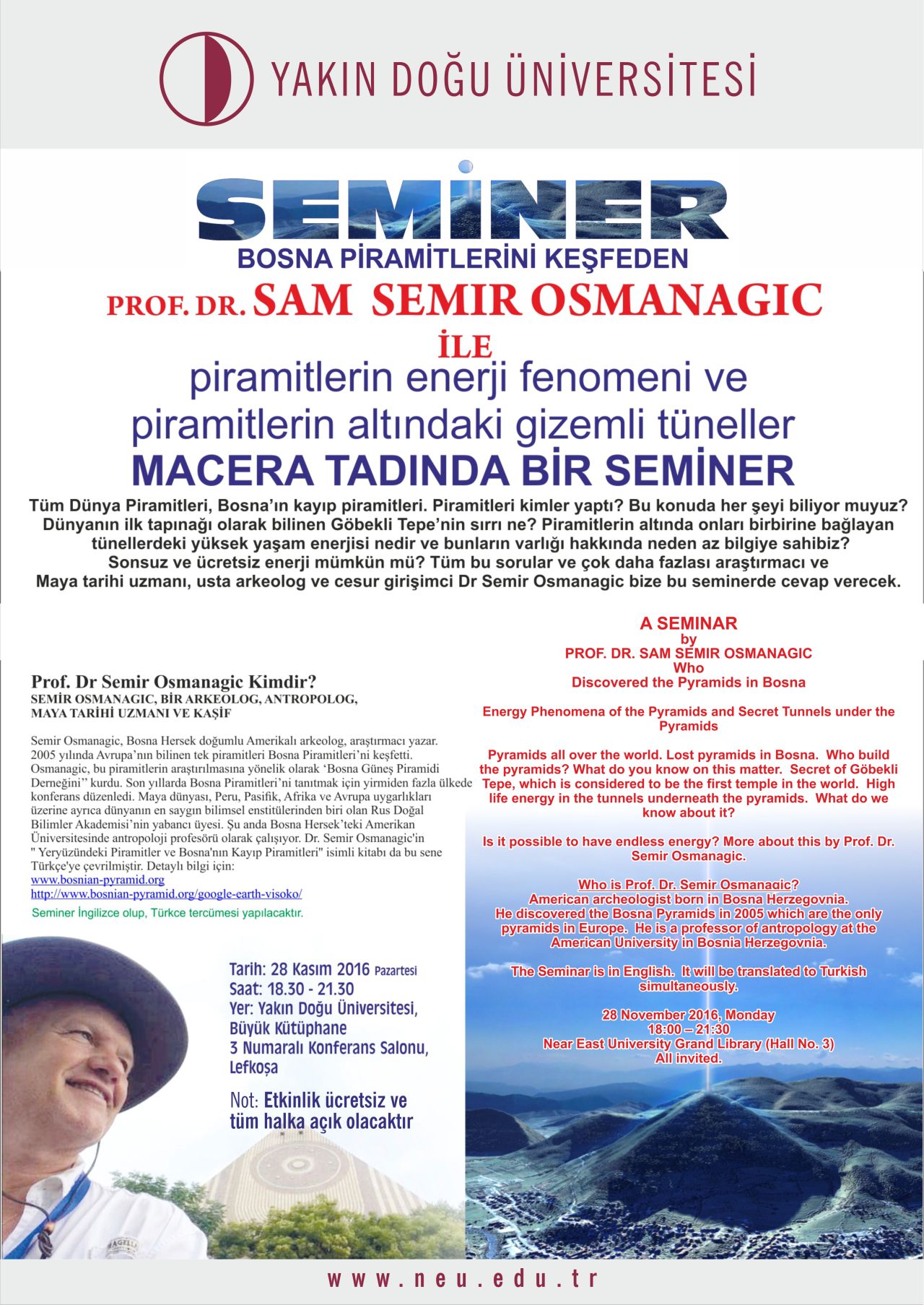 Dr. Sci. Sam Semir Osmanagich, PhD who discovered Bosnia Pyramids, to give a seminar on Pyramids energy phenomenon and mysterious tunnels under the pyramids.
According to the press release issued by the Directorate of Press and Public Relations Office of the Near East University, the discoverer, Maya History expert, skillful archeologist and brave entrepreneur Dr. Sci. Semir Osmanagich will give a seminar at NEU and provide information regarding all pyramids around the world and the lost pyramids of Bosnia. At the seminar, the participants will gain an insight into pyramids and can find answers to their questions such as; Who built the pyramids?, Do we know everything about the pyramids?, What is the mystery of Gobeklitepe that known as the first and oldest temple of the world?, What is the high life energy in the tunnels under the pyramids that connect them to each other and why do we have little knowledge about their existence? Is infinite and free energy possible?
The press release underlined that the seminar would be in English with simultaneous translation into Turkish. The seminar will be open to public and it will be free of charge.
Dr. Sci. Sam Semir Osmanagich is Bosnian-born Houston (USA) resident, author, explorer and entrepreneur. He discovered an ancient pyramid complex in Bosnia-Herzegovina consisting of 11 structures. He used to teach at the American University in Bosnia-Herzegovina as Anthropology professor. He has been admitted as a Foreign Member of the Russian Academy of Natural Sciences, one of the world's most respected scientific institutions. He is also a member of Croatian Academy of Science and Art in Basel, Switzerland. Up to now, he has given many seminars and conferences proving that Bosnian Pyramid Complex is the oldest on the world with the purpose of serving as energy machines.
He authored and narrated a documentary 'Search for Lost Civilization' that broadcasted on Bosnia State TV and filmed in Peru, Bolivia, Mexico, United Kingdom, France, Germany, Malta and Egypt. He has also authored fourteen books about pyramids and ancient civilizations including Mayan, Peruvian, Mexican, Pacific, African, and ancient European civilizations. His book 'Pyramids Around the World & Lost Pyramids of Bosnia' has been translated into Turkish this year.