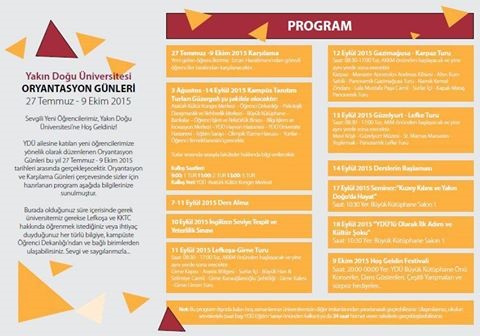 Orientation Days for international students have been successfully completed between the dates of 27 July and 9 October for 2015/2016 academic term. Near East University, which grew libertarian, advanced, versatile, confident, creative, innovative and critical thinkers with the sense of social responsibility, importance of ethics, environmental awareness and analysis capacity, held Orientation days for the students who decide to study in NEU.
According to the press release issued by the Directorate of Press & Public Relations Office of the Near East University, Orientation program was organized to welcome new students and their families, provide the first contact, inform the student about basic subjects, and introduce TRNC.
The newcomer students of the Near East University were given a series of seminars which are related to the problems and culture shock that they may encounter during the university life. These seminars have aimed to introduce university life, give clues to students for adaptation process and provide communication among students. For opening speeches NEU Board of Trustees Deputy Chairman Asst. Prof. Dr. Murat Tüzünkan, Near East University General Secretary Asst. Doc. Dr. Yeter Tabur and Near East University Representative Student Dean Dilan Çiftçi talked about 'Life in NEU. The Orientation Program was also concluded with a gorgeous 'Welcome Party' in 2015-2016 Academic Year.