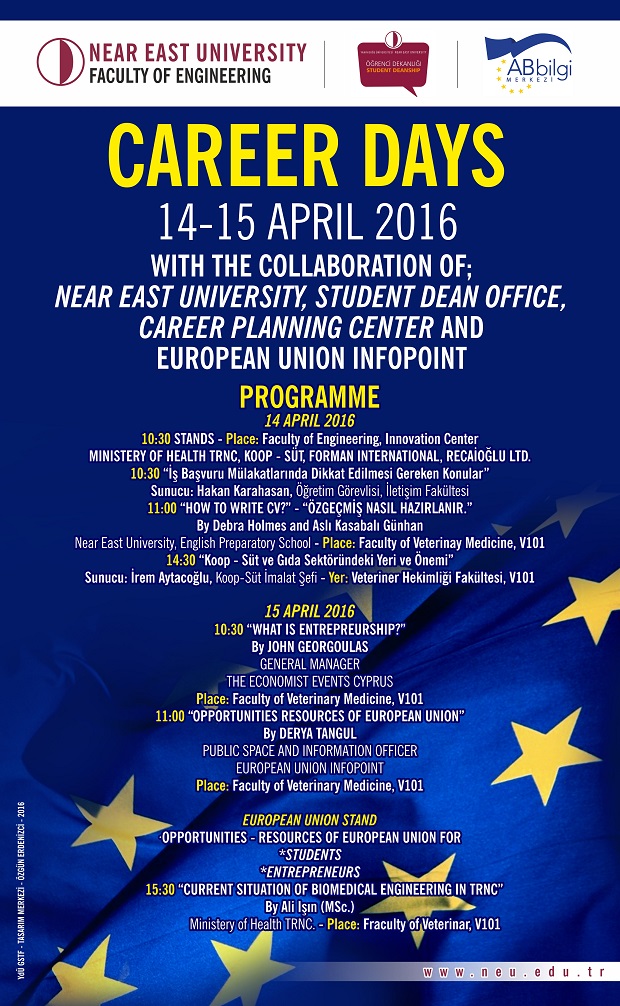 As a Near East University Faculty of Engineering and Student Deanship Career Planning Centre we have carried out 1st Career Days event in cooperation with the EU Information Centre, as it was held between the dates of 14 and April 15, 2016.
Various companies have contributed to Career days event from TRNC; EU Information Centre, KKTCELL, SerhanKombos Automotive Ltd., Recaioğlu Ltd., Forman International Ltd., COOP-MILK. Students have shown great interest on Ministry of Health's and EU information centre stand and presentation. The EU information centre put an enormous contribution to the career days by providing students information regarding how to obtain internship and job opportunities in EU. The Dean of Students Assoc. Dr. Dudu Özkum Yavuz presented Certificate for their contribution to Presenter Derya Tangül, EU Information Centre Public Relations Officer.
The Presentation of "What is Entrepreneurship?" was presented by General Manager Mr. John Georgoula the Economist Events Cyprus speaker. Students asked many questions to Mr. Georgoula, The speaker defended that perusing the original idea and perseverance is much more important than financial resources in entrepreneurship. At the end of the presentation the Dean of Students Assoc. Dr. Dudu Özkum Yavuz presented Certificate to thank Mr. Georgoula for his contribution.
The presentation of "How to Prepare a CV?" was held by NEU, Preparatory School representatives Debby Holmes and Asli Kasabalı Günhan. The content of presentation was about importance of CV format in job interviews and it was given in both languages Turkish and English.
"What to Watch Out for" On job applications Interview presentation was presented by Faculty of Communication lecturer Mr. Hakan Karahasan. Students responded to the many questions. Mr. Karahasan drew attention to the importance of body language during the job interview and to be cautious of what you share on social network because companies are taking these as a reference.
Ministry of Health official Top Biomedical Engineer Ali Ray, Presented "The Exact status of TRNC's Biomedical Engineering at the moment". On his presentation he pointed out the expanding number of private hospitals and health services in TRNC, will increase even more the need to Biomedical Engineering with planned reforms.
COOP – Dairy Factory Production Chief, Mr.Irem AYTAÇOĞLU, gave a speech with nutrition students about the history of the company, job opportunities and internship, held a very successful presentation to students.
There were a high interest from students to SerhanKombos Automotive Ltd. especially the automotive, machinery, Computer and Electrical Engineering students were very interested. The company provided information on Part-time jobs and internship opportunities.
Recaioğlu Ltd., Forman International Ltd. made a huge contribution to the 1st Career Days of Faculty of Engineering. They informed students about employment of civil engineers in the construction industry and internships opportunities.
KKTCELL's stand was one of the best example to cooperative work between University and Industry. KKTCELL took great attention from students and they were very interested in to find out about job opportunities and internship.
As NEU 1st Career Days was completed successfully, Faculty of Engineering adjudicated to held Career Days every year.