Near East University Dean of Students has organized a Career Festival where more than 30 firms took part in NEU campus.
According to the NEU Press and Public Relation Directorate, Near East University Student Deanship have organized seminar series. These seminars helped students to improve their knowledge about internships and job applications for three days. Students have listened the experts' experiences from several sectors,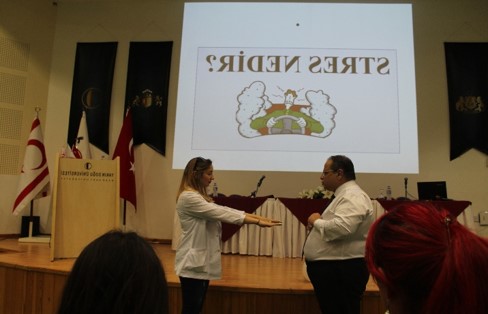 In the first day of 'Career Festival', The Turkish serial, cinema and theatre actor Hakan Bilgin gave a speech about 'Self-Realization and Occupational Success History'. Besides many of the speakers contributed to these seminars including, Near East University General Manager Selami KAÇAMAK, Iş Bank TRNC General Manager Kaan TOKAT, EU Information Centre Coordinator Derya TANGÜL, Asst. Assoc. Dr.Necla TUCUOĞLU, Asst. Assoc. Dr.Semai TUZCUOĞLU, North Cyprus Turkcell Human Resources, Dr.Nur TALUY, Hazel ORAC, Cypriot singer Ahmet EVAN.
In the second and third days, company presentations and interviews were the main organizations in Career Festival. There were more than thirty firms and the firms were representing their views by discussing with students.
The Dean of Students Doc. Dr. Dudu Özkum YAVUZ has declared that these festivals will be traditional for making students to say 'It's good that I am studying in NEU'. She said that Near East University aims to be a family of students in TRNC.
The seminars brought a great sound in press.