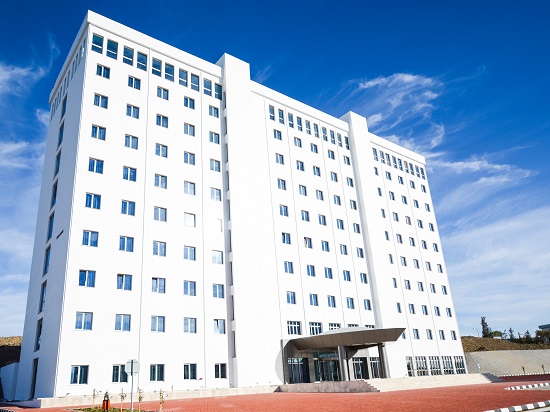 In order to provide our guests with homelike comfort and safety, Dorana Residence Nicosia Hotel offers a luxury accommodation environment. Breakfast is included in the cost of accommodation. Since main meals are not included in the accommodation price, our guests can have their meals at the restaurant of the facility or at the cafeterias and canteens located on the campus.
Reservation and Accommodation Requirements
All guests are required to fill out the reservation form available online. The e-form needs to be filled properly so as to include the name(s) and surname(s) of the guest(s), the number of rooms required, and the duration of stay. Besides, the guests are required to indicate if they have a tie (relationship) with Near East University as it facilitates to determine in which price category they are. (If necessary, it may be required to document this relationship).
Reservation or booking is not possible with phone call. Reservation for Dorana Residence Nicosia Hotel can be made utmost 30 days beforehand. Applicants will be informed by e-mail within 48 hours.
Dorana Residence Nicosia Hotel Accommodation Prices Valid from August 16, 2019:
CATEGORY
1 Night / Per Person
NEU Students,
NEU Personnel,
NEU Student Parents
University of Kyrenia Students,
University of Kyrenia Personnel,
University of Kyrenia Student Parents,
220 TL
Single Room
280 TL
Double Room
320 TL
SUITE
Other Guest
250 TL
Single Room
340 TL
Double Room
380 TL
SUITE
Attention: Near East University students and Kyrenia University students are provided with room prices only if the parents' have the same family names.
NOTES:
Anyone other than guests, (relatives, friends, students, etc.), are not allowed to enter or stay in the rooms.
Children between 0-6 years are not charged.
On the first day of arrival, rooms are not available for entry before 14:00.
On the leaving day, the guests are required to leave the room latest at 12:00 at the noon.
Breakfast is served from 8:00 am to 10:00 am.
The feedback later than the provision period (48 hours) will not be valid and the reservation will be considered as unconfirmed.
NOTE: The price that is required to be paid to the Administration can be paid at the reception desk upon the arrival the Dorana Residence Nicosia Hotel
DORANA RESIDENCE NICOSIA HOTEL – FACILITY PROPERTIES
Location:
Dorana Residence Nicosia Hotel is located on the campus area of Near East University, 25 km from Ercan Airport, and ten-minute drive from the city center of the capital city of Nicosia. It takes approximately 23-minute drive from Ercan Airport to the Dorana Residence Nicosia Hotel.
Dorana Residence Nicosia Hotel is 25 km away from the Kyrenia shore. It takes about 30 minute-drive to reach there from the university campus.
Facility
Dorana Residence Nicosia Hotel houses a total of 115 rooms consisting of 84 single, 8 double and 23 suit rooms, with a total capacity of 123 beds.
Rooms:
Central Heating / Cooling System, Hair Dryer, Kettle, 24 Hour Hot Water, LCD Screen TV, Telephone, Mini-bar, Shower
Internet Connection (cabled/wifi) are available in all rooms.
Food & Beverage:
Breakfast is included in the accommodation price and offered as open buffet breakfast. Food and cold/hot beverages are available at the restaurant of the facility between 07:00 – 20:00. Central music is on at the lobby and restaurant during dining hours.
Free of Charge
Internet Connection (Cabled/Wifi)