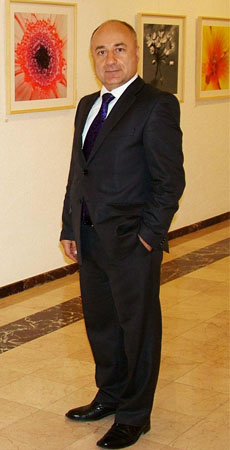 Ugurcan Akyuz received his B.A. degree from the Department of Painting, Gazi University, Ankara, Turkey in 1983. For a while, Akyuz worked as a part-time graphic designer at TÜBİTAK (The Scientific and Technological Research Council of Turkey). In 1985, he became a lecturer at the Faculty of Fine Arts, Hacettepe University and completed his M.A. degree in 1987 with his thesis, entitled "Photographic Image Analysis: Portrait."
In 1989, he published his first book "Sabaha Karsi Bir Zaman".
While working on his thesis towards Proficiency in Art, in Turkey, he was awarded a Ph.D. scholarship by Turkish Higher Education Council, to continue his studies in England. In 1990, he worked as a part-time lecturer at Leicester, De Montfort University School of Design and Manufacture, in Leicester. The same year, he was granted J.F. Laxton scholarship. He received his Ph.D. from DMU, Leicester and returned to Turkey, January 1995.
He became an associate professor in 1997. In 1998, he taught MA courses as a visiting professor at the Department of Painting, Anadolu University.
He became a professor in 2003 and was appointed as the chair of the Department of Graphic Design, Hacettepe University. On a scholarship by Goethe Institute, he went to Munich, Germany. The same year, he was appointed as the director of the Institute of Fine Arts Hacettepe University. He contributed to the establishment of "MA Program in Computer Graphics and Graphic Animation" a joint program between Stuttgart Media University and Hacettepe University.
In 2006, Akyuz established the Faculty of Fine Arts and Design, Near East University, TRNC and he worked as dean till January 2010 at the same faculty.
He has had fifteen solo exhibitions, seven of which were abroad. He has published essays, participated in various group exhibitions both at home and abroad, has won five awards. He has numerous works in public and private collections.
Currently Prof. Akyuz is dean at Near East University Faculty of Fine Arts and Design, Hacettepe University Faculty of Fine Arts, and also the director of Hacettepe University Art Mouseum, Ankara, Turkey.