Message of the Director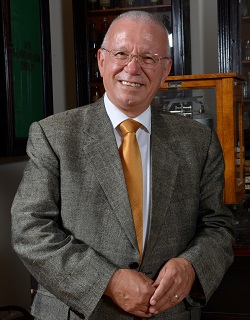 Dear faculty and valued students,
Welcome to the website of the Institute of Graduate Studies.
The Graduate Institutes of Health Sciences, Social Sciences, Educational Sciences and Applied Sciences have been merged to form the Institute of Graduate Studies since the beginning of this year, and the new regulation of the Institute of Graduate Studies has been in force since February 22, 2021.
The Institute gives service to nearly 5000 graduate students in 115 programs.
Institutes, as you well know, are higher education institutions giving a chance to bachelors to do MSc and PhD. The highest University degree, PhD diploma, is given by the graduate institutes.
Graduate courses are prestigious programs giving the bachelors to specialize in their respective fields.
PhD degree does not only open a way to specialize but also is a key to open the door to academic world. Holders of that degree strive for attaining higher academic titles like assistant professor, associate professor and full professor, by doing research and publications, and take part in educational activities for future academicians. That is, PhD is also a scientist cultivation program. Universities gain prestige not only by the number of their undergraduates but also by the number of their graduates.
Our university has started graduate programs in 2000 at the Graduate Institute of Educational Sciences, and other institutes followed suit in 2007. From 115 graduate programs, so far, over 5000 MSc and PhD graduates have received their diplomas.
Our university is proud to take the lead in graduate programs among all the universities in Northern Cyprus.
A vote of thanks goes to Dr. Suat Günsel, Founding Rector of Near East University, Prof. Dr. İrfan Suat Günsel, Chairman of the Board of Trustees, Prof. Dr. Ümit Hassan, the rector of the university and to those who have contributed to the success of this university.
As Director of the Institute of Graduate Studies, I cordially invite you to take part in our programs to achieve receiving the diploma of the highly prestigious Near East University.
Prof. Dr. K. Hüsnü Can BAŞER
Director