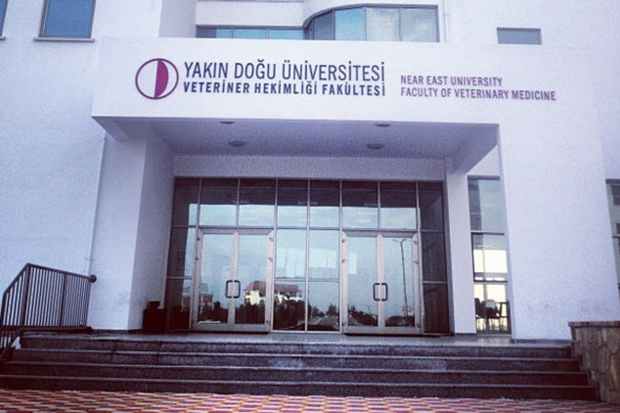 Welcome to NEU Faculty of Veterinary Medicine,
The first and the only Faculty of Veterinary Medicine of Turkish Republic of Northern Cyprus, the Faculty of Veterinary Medicine of NEU, was established in accordance with the broad vision, foresight and entrepreneurialism of Dr.Suat İ. Günsel the Founding Rector of NEU. The faculty was established on November 2, 2009 as the 15th faculty of NEU family, and as a result of this, we are aware of the huge responsibility we have burdened and the high expectations from us for becoming the first and the only Faculty of Veterinary Medicine in the island. 16 students registered to the faculty and attended to English Preparatory School in 2009. The faculty started giving education and training in 2010-1011academic year. The Faculty of Veterinary Medicine, the youngest faculty of NEU as of academic year 2010-2011, has started Veterinary Medicine undergraduate program on October 4, 2010. In accordance with the protocol signed between the Ministry of Agriculture and Natural Sources and the Near East University, our Faculty concurrently started to offer Veterinary Medicine Post-graduate program.
European Association of Establishments for Veterinary Education (EAEVE) and Federation of Veterinarians of Europe (FVE) accredit the education institutions which meet the provisions of the regulations and standards. The aim of this accreditation is to standardize and bring out the Veterinary Medicine education to a competitive level. The academic structure and the academic courses are being arranged in accordance with the regulations and standards of the EAEVE and FVE at the Faculty of Veterinary Medicine of NEU. Concordantly, the main purpose of the Faculty is to receive accreditation by EAEVE and FVE, to offer undergraduate education programs at European norms and provide our students with the privilege of graduating from an internationally accredited Faculty of Veterinary Medicine.
In accordance with the protocol of "Scientific Cooperation and Academic Consultancy" signed between the Near East University and Ankara University, the undergraduate and post-graduate education programs of our faculty are carried out by nationally and internationally recognized academicians from the Faculty of Veterinary Medicine of Ankara University which is the first Turkish Faculty in the field of Veterinary Medicine accredited by EAEVE and FVE.
Although we are experiencing certain problems in some of the applied courses due to some structural incompleteness, we do believe that we will immediately overcome the current problems that we encountered when faculty building is constructed and brought into service soon. Everything required in the profession of Veterinary Medicine will be offered fully at the Hospital of Veterinary and Research, and the Train and Practice Farm will consist of shelters for pets, sheep and goats and cattle. Executing a student-centered contemporary education system, the Faculty of Veterinary Medicine promotes students to receive veterinarian education and learn the profession through an active and continuous participation within the programs of the Departments of Veterinary Basic Sciences, Preclinical Sciences, Veterinary Clinical Sciences, Zootechnics and Animal Nutrition and the Department of Food Hygiene and Technology. Supporting and supplementary activities which are the integral parts of our curriculum like emergency clinic, mobile clinic, internship and slaughter house, research labs and farm visits provide students with extensive opportunities to obtain veterinarian education and practice in the field.
Contrary to what is believed, the profession of Veterinary Medicine not only aims to protect the health and welfare of animal, but also directly and indirectly aims to protect the public health and welfare, and enhance the quality of life in accordance with the concept of "from farm to fork". The field of Veterinary Medicine focuses on food hygiene and quality, protection of public health due to food borne and non food borne zooneses (infectious diseases originated from animal products), supplying the biodiversity and prevention of ecosystem from the hazards caused by environmental pollution.
As for employment opportunities, there are many job opportunities for almost all graduates in different fields of veterinary. These include universities where academic careers can be conducted, ministries in charge of agriculture and breeding, animal breeding sector, health and environment sectors, private veterinary clinics, municipalities, public and private slaughter houses, integrated livestock sector, private farms, processing plants of animal products such as meat and milk, research institutes, diagnostic laboratories, food factories, production plants of medicine, vaccine and biological substances and markets and so on…
Two scientific congresses were hosted by the NEU Faculty of Veterinary Medicine since its foundation. The first meeting, IX National Veterinary Microbiology Congress (with international participation) was jointly organized by the Faculty of Veterinary Medicine of NEU and Association of Veterinary Microbiologists on October 5-7, 2010. Undergraduate and postgraduate students of the Faculty of Veterinary Medicine actively participated in both congresses. The subject of bacterial, viral, parasiter and mycotic diseases that adversely affect human and animal health was broadly discussed with the participation of native and foreign scientists at the IX National Veterinary Microbiology Congress. The second congress on "The role of veterinarian in food safety and zoonozes" was jointly organized by the Faculty of Veterinary Medicine of NEU, TRNC Ministry of Agriculture and Natural Resources, Association of Cyprus Turkish Veterinary Medical and Union of Cyprus Turkish Veterinary Medical on October 13, 2011 within the frame of celebrating the "World Veterinary Day– VET 2011", marking the 250th anniversary of the birth of the veterinary profession and the veterinary science.
I warmly hug and greet those students who continue their education and who, by setting their hearts on this sublime profession, aim to receive education at the Faculty of Veterinary Medicine of NEU.
Prof. Dr. Ömer Memduh ESENDAL
The Dean of the Faculty of Veterinary Medicine
Teaching period: 5 years
Veterinary Program
The program of Faculty of Veterinary Medicine covers a period of 5 academic years. Apart from this, a one-year based English Preparatory Program has also been integrated into the faculty program since 2009-2010 academic year.
Mission and Vision
The program of Faculty of Veterinary Medicine is fundamentally focusing on giving a comprehensive training on veterinary issues at undergraduate level. Also, one of the aims of the faculty is carrying out research to made advancements in veterinary issues, and contributing to production of healthy and prolific animal products to support the economy of country. The program of the faculty focuses on giving both theoretical and practical training on veterinary issues such as caring, production, maintaining and developing generations, increase fertilization of pets, ovines, cattles, and fowls; preventing diseases and murrains, taking preventive medicine/veterinary precautions, controlling quality and ensuring sanitary of animal products, preventing environmental pollution, and marketing animal products; improving skills, knowledge and overall qualifications of veterinarians.
Objectives
The specific aims of the Faculty are as follows:
Offering a contemporary and comprehensive training program which enables students to gain fundamental principles of lifelong learning and basics of professional development, as well as leading students to develop analytical thinking and criticism abilities in various fields related to veterinary issues.
Improving quality and living conditions for animal health, ensuring quality and sanitation of animal products, and promoting developments based on academic research in order to contribute to scientific studies that are carried out to investigate the reasons of animal diseases.
Providing a physically and intellectually developed educational environment where scientific facilities and creativity are supported.
Providing extensive training facilities with laboratories and Veterinary Training Hospital equipped with the latest scientific devices to facilitate extensive training and research opportunities, offering both undergraduate and postgraduate programs to meet the needs and requirements of the country, and becoming a leading institution in veterinary issues both at national and international levels.
Educating the academicians and researchers of future by offering high quality training and research programs.
Providing lifelong learning facilities, vocational training, counseling to veterinarians running private veterinary clinics as well as offering service to breeders and stockbreeders living in TRNC, owners of pets, strays, and to community as needed.
Employment Opportunities
Graduates of this faculty can find employment opportunities in departments and institutions of Ministry of Agriculture and Natural Sources, Ministry of Health, municipalities, state economic enterprises, State Planning Organization, companies producing feed, medicine, and vaccine, and in farms and can establish private clinics of their own.
Departmental Facilities
The Faculty is in coperation with the faculties of veterinary of some prestigious universities in Turkey and establishing a solid infrastructure to ensure the highest possible standards in veterinary training.