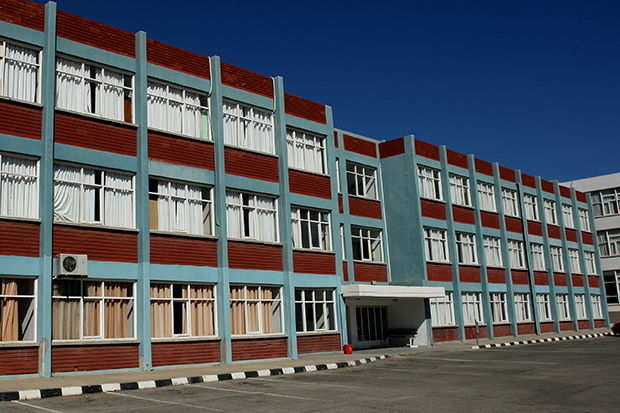 Dear Students,
We have started a new Academic Year. First of all, I would like to address to those students who have decided to receive art and design education at our faculty. Welcome to our Faculty, founded on May 26, 2006 and showed an outstanding development in a short time. So far our faculty produced undergraduates in the last two academic years, and also produced six students with MA and PhD degrees so far. I would like to emphasize that, our faculty succeeded in many national and international activities in the fields of art, design, education and culture.
It is an important moment in a human's life to decide what to study and where to receive the education. You have taken a major step for your future by choosing the Faculty of Fine Arts and Design of the Near East University, the biggest University of Turkish Republic of Northern Cyprus holding a privileged and strong position in academic world.
You will experience that you have made the right decision by preferring the Faculty of Fine Arts and Design of NEU. The education of Faculty of Fine Arts and Design has its own rules, methods and discipline. In order to gain success, you need to participate actively within the educational process without not only aiming to pass the exams but also trying to be deeply interested in other art and design branches apart from your own field, and participate in cultural and art activities. Consequently, art and design becomes your lifestyle. The creation process is highly complicated and troubled and it varies from person to person. That's why, education of art and design is specifically based on an educational process of one's own initiatives. Art and design is not the field that reflects the pure beauties. We need to follow the realities and exceed the limits of our thoughts. The developments in science, art and technology are the creation of the convoluted journey. You have to work hard, investigate, read and produce to take part in a world of design. Not as a lecturer, I advised you as a friend who started the academic career in 1965 and still carries on with it.
I do not say that 'suspend your social life'. Conversely, enjoy the opportunities of NEU through activities carried out in social, cultural and sports terms. The activities, organized by NEU to explore the natural and historical heritages of North Cyprus, help you to forget the distressful times of exams. The Near East University and all academic and administrative members of our faculty will be glad to support you for your success.
I wish all students, our distinguished lecturers, administrative staff and all members of the Near East family a successful academic year.
Assoc. Prof. Erdal AYGENÇ
Acting Dean of the Faculty of Fine Arts and Design
Aim and Target
The aim of the Plastic Arts Department is to educate students to become skillful and creative artists by training them through different disciplines in accordance with the interdisciplinary properties of contemporary arts. The appropriate environment is offered to help students to master the theoretical and practical issues of different disciplines, enabling them to evaluate and create original works and concepts.
The Department's main concerns are; art education based on mental development in artistic creativity, advancement of individual talent, and the improvement of self-discipline. With this respect, the educational program, providing a free environment, encourages creativity and mental development to focus on artistic values as well as aiming the development of self-discipline with an intensive practice.
Following the introductory courses, the second year's program offers an opportunity to study on painting, sculpture, and ceramics art. The students can focus on any of these branches on the third and fourth years as they wish.