General Chemistry Laboratory
The general chemistry laboratory is designed to support and illustrate those concepts studied in the lecture part of the course, as well as to introduce the important laboratory techniques and encourage analytical thinking. Along with the concepts and chemistry covered in lectures, the laboratory portion of the course will present some additional chemistry including both theoretical and practical aspect. A number of basic chemistry experiments related to the development of skills in metric system, identification of substances by their properties, the law of definite proportions, basic separation techniques, stoichiometry of reactions, illustration of gas laws and electrochemistry and thermochemistry are done in general chemistry laboratories.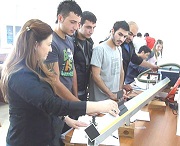 General Physics Laboratory
In groups of three, students carry out experiments parallel to basic physics theories taught in the lectures. With the help of these experiments, students learn about the concepts of data collecting and analysis, experiment errors and graph drawing, and thus have the opportunity to grasp the subjects in question and to improve themselves.
General Physics-I lab covers six mechanical experiments including measurement fundamentals, analyzing experimental data and error analysis, dimensional analysis, fundamental experiments in mechanics.
General Physics-II lab covers seven experiments of electricity and magnetism including electrical and magnetic field measurements, electrical circuits, current and voltage measurements.

Computer Laboratories
In the faculty, there are four PC laboratories with 200 computers in total. Each PC has both WINDOWS XP and LINUX PC's operating systems. Through the main printer, print out process can be done and all PCs are web-enabled. All the PC's have the following software packages available for use:
Windows OS, MS Offıce XP, Visual Studio, Boprland C++, Vısual C++, Delphi 7, Visual Basic, Oracle 8, Matlab7.03, Mathematica, Turbo-Pascal 7, Turbo-Ptolog, Csharp, Java Compilers,Linux OS, gcc, g++, Java Development, Pascal Compiler, Firefox, Openoffice.org and Open GL Development.

Digital Logic Laboratory
The main objective of the laboratory is to upskill the students about digital logic subject. This lab is equipped for designing medium-scale digital systems. The basic training system of the laboratory is ETS-7000 type workstation. Students are able to do synthesis, functional and timing simulation of digital systems. In the laboratory the students study the principles of operation of the logic gates, flip-flops, and sequential circuits and design counters, decoders/encoders, multiplexers and shift registers.

Microprocessor Laboratory
Objective of the microprocessor laboratory is the design of basic microprocessor systems. It will strengthen hardware and software concept of microprocessor system covered in the lectures. Zilog Z 80 and Motorolla M 6809 training sets are used in the laboratory. The architecture and programming of the Intel 8080 microprocessor are investigated using computer simulation software.

Data Communication Laboratory
The aim of the laboratory is to upskill the students about analog and digital data communication systems both as knowledge and practice. Laboratory applications cover data communication training systems. System consists of a variety of modules which are used for analyzing, sending, finding and filtrating of analog and digital signals.

Circuit Theory Laboratory
The aim of this laboratory is to introduce the basic electric circuit components to the students and strengthen the circuit analysis methods practically with the help of the experimental results. Real life applications are preferred instead of using modules sets for the experiments carried in parallel with the theoretical information given about AC and DC. Students set up the circuits and report the data analyzed.

Electronics Laboratory
The aim of this laboratory is to introduce student to electronic circuit components and some of its application. The experiments consist of data gathering by using technological measuring instruments on the circuits set up using electronic circuit components. Experiments are finalized by reporting the data gathered.

Power System Laboratory
The laboratory is equipped with the sets such as converter, inverter, power filtrates, engine drivers and various power and industrial electronic experiments can be carried out. 24 different experiments can be done with modular experiment sets in this laboratory.

High Voltage Technics Laboratory
The laboratory Impulse Voltages Testing of insulation up to 240 KV can be undertaken in this laboratory. Supplies of 40 KV D.C and 100 KV A.C at 50 Hz are available together with impulse and A.C measurement systems and calibrated sphere gaps and dielectric test equipment.

Electrical Measurement Laboratory
This laboratory aims to teach electrical measurement theories and techniques of electronic circuits. Students will investigate the measuring circuits to verify the electrical principles that they learn in class and are expected to get familiarized with electrical measuring instruments.

Mobile Communication Systems Laboratory
This laboratory is conducted using Cellular Telephone training module (STS – EV). Waveform analysis, measurement, audio and data processing circuits, transmitter and receiver processes are taught. In addition to the practical training, GMSK, QPSK, OQPSK/4QPSK, signals used in European, American and Japanese systems are generated and analysed using MATLAB files.

Communication Systems Laboratory
More than 20 training sets with different phases are used in this laboratory. This laboratory provides student comprehensive understanding and practices of topics on amplitude, frequency, phase and delta modulation systems, detection of signals, harmonic analyze, analog- digital converters.

Telecommunications Laboratory
The laboratory consists of a set of training modules that enable the student to study the practical aspect of telecommunications with the help of exercises. Experiments are conducted using communication and telecommunication modules. Some of the 20 experiments that can be done in this laboratory are; channel coding, line coding, spectral modeling, ASK, FSK, PSK and PSK modulation techniques and FDM multi-channel.

Satellite Communication Systems Laboratory
Satellite Communication Laboratory is equipped with high technology instruments. Students have the opportunity to practice all theoretical knowledge taught about satellite communication systems.

Signals and Systems Laboratory
Laboratory's main objective is to upskill students' theoretical knowledge with the help of practical and real life experiments. Digital and analog signals' properties and processes are introduced to the students. Students start by generating and measuring the amplitude, frequency and phase of basic signals using oscilloscope. Harmonic analyses of square waves, multiplexing and de multiplexing, sampling of signals, time and frequency responses of circuits are investigated.
Gibbs phenomena, generation of different signals, Fourier analysis of periodic and nonperiodic signals, design of low-pass, high pass and band-pass filers based on Butterworth, Tchebyshev and Bessel polynomials are considered using Matlab files.

Electric Machines Laboratory
Laboratory is equipped with instruments such as single phase and three phase transformer, electric machnines, variac, autotransformers .Besides single phase and three phase electric engine and generator experiments, direct-current motor experiments are also done in this laboratory with high quality power sources. Laboratory also enables students to practically test realization of their graduation projects.

Machine Shop
Students are gaining experiences on basic production methods in this well-equipped workshop within the Mechanical Engineering Department. They have the chance to work in this workshop with expert technicians out-of lecture hours. Lathe, milling cutter, saw, upright drilling machine, planer, levelers, welding machine, press and heat treatment furnace and other devices are present in the workshop.

Heat Transfer Laboratory
Basic heat transfer measuring apparatus are introduced to students. Thermal conductivity and convection and heat exchanger experiment applications are done in the laboratory.

Material Testing and Stress Analysis Laboratory
Experiments for investigation of structure and properties of materials and for observing the deformation on machine elements under various loading are conducted in Material Testing and Stress Analysis Laboratory. Students have the opportunity to make observations on Universal Tensile, hardness measurement, impact, material exhaustion as well as examination of micro structure of materials with Metal Microscope.

Fluid Mechanics Laboratory
Experiments on the determination of flow regime, viscosity for different fluids, velocity of the fluid in a closed system and by using Pneumatic education experiment set are done in the laboratory.

Thermodynamics Laboratory
Experiments on refrigeration cylcle experiment sets are done.

Internal Combustion Engine Laboratory
The principles of internal combustion engines are shown on engine sections, experiments to determine power and fuel consumption of internal combustion engines are conducted.

Solar Energy Laboratory
Laboratory is used for the graduation projects of undergraduate and graduate students. Students can measure and evaluate of solar radiation by using Pyranometer. Experiments on efficiency are conducted by heating water using solar energy. Also, the heat intensity of Sun can be measured and efficiency of systems such as solar collector can be tested with solar cell.

Biomedical Instrumentation Laboratory
The aim of the Lab is the processing and interpretation of signals which arise from the human body. Typical signals of interest are biometric signals, pulse oximetry, electrocardiogram, blood flow analysis, and so on. The laboratory aims to teach the principles of extracting useful information from these signals. In addition, the laboratory is used by postgraduate students and researchers to carry out advanced research in the field of biomedical signal processing. The laboratory includes equipment to capture and analyse biomedical signals in real-time. Methods used involve statistical methods, image processing, audio processing, pattern recognition, and biomedical algorithm development for signal processing.

Biochemistry Laboratory
The Biochemistry lab is intended to introduce students to some of the most widely used experimental procedures in biochemistry, including protein purification and characterization, enzyme assays and kinetics, and DNA isolation and manipulation. Students will also gain some familiarity with some of the types of equipment frequently used in biochemistry.