Employment Opportunities
Graduates from the Department of Radio and Television Technologies can easily find recruitment opportunities in various duties in governmental or private television channels, besides finding opportunities, again, both in governmental and private radio channels.
In other words, the graduates of this department have employment opportunities; in television and radio channels, in advertisement agencies, in production companies and in the various departments of the media sector. Having graduated from such a department will enable individuals to be equipped with the necessary skills and abilities to be competent within this field. Thus, the graduates will be able to meet the needs of the sector regarding its scientific and technological developments, and they will be suitable for all sorts of duties as qualified individuals of this sector.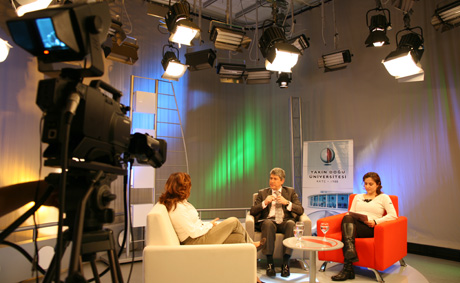 Students of the department have training opportunities in a wide range of application fields such as the university's radio and television studios. Here, they are able to gain experience in person, through applications and observations provided at the facilities. (The above photograph is a photograph of the Near East Television)
Near East FM broadcasts on 88 MHz and it provides opportunities for students to receive apprenticeship and working experience.
These are photographs of the practical training provided at the department.