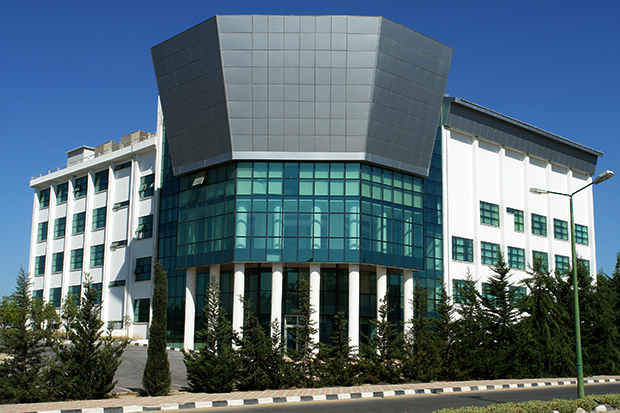 Dean's message
Dear Students;
The Faculty of Communication was established in 1997 with the goal of making a difference in education with commitment to creating a more well-rounded education combining theory and practice via our well equipped departments, research laboratories, television, radio and animation studios, and basic design workshops. Being aware of that the basis of communication is respect towards humans, we provide every educational requirement to educate individuals who have awareness and sense of responsibility on communal issues and ethical values.
We are devoted to provide our students with professional information and skills that covers all dimensions of communication processes and educate graduates who are able to seek information by questioning, able to adopt professional ethic values, and able to carry out research at universal level with contemporary and democratic mindset.
It does not matter in what field of communication you will be employed, you shouldn't forget that it is of upmost importance to be a responsive individual. The individuals, who are responsive to themselves, to their families, to the society and to the nature, always have the key with them to be enquirer on the universal issues. Faculty of Communication of NEU is uniquely positioned to provide you the most compelling professional and intellectual opportunities of the era. Our goal is to train creative communicators who have social responsibility, and can think critically and use new communication technologies efficiently. With this point of view and attitude, our graduates, who are equipped with adequate theoretical and technical knowledge acquired throughout four year undergraduate education, will always be a step ahead to analyze the issues and reach the right result through proper assessments.
In order to gain a pure insight into the future, one of the most fundamental responsibilities of a communicator is to know the national and international history of the society, and follow the technology-policy-economy of the era. To this end, communication oriented history, sociology, philosophy, theoretical and ethics courses are offered intensively at all departments of our faculty. Thus, it might be essential to develop the scientific approaches relevant to societies, companies, organizations or establishments in which our graduates will have a leading role. Faculty of Communication has a distinguished academic staff including full professors, assistant professors and associate professors Our curricula have been updated in accordance with the changing requirements of the era and in light of the curricula being followed by world's elite faculties of communication. The Near East University Faculty of Communication houses four departments including the Department of Journalism, Department of Radio, Television & Cinema, Department of Public Relations and Advertising, and the Department of Visual Communication and Design. We provide quality education and produce high caliber graduates. Each of our graduates must remember that they will continue their career as a good communication professional as long as they are responsive to communal values and keep up with the fast changing needs of the media sector and search information by questioning with a never-ending enthusiasm.
Alongside the curricula and the individual effort of students and academic staff, the environment in which this education takes place is upmost of importance. It is a proven fact that high-tech equipped centers, workshops following the current technology and as well as ergonomic and aesthetic architectural and landscaping spaces have positive impacts on students. The Faculty of Communication of the Near East University with its high-tech equipped departments and study centers is a vibrant intellectual community that has taken a prominent place in NEU Campus. The NEU Campus with its green environment, ergonomic structure and aesthetic appearance contribute to students to feel themselves valuable, and provide them opportunities to enjoy the life and increase their study motivation.
The Faculty of Communication houses lecture halls, computer studios, photograph studio, the office of the Near East University Newspaper, as well as two fully equipped studios of the Near East FM Radio & Near East TV with live broadcast capacity. Our media centers provide our students an opportunity to put their theoretical knowledge into practice. Our faculty's hands-on education approach is an excellent opportunity for our talented students to gain practical experience. This distinguished education paves the way for our graduates to be successful communication professionals in various fields of communication.
Located in Nicosia, the capital of Cyprus, the Near East University with a growing population of international students provides opportunities for intercultural experiences and global exchange of ideas. Being a campus university, where all buildings and amenities including the Grand Library, theNEU Hospital, the Olympic Indoor Swimming Pool, Student Clubs and spaces for social activities provides a unique social environment to the students of the Faculty of Communication.
It is a privilege to be a student of the Near East University which adopts contemporary education and life standards. To receive education in TRNC will provide you with convenience of the Mediterranean climate and geography and you will feel yourself comfortable amongst friendly and helpful people of the island.
I wish this privilege will foster you to be a good communicator and your behaviors will always reflect the values and principles that you believe in.
Yours Faithfully
Assoc. Prof. Dr. Gökçe KEÇEÇİ
Acting Dean of the Faculty of Communication
Mission
Our mission is to train the individuals who can conduct various research at the university level; who are sensitive to social issues, exploring, questioning; who can adopt professional ethics, values and who gained all aspects of communication processes on the basis of a modern and democratic system of thought.
Vision
Adherence to the Revolutions and Principles of Atatürk
Scientific Freedom
Participation and cooperation
Reliability and accuracy
Transparency and respect for human rights
General Information about the Faculty of Communication
Communication as an academic discipline and professional practice is indispensable in the new era of advanced technologies. Faculty of Communication of the Near East University is at the heart of the theories and practices of Communication and Communication Technology Theories which always lead to further developments of the civilizations.
Faculty of Communication is located too far ahead of its peers as it is the fastest growing, most planned and expanding faculty during the last 10 years, with its 4 departments and five independent study centers.
The main principle of the Faculty organized with a unique approach is to join theoretical reseach and professional practice studies together to the students not as two different perspectives but as a single principle which leads to a very large perspective.
The Faculty of Communication, located in a five-storey building, covering 7000 square metres of closed area, consists of two computer labs, one graphic animation and photgraphic lab, one computer-based News Agency, and with this important infrastructure we bring out the most prominent results of photo lab with computer technologies in order to help our students to improve themselves in their fields.
Near East TV is one of the most important practice and training centers within the body of the
Faculty since the students of Radio, Television and Cinema now spend even more time there to develop their skills and theoretical knowledge to be candid professionals. The Near East TV is our unique centre planned for multipurpose facilities with its 200-seat TV studio attached to the main regime with archives. This studio is at the same time a TV broadcasting studio equipped with all devices used for management and directing facilities, and with a professional lighting system.
The opportunities of the Near East FM Radio provide the students in the department with opportunities not only to gain experiences in the field of Radio before graduation but also to know about the broadcast desk, and to know how to carry out the practices of studio in technical matters in order to be a professional.
The students in the Department of Journalism, many of which are starting to make the tasks in newspapers in the early times of their education, take giant steps towards the summit of the profession as they start studying in the Broadcast and News Center with the well-qualified faculty members who have extensive professional and theoritical experience in the field of Newspaper publication.
The students of the Public Relations and Advertising Department make their projects (including mainly social responsibility projects) in accordance with their courses, aiming to integrate their studies with the circumstances of society. This kind of practice facilities are carried out until graduation and the students improve themselves while unraveling the secrets of their profession from the books and from the field of Public Relations and Advertising.
Visual Communication and Design Department is the youngest department in the faculty. This department is the one which combines graphic and visual arts to the power of communication science, and it trains the most able individuals of the sector, mainly needed by advertising agencies and production companies.
The sudents studying in this deparment are to be considered very lucky in two ways. First, they are lucky for they have already chosen Communication as an comprehending and creating discipline. Second, they are luck because they have chosen this university, the Near East University. In our opinion, prefering to study at the Near East University means to be so close to life, knowledge, science, practice, radio, journalism, design, speed and diversity.
Since 1997, we watch our graduates' rising fast to the top of their profession flatters, and this is the source of our pride.