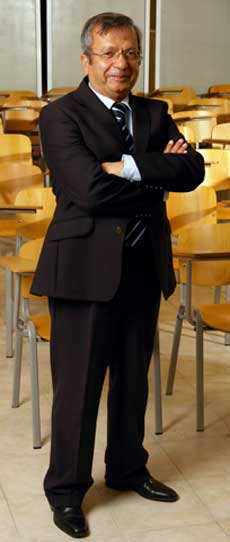 İlkay Salihoğlu was born in a small village, Pelathousa (later named as Karaağaç), located in the Paphos District in 1945. After completing his elementary and secondary schools education in local schools he went to Lefkoşa Türk Erkek Lisesi for high school education. In 1963 Salihoğlu graduated from this school and registered to the Middle East Technical University (METU) located in Ankara, Turkey for his undergraduate education. Because of the political conflicts in Cyprus, Salihoğlu suspended his university education for two years and voluntarily joined military in Cyprus. Following the military service, in 1969 he graduated from the METU Department of Chemistry with BSc degree.
İ.Salihoğlu continued his graduate education in the same department, METU Department of Chemistry and he was awarded with the degree of PhD in 1976. In early 1970s environmental issues gained acceleration in almost all countries as well as in Turkey. Among those which drew his attention was Marine Sciences and Oceanography. So Salihoğlu 1977 joined the recently established Marine Sciences Department of METU. His education and basic and applied research activity from now on was in ocean sciences with a special emphasis on marine environmental aspects. Dr.Salihoğlu has over than two hundred publications in ocean sciences where the substantial number has been published in refereed respectable international journals.
Besides his academic activities Salihoğlu carried out administrative jobs and actively participated in international and intergovernmental programmes. Among which worth mentioning here are consultancy of Food and Agricultural Organization of Unite Nations (FAO / UN), Turkish Technical Principal Investigator of UNEP MED-POL programme, Turkish Delegation member of Intergovernmental Oceanographic Commission of UNESCO and Executive Committee member of Turkey of Intergovernmental Oceanographic Commission of UNESCO, PI of NATO SfP Black Sea Project, and Secretary of Black Sea GOOS Programme etc. Dr.Salihoğlu was an active executive committee member of the Strategic Educational and Research Center of Higher Educational Board of Turkey too.
Since June 2003, Dr.İlkay Salihoğlu is a full-time teaching member of the Near East University, and the Dean of Faculty of Arts and Sciences, and the Director of the Institute of Basic and Applied Sciences.