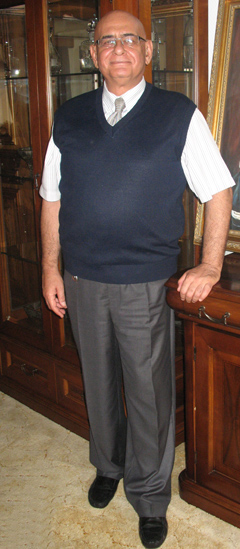 Dear Fellows,
(You have just read my addressing, "Dear Fellows", how far will you have a look at the following lines…)
Our people says "starting is half way of finishing the task", then, as is known, it turned into a proverb referring to completion of a task.
If we enclose this exhort into this conversation, I believe, it will be no false declaration. This is to say that, if you join the Near East Family you will already be at the half way of becoming a graduate.
Is it so easy to conduct a higher education study, to graduate from the Near East? Of course, not! However, becoming a member of the Near East Family, starting a life style where you will share life with the Near East, means completing half of the way in achieving the ultimate goal of graduation. You will get determination, improve self-confidence, have a warm atmosphere, live within an rare environment where all kind of your problems will be sorted out…
This is the fundamental principle that is provided for everybody joining to the Near East Family.
In accordance with this principle, education, academic facilities, and over 60 clubs of youth, culture and sports will be waiting for you altogether.
The Near East, is a university with such a gigantic campus to which possibly you will hardly believe without seeing personally, a university of which physical and social features cannot be compared with any other university.
This very last sentence may appear to be very assertive and challenging to you. Let it be so for the moment. Let it be so because you will say the same to your friends that are younger than you and are up to join the Near East Family.
When we review the roots, the etymology of the word "university", we find out the root meaning stating that "to be ready as one, to get to be united as one". The equivalent of this in social terms, without doubt, is learning about life, living together in harmony and in communal peace, as we have shortly mentioned above.
Let us live this sort of life style as we go through the days, the weeks, and the years during our educational life. Having a self-confidence, means getting ready to various challenges of life and achieving to success after graduation through the practice of good-beautiful-accurate gains that you have had during your studies.
Nevertheless, this does not mean that individuals having the same opinion stand for an indication of creating limitations in varieties of thoughts and of preferences, or, in scientific terms, shaping young people whose philosophy of life are rasped to create prototypes alike to each other. Certainly this does not mean that.
The common ground, is gathering up within a mutually developed environment where good-beautiful-accurate are sought in coordination and within a friendly atmosphere.
So, only this kind of an approach can create an environment for youth of higher education through which individuals will develop insight to tend towards different gains and improve skills and qualifications.
Developing the potentials of an "individual" can only be possible by the availability of a free environment which is required for this. However, as you already know, this cannot happen just by saying "you are individuals, so let's move, go on fellows…"
It is regarded an old term, however there is no match of it in new sayings; the word is "humane" that refers to potentials so far we have, and we owe its basics, working principles and future; in other words, we owe its yesterday-today-tomorrow to Suat İ. Günsel, the Teacher. If we are to address him in official terms, he is the Founding Rector the Near East University, Dr. Suat İ. Günsel.
The ones who learn about him through the web or by other sort of written documents just by a distance, cannot have a just and thorough information about him and the Near East. Let us tell about his story with some emotional approach, he created the Near East where "there was not a single tree".
Is it ever possible to regard as too little the contributions of Near East staff whose number is reaching up to three thousand? Of course not. Last but not least, the presence of the Near East that was generated out of nothing by our Founding Rector has opened the way of thousands of "Near Easterns" who will be ensuring the entity of the Near East for future generations and lead the Near East to new horizons.
Prof. Dr. Ümit HASSAN
Rector