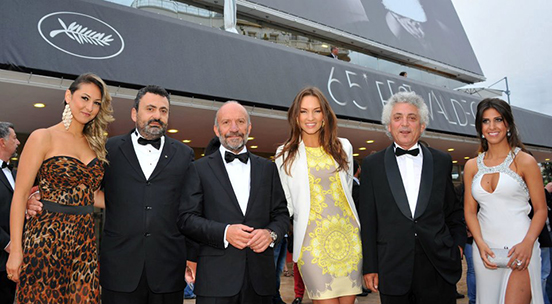 *The film was shot in English and is subtitled in Turkish
*For the first time the film can be watched free of charge with its original form.
Director : Tamer Garip
Director of Photography : Pieter Verburg
Writers : Tamer Garip, Emre Karahasan, Benedict Schillemans
Leading Actors : olie Myatt, Cengiz Bozkurt, Serhat Harman, Jonny Lee Kemp
The film titled Code Name Venus, whose director, scenarist and producer is Tamer Garip was completed in November, 2011. The first screening of the movie was at 2012 Cannes Film Festival. The film was shown in Turkey and Northern Cyprus on 21st December 2012 for the first time.
SYNOPSIS
Jasmine's (Jolie Myatt) parents came to Cyprus from England for a top secret archeological duty and at that time Jasmine was born in Cyprus in 1930.
Suffering from mysterious loss of her parents, Jasmine was sent back to England in 1937 to her aunt, where she would study at a boarding school.
She fell in love with Charles (Jonny Lee Kemp) whom she met while she was studying at the Cambridge University. Charles was a secret service agent working for MI5 (British Secret Service), and promised Jasmine to help her find out her parents, however, in return Jasmine had to infiltrate EOKA (Greek underground militia group) and obtain information for Charles.
Jasmine returned to Cyprus in 1956 for this purpose and made Adamos (Cengiz Bozkurt), one of the leaders of EOKA, fall in love with her, and participated in some terrorist actions with him.
However, she sorrowed much from the bloody clashes between two communities in 1963. She fell in love with Kemal (Serhat Harman), the Turkish Cypriot teacher who was her childhood friend. Kemal is a top member of TMT (Turkish Resistance Movement).
Jasmine witnessed the pains and sorrows of both communities and the tension on the island raised up with the coup d'etat of fascist Greeks in 1974.
This film was written by remaining true to historical facts and after carrying out a thorough research and investigation that lasted just nine years throughout the Turkish, Greek and British secret documents in detail. However, I would like to emphasize that the story has been fictionalized to be appropriate to requirements of cinematography and inappropriate historical events were not included in the film.
Neither Turkish Cypriots nor Greek Cypriots will be able to spot anything in the film to which they can raise objection. On the contrary, they will learn about many new details that they have not been aware up to day and by virtue of this film, they will start a new way of communication to get closer to each other. The audience of this film will think that "Venus is Cyprus, and Cyprus is Venus" and feel the sorrows of people of Cyprus deep in their heart.
My objective is, using the character of Venus, to tell the contemporary history of Cyprus in an interesting way and introduce Cyprus to rest of the world through using an artistic language.
Director, Writer, Producer
Tamer GARİP